Platinum Labs AminoGrow
Platinum Labs is an up and coming Australian supplement company who has already made quite an impact in the industry in the short period of time they've been around. With two popular supplements already a part of their range, Platinum Labs have just released a new intra workout and BCAA supplement known as Platinum Labs AminoGrow.
Platinum Labs AminoGrow Review & Ingredients
Platinum Labs AminoGrow contains three set of ingredients including:
AminoGrow Vitamin Spectrum – A mixture of 12 vitamins including B Vitamins and Vitamin A, C, D, E and K.
AminoGrow Focus & GH Boosting Blend – Includes 3 ingredients including tryptophan, picamilon, theobromine.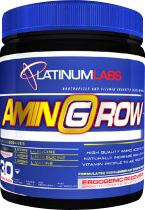 AminoGrow Amino Matrix – 9 amino acids and amino acid like compounds including leucine, isoleucine, valine, lysine, taurine, threonine, methionine, alanine and phenylalanine.
The new supplement is a mostly transparently dosed supplement featuring a 2:1:1 ratio of branched chain amino acids, along with other essential amino acids and a range of focus and mood enhancers such as tryptophan and theobromine. The blend also contains a good mix of vitamins to help support your body's levels of these micronutrients, which can be depleted with intense exercise. Overall, it appears to be a decent intra workout, but nothing mind blowing.
Platinum Labs AminoGrow HD Release Date
The new AminoGrow from Platinum Labs will be released by the end of September 2014.