New MusclePharm Assault Review
MusclePharm Assault has been a household name in the pre-workout category for a number of years now and has consistently been one of the most reliable and popular pre-workouts around, even rivalling the growing popularity of some of the concentrated versions. Recent developments in the MusclePharm camp have resulted in a complete rebranding of the popular pre-workout. Let's take a look at what's in the new MusclePharm Assault and whether or not it's as good as its predecessor.

New Assault Highlights
Comprehensive concentrated formula to support endurance, focus and hydration.
Added nitrate compounds for improved pump and performance.
Lowered dose and no uncomfortable side effects.
New Assault Ingredients & Dosage
The original Assault was a very comprehensive supplement and the new Assault is no different with 5 matrices of ingredients including:
ATP Amplifier – A pro endurance matrix containing beta-alanine, tyrosine, aspartic acid, beetroot extract, and dimethylglycine.
Cellular Transport & Insulin Activator – Nutrient absorption support matrix containing dextrose, glycine, ribose, and cinnamon extract.
Athlete Performance Blend – Blend containing creatine nitrate, arginine nitrate and BCAA nitrates.
Energy & Neuro Igniter – A nootropic blend containing choline bitartrate, glucuronolactone, time release caffeine, and huperzine.
Hydration System – A blend of taurine, coconut water powder, and glutamine.
Each serving of new Assault is now 14.5g instead of the original 23g with 11.4g of the dose being made up of active ingredients.
New Assault Pros & Effectiveness
As previously mentioned, the new Assault is still a comprehensive formula which aims to assist with all facets of training from endurance, to supporting energy, focus and energy as well as hydration, cell volumisation and recovery. A range of ingredients have been removed in favour of producing a bigger and much more noticeable pump with a smoother energy supply. The new formula also places a heavy emphasis on supporting focus and attention, a quality that is lacking in our fast paced, immediate culture. Perhaps the most notable additions to the new Assault is the use of nitrate compounds including creatine nitrate, arginine nitrate, BCAA nitrates, which not only provide you with the benefits of creatine, arginine and BCAAs but also with the vasodilating, pump support effects of nitrates.
New Assault Cons
Perhaps the biggest issue with the new Assault is that some of the ingredients aren't as well dosed as the original. Take for example BCAAs which went from 6g to under 2g, a reduction of creatine from 5g down to 2g and the amount of beta alanine being halved from 4g to 2g. While all this is necessary, especially if you are reducing the overall serving size of the product, it raises the question why bother putting all of them in together.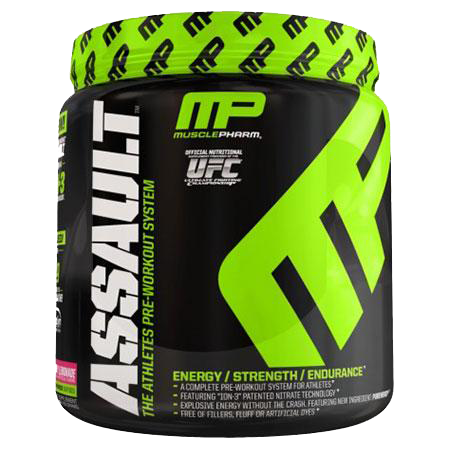 New Assault Taste & Mixability
One of the redeeming qualities of the new Assault is its flavour, which is just as good if not better than the original. Currently the new MusclePharm Assault comes in 9 flavours including Blue Raspberry, Candy Apple, Fruit Punch, Grape, Lemon Lime Pineapple Mango, Raspberry Lemonade, Strawberry Margarita and Watermelon. The powder mixes extremely easy with minimal frothing and leaves very little aftertaste.
New Assault Verdict
The New Assault from MusclePharm brings together a comprehensive listing of ingredients to help support multiple pressure points associated with training including endurance capacity, attention, focus, hydration and general performance. While some of the ingredients aren't as well dosed as the original, the new Assault does excel in terms of pump and supporting focus during your workouts. The new Assault should build up a strong legion of fans new to the pre-workout category, but may not please fans of the original unless they consider taking more than the recommended serving.