Muscletech Platinum Test Booster
Muscletech Platinum Test Booster Facts
Muscletech's new Platinum or Essentials Series of supplements is a huge range that the company have invested a lot of time developing to boost their supplement variety. With over 20 supplements in the entire series, one of the newest entry into the range is the testosterone support supplement Muscletech Platinum Test Booster.
Muscletech Platinum Test Booster Review & Ingredients
The new Platinum Test Booster from Muscletech presents itself as more of a anti-estrogen supplement than a specific testosterone booster. The supplement splits its ingredients into two matrices including:
Anti-Catabolic Matrix
Rhodiola Root Extract – 776mg
Gingko Leaf Extract – 5.44mg
Anti-Aromatase Support Complex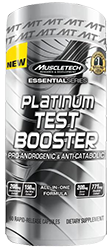 Bladderwrack Whole Plant Extract – 200mg
Boron Citrate – 200mg
Red Wine Fruit Extract – 150mg
Passionflower Flower – 100mg
Phytosterols – 47.5mg
The range of ingredients used in the supplement is diverse and ranges from those that have a fair bit of research supporting its effectiveness as well as more novel and innovative ones. Overall, the supplement should provide some benefit for those looking to optimise their normal levels of testosterone.
Muscletech Platinum Test Booster Release Date
While the ingredients of the Muscletech Platinum Test Booster has been released, it's unsure when the supplement will make its way into the market, but it shouldn't be longer than another 2-3 months and will most likely be ready for sale before the end of 2014.