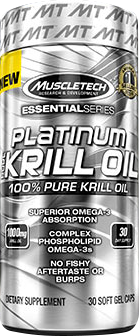 Platinum 100% Krill Oil is one of three omega 3 supplements from the new Essential Series range of supplements from Muscletech along with Platinum 100% Fish Oil and Platinum 100% Fish Oil 4X. A great alternative to fish oil, krill oil also contains a range of other beneficial compounds.
Muscletech Platinum Pure Krill Oil Review & Ingredients
Muscletech's Platinum 100% Krill Oil contains 1000mg of krill oil providing 213mg of omega 3 fatty acids, 112.5mg of eicosapentanoic acid (EPA) and 61.9mg of docosahexanoic acid (DHA). In addition, the supplement provides a good dose of vitamin C and E as well as astaxanthin, a potent antioxidant and anti-inflammatory that is also good for heart health. Krill oil is said to be better absorbed than most fish oils and therefore a lower dose is needed to elicit the same positive effects of fish oil. In addition, krill oil has been studied recently to potentially provide some fat loss benefits through the compound astaxanthin.
Muscletech Platinum Pure Krill Oil Release Date
The Muscletech Platinum Pure Krill Oil has already been released in the United States with a potential release before October 2014 in Australia