MuscleTech Platinum 100% Iso Whey Review
MuscleTech's latest brand expansion includes a back to basics approach with their Platinum Series products. This series eliminates many of the bells and whistles commonly associated with MuscleTech products and includes only the essentials. One of such products would be the new Platinum 100% Iso Whey, a blend of two different whey protein isolates.
MuscleTech Platinum 100% Iso Whey Highlights
100% whey protein isolate containing hydrolysed whey protein
Fast absorbing protein powder for use before and after training
No gimmicks, just a simple high quality protein
MuscleTech Platinum 100% Iso Whey Ingredients
MuscleTech being MuscleTech of course will never be a bare bones company and only have single active ingredient in a protein. Instead, Platinum 100% Iso Whey contains a blend of whey protein isolate (WPI) as well as hydrolysed whey protein isolate. In addition they have included a couple of digestive enzymes to help absorption.
In each 32 g serve of Platinum 100% Iso Whey there is 25 g protein, 2 g carbs, 0.5 g fat, and 120 calories.
MuscleTech Platinum 100% Iso Whey Effectiveness & Pros
There is absolutely not a shadow of doubt about the effectiveness of a good quality whey protein to help increase lean gains. This is certainly no exception with 100% Iso Whey, which contains not only WPI but also hydrolysed whey isolate, which is more rapidly absorbed and arguably even more anabolic.
Overall, the blend of protein is used in Iso Whey is very fast absorbing, making it perfect for use before and or after a workout, periods when you need it the most. Being low in fats and carbs should make Iso Whey attractive to anyone who is looking to build lean muscle, or even cut down on some fat.
Other than the addition of digestive enzymes, MuscleTech have kept Iso Whey relatively pure, without the addition of unnecessary amino acids and other ingredients in an attempt to differentiate the product from the competition.
MuscleTech Platinum 100% Iso Whey Cons & Negatives
Platinum 100% Iso Whey shows many typical characteristics of an American protein powder. Despite being a product that is predominantly a WPI, its protein content is approximately 78%, over 10% short of Australian and Kiwi WPI proteins. The reason for this is most likely because Americans demand a thicker shake, which results in the use of additional thickening and flavouring agents, which inevitably brings down the total protein count.
It is important to keep in mind that because Iso Whey is such a fast digesting protein, it is not suitable for use if you are expecting it to sustain amino acid delivery to your muscles for extended periods. For this, a blended protein such as Phase 8 would be more appropriate.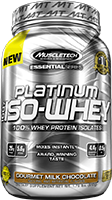 MuscleTech Platinum 100% Iso Whey Taste & Mixability
Platinum 100% Iso Whey has a flavour that is quintessentially American. It mixes easy into a milk-shake textured drink with a rich flavour that is also typical of that found in other MuscleTech protein powders. If you've always been a fan of MuscleTech flavouring, you will love 100% Iso Whey
MuscleTech Platinum 100% Iso Whey Verdict
MuscleTech's Platinum series are a simple line of products. Funnily enough, they are designed for the more experienced trainer who knows a thing or two about supplements. This is no less true for Platinum 100% Iso Whey, a fast digesting WPI suitable for those who need a fast hit of protein.