With the Max's Muscle Up Challenge more popular than ever, the iconic Australian supplement company have decided to create a whole new range of supplements catering to those who participate in the challenge. This new Transformation Series will feature three main supplements including the night time casein based protein known as Max's Transformation Series Night.
Max's Transformation Series Night Highlights
Sustained release protein blend with casein and whey
High in protein, low in carbs and low in fat
Naturally occurring CLA (conjugated linoleic acid) to support fat burning and recovery
Added magnesium, zinc and chamomile for sleep support

Max's Transformation Series Night Review & Ingredients
The new Max's Transformation Series Night is a relatively simple formula with only a small handful of active ingredients. Each scoop of the formula contains:
Sustained Release Protein Blend – Micellar Casein, Whey Protein Concentrate (WPC) and Calcium Caseinate
Magnesium and Zinc
Chamomile
All other ingredients are simply for taste and mixability. Each 30g serve of Max's Night will provide 24.1g of protein, 2.1g of carbs, 0.8g of fat and only 112 calories.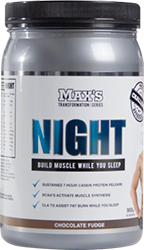 Max's Transformation Series Night Pros & Effectiveness
Not enough trainers are using a good quality casein protein to help support their training and results. While a good blended whey product is ideal for post workout, a slower digesting, sustained release casein is best for night time while you sleep. The Max's formula provides a cost-effective and simple night time blend that will help you continue to put on muscle even while you sleep. Some added chamomile will also help support a better, more restful sleep to help further recovery. Low in calories, carbs and fat, Max's Night provides all the essential amino acids and branched chain amino acids your muscles need to grow without any further additional calories. Best of all, it's a great product to help you fight night time cravings during the Challenge. The naturally occurring conjugated linoleic acid (CLAs) in the product will also help support fat burning and recovery whilst you sleep.
Max's Transformation Series Night Negatives & Cons
There's not a whole lot of negatives with Max's Night. It's a simple and solid protein. It's interesting that they've gone with a blend of proteins instead of straight micellar casein, however, as they're going for a more sustained supply of amino acids to the muscles, it makes sense. While glutamine is important to help support recovery and immunity, they could've done without the added glutamine as the protein itself would have plenty. Overall though, not too many complaints about Max's Night and it definitely should belong in every Challenger's stack.
Max's Transformation Series Night Flavours, Taste & Mixability
Max's Transformation Series Night will be available in two flavours including Chocolate and Vanilla. As with all their other products, Max's Night is quite a tasty casein protein, a little bit more grainy and thicker than their whey proteins, but still very easy to drink. The Max's Night mixes well enough for a casein protein and provides a nice filling shake.
Max's Transformation Series Night Verdict
The new Max's Night is a simple, yet effective night time casein protein supplement. It's high in essential and branched chain amino acids required to build muscle and help it recover and repair. The added chamomile will help support relaxation just before bedtime for a sounder, more restful sleep. Max's Night tastes quite nice for a casein protein and mixes fairly easily. All in all, the new Max's Transformation Series Night is a solid effort from an Aussie institution. It's great that they've created a Series around the Challenge as it makes it simpler for the contestants and Night represents a crucial addition to any stack.