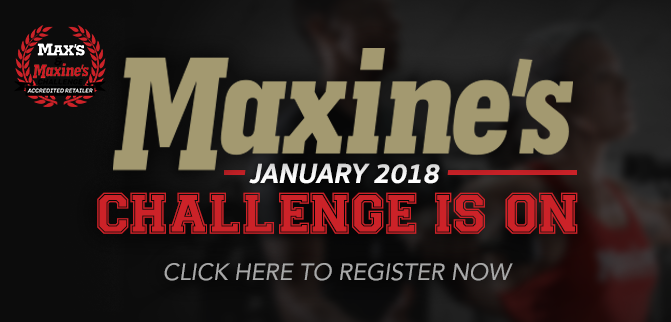 The Maxine's Challenge is one of Australia's best and most famous transformation changes, requiring women to reach their ideal health and physique goals over 12 weeks. Whether you want to tone or lose weight, the Maxine's Challenge is one of the best programs to help you tackle the task at hand thanks to its plentiful support and detailed training and nutrition plans. The 2018 Maxine's Challenge is going to be bigger than ever and is ideal for first timers and returning challengers to put their tenacity to the test and achieve their best body yet. To get a head start on the Challenge, here are some crucial details, information and dates you might need.
Maxine's Challenge 2018 – Where to Register
To sign up for the Maxine's Challenge, simply head on over to the official Maxine's Challenge Website.
Maxine's Challenge 2018 – Registration Dates
As with previous couple of years, the Maxine's Challenge 2018 will run three times throughout the year, once in January, once in May and once in September. So now's the time to figure out whether you're ready to tackle the first one, the second one or the third one. Unlike previous years, there will no longer be pre registrations and registrations have been open from late December for the February challenge and will open around June for the August challenge. If you register early, you will still receive email reminders as well as extra motivation, tips and information for the upcoming 12 weeks.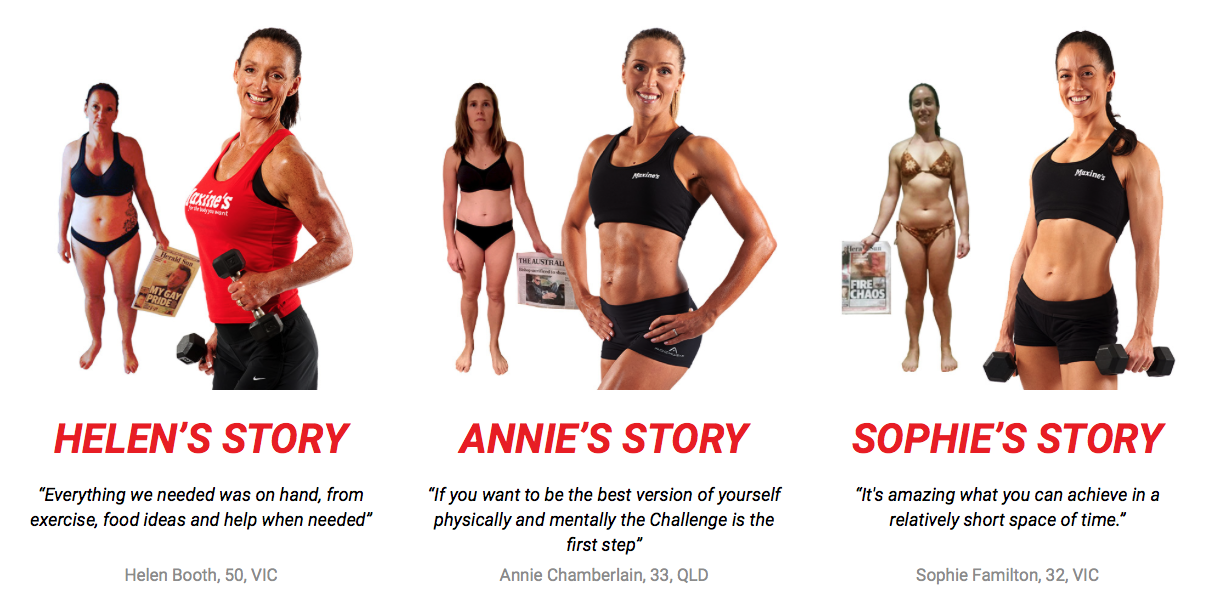 Maxine's Challenge 2018 – Key Dates
For those interested in the Maxine's Challenge for 2018, here are the crucial key dates for the upcoming Challenge. Note: Other crucial dates will be updated once information becomes available. 
Maxine's Challenge January 2018
Login Starts – Monday 11 January
Login Closes – Sunday 6 May
Challenge Starts – Monday 22 January
Challenge Finishes – Sunday 15 April
Week 4 Check-In Opens  - Wednesday 14 February
Week 8 Check-In Opens - Wednesday 14 March
Completion Process Opens – Monday 16 April
Completion Process Closes – Tuesday 17 April
Public Voting Opens – Wednesday 18 April
Public Voting Closed – Sunday 22 April
Top 50 Announced – Wednesday 25 April
Top 10 Announced – Thursday 26 April
Top 3 Announced – Friday 27 April
Maxine's Challenge 2018 - Check In Dates
As per the previous years, the 2018 Maxine's Challenge will require participants "Check In" twice during the 12 weeks as a way to update any progress pics and results and ensure you're keeping on track. The dates for these two "Check In" points will be:
Maxine's Challenge February 2018 - Check In Point Dates

Week 4 Check In Point Open - Wednesday 14 February
Week 8 Check In Point Open - Wednesday 14 March
The before and after photos are front on with the newspaper to verify the date, Maxine's Challenge encourages challengers to write in their journal and aadd other photo's such as back/side comparisons in the journal. You can write daily, weekly or not at all it is entirely up to you, then save the journal at the end of the Challenge. The week 4 & 8 check in photos do not require a newspaper. The after photo is with the paper and then is compared with the before photo for judging. Challengers can also add up to 10 additional photo's of their choice for the judges to see, this is optional.
Maxine's Challenge 2018 – News & Facts
Beginning the Maxine's Challenge 2018 is easy; you'll need to snap and upload a "Before" image. This will help provide a visual way for you to track your progress and transformation over the next 12 weeks. Participants can also be guided to take a few initial fitness measurements via a short fitness test. This will be a quantitative tool to track your baseline fitness levels and provide you with more objective values of how far you progress throughout the Challenge.
During weeks 4 and 8, Challengers will be required to submit more progress pictures and have the opportunity to re-test themselves with the same fitness test. Finally at the conclusion of the 12 weeks, "After" shots need to be taken, a final fitness test conducted before public voting and judging begins to find the top 50 and the top 10 finalists respectively. The winner and placings will then be announced at the Presentation Gala.
During the 12 weeks, participants will have the opportunity to choose between 4 different types of training and nutrition programs including
Tone & Shape Beginner
Tone & Shape Intermediate
Get Strong Beginner
Get Strong Intermediate
These programs will differ slightly in the intensity of training as well as the sample dietary and eating plans. Throughout the Maxine's Challenge 2017, participants will have access to forums where they can speak with expert coaches and other challengers as well as the Social Hub where they can connect and see what other participants are up to.
Unlike 2017, there will no longer be a FREE basic plan. Instead there will be two paid versions of the Challenge – the Access Plan and the Platinum Plan. More details on the plans are available below.
The entire competition will be conducted in accordance with anti-doping policies of the World Anti-Doping Agency (WADA) and individual participants have the opportunity to sign up with a public or private profile. In order to be eligible for the prizes, you will need to have a public profile. Participants also have the opportunity to join groups as a way to assist each other during training.   
Maxine's Challenge 2018 – Access Plan
Maxine's Challenge 2018 will come in two paid versions, with the most cost effective version being the Access Plan. This provides you with:
Support – Via the Challenge forum and the social hub where you can connect with other challengers
Training – A range of training videos, guides and fitness programs updated every 4 weeks
Nutrition – Guidelines, tips and recipes on all things nutrition related. You'll also be provided with sample meal plans, updated every 4 weeks as well as a comprehensive shopping list.
Supplements – A guide to all the supplements you can use to boost your results
Mindset and Motivation – Podcasts and inspirational messages from expert Coaches on the forums, social hub and emails.
Maxine's Challenge 2018 – Platinum Plan
For participants wanting a little more support, the Maxine's Challenge will also come with a Platinum Plan. This includes everything from the Access Plan, along with:
Online Personal Training – An initial assessment by a Coach, weekly on-line check in questionnaires to keep you on track, personalised training and advice and a post Challenge assessment to help you after it's over.
Supplements Starter Pack – Maxine's Night Time Protein, Maxine's Burn Protein, Maxine's Recover, Maxine's Merchandise and Maxine's Samples (Valued at $250 RRP)
There are a limited number of Platinum Plans available, so first in, best dressed.
Maxine's Challenge 2018 - Costs
How much does the Maxine's Challenge 2018 actually cost? This depends on a couple of factors, but initial costs for joining will depend whether you go with the Access Plan or the Platinum Plan as outlined below:
Access Plan - $109
Platinum Plan - $489
Both plans will ensure you have the chance to win the prizes at the end of the 12 weeks providing your profile is public. Beyond those initial join up costs, the expenses related to the Maxine's Challenge aren't that much at all. You might find that you have to pay a little bit to alter your diet, nutrition, supplementation and training routines, but making these changes will only cost around $2-$5 extra per day. This is at the lower end of the spectrum, but you can definitely get through the challenge without significant expenditure. At the end of the day, you're paying the rough price of a coffee to help you become a fitter and healthier you.
Maxine's Challenge 2018 - Prizes
As always, the Maxine's Challenge in 2018 will be a big year in terms of the potential prizes you're able to win. These include:
5 star Luxury Australian holiday for 2 people
VISA Gift Card vouchers
Product giveaways
4 month MAX'S/Maxine's Sponsorship
Invitation to the end of year Gala Presentation
Opportunity to be featured on Challenge TV
Every Challenger this year in the Maxine's Challenge will be eligible to win these prizes, as long as they have a public profile. Each participant will also receive a completion certificate at the end of the 12 weeks.
Maxine's Challenge 2018
The Maxine's Challenge is the perfect way to kick start your weight loss or fitness journey and to become a healthier you. It's not an easy 12 weeks, but Maxine's provides plenty of support to help you reach your goals faster and easier. If you have done it before, you know how rewarding completing the Challenge can be, so 2018 is the perfect time to break some personal bests and to strive for more ambitious results. No matter if its your first or fifth Maxine's Challenge, let 2018 be your best year yet.