Max's Transformation Series Mass Review
The new Transformation Series from Max's is a specially designed range geared towards participants of the Max's Challenge. Although it was designed for the popular transformation challenge, it can be used by any trainer from the beginner to the more experienced. One of the supplements in the range will be the weight gain protein powder known as Max's Transformation Series Mass.

Max's Transformation Series Mass Highlights
At the end of the day, most people like to keep it simple when it comes to their supplements. "I want to get big…what supplement do I take?" or "I want to shred…what supplement do I take?". It's fair to say that Max's had this principle in mind with their latest Transformation Series range. Their new Mass supplement is obviously for the large number of individuals who enter the Transformation Challenge and simply want to "put on size". The major highlights for Max's Mass are its dual protein (i.e. whey concentrate & calcium caseinate) and carbohydrate mix (maltodextrin & waxy maize) together with added creatine monohydrate, BCAAs and glutamine. With these key ingredients, Max's Mass ticks all the key boxes for a mass gainer.
Max's Transformation Series Mass Ingredients & Dosage
The prescribed serving size for Max's Mass is 120g. When mixed in water, this provides 21.7g of protein and 86.8g of carbs per serve. Close to 100g of carbs per serve is a relatively high/aggressive dose and certainly not for the faint hearted individuals looking to support standard muscle growth. Then consider the fact that Max's recommend two serves per day and you have a reasonably high carbohydrate intake from a supplement alone. This may not be an issue for some, but there will be others who might find they put on too much excess fat as a result of the heightened carbohydrate intake.
Just over 20g of protein per serve is considered by many as more or less the bare minimum to support aggressive muscle growth. More savvy supplement users might be put off a bit by this marginally low protein content, but it's fair to say Max's are not going after your average supplement user. As such, the lowish protein content will likely not be a deciding factor for the average target challenge participant.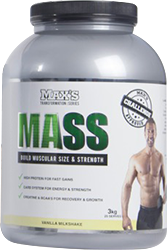 Max's Transformation Series Mass Pros & Effectiveness
Will taking 2 serves of Max's Mass per day with milk help the average challenge participant put on weight? Definitely! As alluded to above, there's a wide degree of individual variance in response to the level of added daily protein and carbohydrate in two serves of Mass, when included as part of a weight training program. Some tend to put on more muscle, while other put on too much excess body fat. Aside from this, there's the question of whether the added creatine (3.6g per serve) is enough to stimulate extra muscle growth. Max's argue that 7g a day is enough, but again there's the issue of biochemical individuality in determining who responds most favourably.
Max's Transformation Series Mass Cons & Negatives
The biggest criticism to make of Max's Mass is its borderline low protein content. Max's attempt to offset this by recommended each serve of Mass be mixed with milk so as to elevate protein content. The only issue with this approach is there are some who might find the shake is too thick when mixed wholly with milk. With its high carbohydrate content, Mass will naturally have a thick consistency when mixed with water alone. While the added BCAAs and glutamine in Mass are a great addition, there's levels are relatively low. 2g for leucine and 1g for valine, isoleucine and glutamine is a pretty conservative addition, which some of the more critical consumers may view simply as token amounts.
Whey protein concentrate is the primary protein in Max's Mass, but by the same token is also the most inferior form of all whey proteins. A lot of supplement users steer away from whey protein concentrate in the belief that its far inferior to the likes of whey isolate and hydrolysate, when in fact, there is very little meaningful difference in its anabolic potential. The key difference is simply its protein level. Nonetheless, it's reasonable to assume potential users might frown upon the absence of a higher quality whey protein such as hydrolysate or isolate.
Max's Transformation Series Mass Taste & Mixability
Max's have a good reputation for the taste of the protein powders. Most of their supplement tend to strike a nice balance between being too sweet or too bland. As expected, Mass is no exception to this rule. Mass comes in a choc toffee and vanilla milkshake flavour that are both very acceptable. Size wise, there are two varieties: a 3kg and 7kg.
Max's Transformation Series Mass Verdict
Taking into account that Mass is designed primarily for participants in the Max's Challenge who want to put on size, the product is a sound formulation that will no doubt work for the average participant. But with its lower protein content and higher carb content and lack of vitamin/mineral blend, the product is not likely to poach existing SuperSize users. This is no doubt what Max hope to achieve with their new Transformation Series.