What is L-DOPA ?
L-Dopa is the precursor to several neurotransmitters including dopamine, norepinephrine (noradrenaline) and epinephrine (adrenaline). It is found within the human body as well as in other animals. It is sold in its pure form as 'levadopa', whilst its chemical name is L 3-4-dihydroxyphenylalanine.
Where Does L-DOPA Come From?
L-dopa is synthesised in the body from the amino acid l-tyrosine.
L-DOPA Health Benefits
L-dopa is normally prescribed as a treatment option for Parkinson's Disease, beginning at relatively low doses and increasing up to 8000mg a day (although this is usually intolerable).
L-DOPA Benefits for Bodybuilding
L-dopa's interactions with hormones are the main benefit for bodybuilding, since it can lead a chain reaction to an increase in testosterone. This has not yet been studied in human subjects, but theoretically l-dopa could be a potent testosterone booster. However, human growth hormone has been tested in humans, and has had positive results at dosages over 1000mg. This is generally a temporary increase, and so continual supplementation is needed to maintain levels of the hormone.
L-DOPA Side Effects, Safety and Negatives
L-dopa is associated with the onset of dyskinesis, or involuntarily movement. Although this is common when l-dopa is being used as a treatment for Parkinson's, its effect in healthy people is unknown. However, the doses at which l-dopa will induce dyskinesis in individuals with Parkinson's will not in a normal individual, and dyskinesia has never been observed in a healthy person in clinical trials.
There is also a long list of side effects caused by high doses of l-dopa, including hypotension, nausea, gastrointestinal bleeding, disorientation and confusion, extreme emotional states including anxiety and excessive libido, vivid dreams or insomnia, somnolence and narcolepsy. These are caused by the increase in dopamine in the nervous system, and tend to start at low levels at dosages of 1000mg and increase with an increase in dose.
L-DOPA Recommended Doses and Ingredient Timing
1000mg a day has been shown to increase human growth hormone, and would likely have an impact on testosterone as well. It would be advisable to take the supplement just before a workout, in order to increase HGH for training and recovery.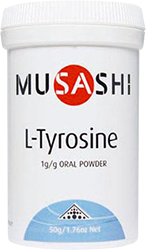 L-DOPA Supplements
L-dopa is not available over-the-counter in Australia. However herbal supplements with a percentage of l-dopa in them are available, including Velvet Bean (Mucuna pruriens) and broad beans. Mucuna pruriens is available in capsule form, and generally the percentage of l-dopa is available on the packaging.
Tyrosine is also a precursor to l-dopa, and so supplementation with this amino acid will lead to raised levels of l-dopa. Although there are rate limiting steps and levels cannot get as high as with direct supplementation of l-dopa, this is still a good option for Australian buyers. Mushashi L-Tyrosine is one product option.
Stacking L-DOPA
L-dopa containing supplements may stack well with other testosterone influencing products, including Ronnie Coleman's Testogen and Beast E-liminate. Human growth hormone boosters such as Elemental Nutrition HGH may also be a good option.