IsoPure Zero Carb by Nature's Best Review
IsoPure by Nature's Best is a protein series that aims to provide high quality protein with as few unnecessary additives as possible. Catering for those who are sensitive to certain ingredients, but who still want quality products to support their training, the IsoPure series has a range of products including their IsoPure Zero Carb.
IsoPure Zero Carb by Nature's Best Highlights

50g of high quality whey protein isolate (WPI) per serve
0g of carbs and only 1g of fat
Gluten and lactose free
Comprehensive spectrum of essential vitamins and minerals
IsoPure Zero Carb by Nature's Best Review & Ingredients
All in all, IsoPure's Zero Carb is a pretty simple protein powder. It's main and only protein source is whey protein isolate, however they have used two types which differ in their form of processing including:
Ion Exchange Whey Protein Isolate
Microfiltered Whey Protein Isolate
In addition, IsoPure contains a full spectrum of essential vitamins and minerals as well as added taurine and glutamine. Each large 62g serve of the Zero Carb Whey consists of 50g of protein, 1g of fat and 0g of carbs, which totals roughly 210 calories.
IsoPure Zero Carb by Nature's Best Pros & Effectiveness
IsoPure Zero Carb will definitely provide you with plenty of protein without any carbs. This is ideal for those on a low carb diet or a Paleo diet. The protein powder has also been processed to remove all traces of lactose and is very low in gluten free. The comprehensive mix of essential vitamins and minerals also help to support your daily needs, which is especially important for those who are upping the intensity of their workouts or who are on restrictive diets.
IsoPure Zero Carb by Nature's Best Negatives & Cons
For a protein powder that contains whey protein isolate, zero carbs and virtually no fat, it's surprising that it's still only 80% protein. While there is added vitamins/minerals, I wouldn't expect there to be that much to constitute more than a couple of grams. One has to wonder then why the protein percentage is so low, compared with other carbless WPI powders.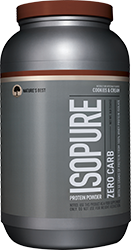 IsoPure Zero Carb by Nature's Best Flavours, Taste & Mixability
IsoPure Zero Carb comes in a variety of sizes and flavours, some of which are quite novel. Eleven flavours in total are available including Alpine Punch, Apple Melon, Banana Cream, Creamy Vanilla, Cookies & Cream, Dutch Chocolate, Toasted Coconut, Mango & Peach, Mint Chocolate Chip, Pineapple Orange & Banana and Strawberries & Cream. It's not the best tasting protein and it's honestly a little weird having fruit flavoured protein, but it is a good difference. It does have a stronger protein aftertaste and mouth feel, but nothing that will turn you off the product entirely. The IsoPure Zero Carb does mix extremely well though, so you're rarely going to get any clumping or residue.
IsoPure Zero Carb by Nature's Best Verdict
If you're after a low gluten, lactose free, zero carb and virtually zero fat protein powder, you really can't go past IsoPure Zero Carb from Nature's Best. It's clean protein that anyone can be happy putting into their body and will provide you with the right ingredients to help your muscles grow, recover and perform at their best. The serving size is a bit too large for my liking and you really don't need anymore protein than 20-30g. As such, I would suggest halving the serve, which will save you money but still provide you plenty of protein.