Isatori Amino-AMP Review
While Isatori has been around for over a decade now, they're still considered one of those companies who have yet to crack it in the big leagues against stalwart companies such as Optimum Nutrition, BSN, Muscletech and the like. However, it's not because they're making bad products. In fact, Isatori are one of the most diligent companies when it comes to supplement formulation and aren't fussed about taking some extra time to perfect their products. One of Isatori's latest supplement releases is their intra-workout supplement Isatori Amino-AMP.
Isatori Amino-AMP Highlights
3:1:1 Ratio of Branched Chain Amino Acids (BCAAs)
Added Methionine
Ideal Intra-Workout Solution
Isatori Amino-AMP Ingredients & Dosage
Isatori's new Amino AMP is an extremely simple formula and only contains four active ingredients contained in a HPLC Verified 0-Calorie Amino Acid Complex:
Leucine (3,000mg)
Isoleucine (830mg)
Valine (830mg)
Methionine (as MethioMax™ Methionine) (830mg)
The other ingredients in the Amino AMP are for flavouring, mixability and shelf life purposes. There are two variants of the Amino AMP; a 7 serving and a 30 serving tub with each serve measuring 7.45g. So roughly 74% of the serve is active ingredients.
Isatori Amino AMP - Pros & Effectiveness
You can't really go wrong with a branched chain amino acid (BCAA) supplement. After all, these essential amino acids make up roughly a third of the content of skeletal muscle and exercise will tend to deplete their levels. Multiple studies have shown the effectiveness of BCAAs used during workouts to help decrease muscle damage and to help kick start muscle building processes. The branched chain amino acid leucine is also considered the primary anabolic signalling amino acid that controls a huge percentage of muscle growth. Most people don't really notice how well a BCAA supplement actually works until a retrospective look at how much faster their recovery potential is and how much easier it is to build muscle mass.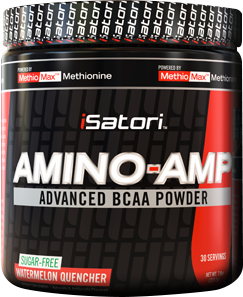 Isatori Amino AMP - Cons
Perhaps the most blaring issue with Isatori Amino AMP is the inclusion of the amino acid methionine. While methionine is an essential amino acid, there's really no ergogenic benefit with its supplementation. The only reason why Isatori have included methionine is perhaps due to studies showing that its supplementation in chickens resulted in greater muscle growth and IGF-1 concentration. However, there have not been any studies suggesting any ergogenic benefit.
Isatori Amino AMP Taste & Mixability
Isatori Amino AMP currently comes in two flavours Watermelon Quencher and Grape Quencher, both of which are so easy to drink and refreshing that you'll probably be craving it during your workouts in no time. Amino AMP also mixes extremely well with no residue or grittiness and with an average amount of frothing.
Isatori Amino AMP Verdict
Isatori have made some excellent products in the past; Bio Gro and Restoraid for example. Amino AMP feels like a bit of a let down however as it's pretty much just a simplified version of Restoraid. While it's not the most innovative supplement, it's not a bad supplement either, and if you're a seasoned trainer who needs to boost their recovery or break out of a plateau, then Amino AMP can definitely work for you.