Giant Delicious Casein Review
Giant Sports have built a strong reputation for making some of the most effective and tasting supplements on the market today. Recently, they have decided to build on their success from Delicious Protein with their new casein protein, Giant Sport Delicious Casein.
Giant Delicious Casein Highlights
100% micellar casein protein
Delicious taste without the rough casein texture
Gluten-free
Giant Delicious Casein Ingredients
Delicious Casein is a 100% micellar casein protein, which contains little else other than flavouring agents. In each 33 g scoop of Delicious Casein, you will get 24 g protein, 2.6 g carbs, and 1.5 g fat.
Giant Delicious Casein Effectiveness & Pros
Delicious Casein, from a nutritional stand point, is a typical micellar casein protein. It provides a long, sustained release of amino acids to prevent the body from catabolising during extended fasting periods. This makes it an ideal protein for immediately before bed.
Because Delicious Casein is a 100% micellar casein, its digestion is slower than competitor products that are derived from a combination of micellar casein and calcium caseinate.
An added bonus for Delicious Casein is that it is gluten-free. Unlike some other American gluten-free claims, Delicious Casein is tested for the absence of gluten. As such, those with Coeliac disease can rest assured that they are indeed not consuming any gluten. Delicious Casein is also extremely low in sugar, which means it is also very low in lactose. At 0.38 g sugar/serve, Delicious Casein would contain negligible amounts of lactose, making it suitable for those who suffer from lactose intolerance.
Delicious Casein Cons & Negatives
As with all casein proteins, Delicious Casein must be used appropriately. If you are after a single protein powder which can be used at any time of the day, including post workout, this is not it. Its slow digesting profile makes the protein too slow to be used for periods when you need a quick hit of protein. For this purpose, we would instead recommend Giant Delicious Protein.
Delicious Casein Taste & Mixability
This is really where Delicious Protein makes itself known. On the surface, Delicious Casein is another run of the mill casein protein with little else to offer. However, the name should be a hint of its differentiating feature. Casein protein products are very well known to be quite rough in texture. This trait is so prolific that it is commonly accepted by casein consumers. However, the team at Giant have somehow managed to almost completely eliminate the rough texture commonly associated with casein protein.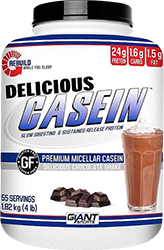 Much like Delicious Protein, Delicious Casein dissolves into a thick textured shake. Beyond the thickness, it is difficult to detect the course texture and grittiness commonly associated with micellar casein. The texture is almost as smooth as modern whey proteins, with only a slight hint of casein-ness. Delicious Casein is definitely leaps and bounds ahead of any other micellar casein on the market today.
In regards to flavours, Delicious Casein is currently available in chocolate, vanilla, and banana. Although chocolate is the best-selling, the folks here in office prefer the banana flavour the most, which resembles a real banana thick-shake.
Mixability is more than acceptable. However, for best results, we recommend using a shaker cup or blender instead of attempting to stir it with a cup and spoon.
Delicious Protein Verdict
Once again, Giant Sports made a product that lives up to its name. Giant Sport Delicious Casein may not be a revolutionary casein protein, but its taste certain is. Without the rough texture you expect with micellar casein, Delicious Casein sets a new standard for casein taste and texture.