Gaspari Nutrition Superdrive Review
SuperDrive is the name of Gaspari's new breakthrough pre-workout about to hit Australian shores. Gaspari claim it's "the most innovative pre-workout ever invented". While this is a very bold claim, Gaspari certainly do deserve credit for coming up with a pre-workout that is packed with a host of new ingredients. A quick glance at the nutritional panel below reveals a number of 'never-before-seen' ingredients.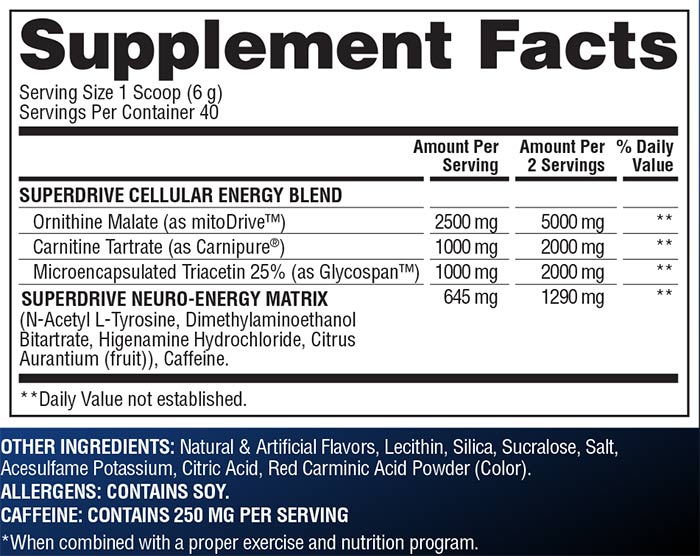 SuperDrive Patented Ingredients
In typical Gaspari fashion, SuperDrive contains a number of 'in-house' patented ingredients in the form of mitoDriveTM and GlycospanTM. mitoDriveTM is the patented name for ornithine malate, while GlycospanTM referes to microencapsulated triacetin.
mitoDriveTM
Ornithine malate is a fairly straightforward nutrient in terms of its purpose/action. Aside from its important role in detoxification of ammonia, ornithine also serves as a precursor to citrulline. Malate is an important intermediate in the kreb's cycle, so combining the two into one molecule is thought to provide synergistic benefits such as energy production, ammonia detoxification and citrulline production.
GlycospanTM
As for GlycospanTM – the story is a lot less clear. A quick Google search of 'triacetin' reveals that it also goes by the name 'glycerol triacetate' and is commonly used in cosmetic formulations as a plasticiser and solvent, in addition to serving as a carrier for flavours and fragrances. Such indications make it hard to understand why it would be included in a pre-workout. But as far as Gaspari are concerned, "glycerol is the volumization king", while "acetic acid is the lactic acid buffering king" – so combining the two (in the form of triacetin) should make for an explosive pre-workout nutrient. With no shred of scientific evidence on the use of triacetin for enhancing performance, it's hard to say what benefits users can expect from GlycospanTM. One can only assume that a powerhouse supplement company like Gaspari would have done their homework on this ingredient before deciding to throw it in.
Carnipure®
Carnitine is the other nutrient in Superdrive's 'Cellular Energy Blend'. It comes in the form of l-carnitine l-tartrate that carries the branded name, Carnipure®. Its inclusion comes on the back of new research highlighting its role in promoting blood flow and improving muscle recovery in addition to its well known fat metabolism role. Gaspari are to be credited for taking the lead on carnitine in this vein.

SuperDrive Neuro-Energy Matrix
As for Superdrive's 'Neuro-Energy Matrix', dimethylaminoethanol bitartrate (DMAE) and higenamine hydrochloride are the two stand-out inclusions. There is evidence to suggest that DMAE can increase vigilance and attention; both of which are desirable qualities in a pre-workout. As for higenamine, it made headlines when it was released in the reformulated Jack3d Micro. However, some may be surprised to know it actually does have some credible science behind it in terms of its ability to act as a β2-adrenoceptor-agonist to relax blood vessels and promote blood flow. Gaspari also claim higenamine "contains a critical component to work in conjunction with n-acetyl tyrosine, DMAE, citrus aurantium, and caffeine". Time will only tell just how synergistic and potent Superdrive's 'Neuro-Energy Matrix' is once Australian users have a chance to get their hands on it and try some.
Summary
As stated at the outset, Gaspari are to be commended for the originality of Superdrive's formula. It combines some very new ingredients together some contemporary ones to make for a very interesting formula that's sure to be warmly received once it hits Australian shores in July.