Dedicated BCAA Sensation Review
Dedicated Nutrition, the latest Canadian brand to reach Australia have a range of supplements including a BCAA blend called Dedicated BCAA Sensation. Let's take a detailed look at what the Canadians have to offer and see if it holds up against other products in this category.
Dedicated BCAA Sensation Highlights
Key amino acids for enhanced recovery and protein synthesis
Completely transparent ingredient dosing
Zero carb and fat formulation
Dedicated BCAA Sensation Ingredients
Thanks to Dedicated's labelling transparency, we are able to report that each 11.3 g serve of BCAA Sensation contains 3 g taurine, 2.5 g leucine, 1.25 g valine, 1.25 g isoleucine, 1 g glutamine, 1 g citrulline malate, and 6 mg vitamin B6. Besides these active ingredients there are only some flavouring and sweetening agents.
Dedicated BCAA Sensation Effectiveness & Pros
The amino acid blend found in BCAA Sensation is well formulated for use to assist with improving recovery and preventing muscle breakdown during training. It is therefore an ideal supplement used around the workout period and can reduce delayed onset muscle soreness. The addition of citrulline is also an ideal ingredient for helping to increase nitric oxide synthesis and muscle pump during training.
Using BCAA Sensation can be of valuable assistance to help with lean muscle building and contains absolutely no carbs or fats, and is therefore suitable for even the strictest of diets.
As hinted to above, the labelling transparency is fantastic. The dosage of each ingredient is listed independently on the nutritional information. This type of labelling is becoming increasingly popular among manufacturers and is excellent for giving customers confidence in what they are getting. We applaud Dedicated for their commitment to transparency.
Dedicated recommend anywhere between one and three scoops. A single scoop provides a respectable 5 g of BCAAs. However, the max three scoops provide a huge 15 g, which should be more than enough for anyone.
Dedicated BCAA Sensation Cons & Negatives
BCAA Sensation contains a fairly generous serve of taurine (3 g/scoop), making taurine the most abundant ingredient in BCAA Sensation. The manufacturers argue the importance of taurine, including cell volumisation, increasing energy, etc. However, we feel that the BCAAs, with their anabolic properties, are the most beneficial amino acids and should therefore take precedence over taurine in this type of product. Perhaps a formulation with only around 1 g taurine/scoop would be more sensible. This is especially true when we consider that another Dedicated product, Epic, also contains another 2 g of taurine.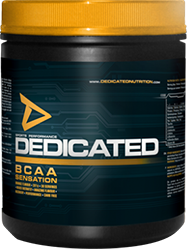 Another interesting omission are electrolytes. Although this has been included in Epic, it seems that including it together with a BCAA blend, used during training, would be more appropriate.
Dedicated BCAA Sensation Taste & Mixability
Dedicated have been spot on with their flavours. BCAA Sensation also stays true to this, with a delicious range of flavours that mix well and taste like cordial. Slamming down a serve of BCAA Sensation during training is especially refreshing when mixed with cold water.
Dedicated BCAA Sensation Verdict
Dedicated BCAA Sensation is a well formulated BCAA supplement that can be used during training. Its formulation is not ground breaking, but is effective if you want a product to assist with recovery and lean muscle building.