BSN Whey DNA Review
BSN Whey DNA Facts
BSN have been advertising a brand new series of supplements for quite awhile now. Since the 2013 Olympia, they have advertised a DNA Series of supplements, which was going to include a range of more basic products. A year on, we're finally being shown what exactly those products are with one of the first ones to be BSN Whey DNA.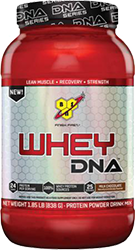 BSN Whey DNA Review & Ingredients
BSN's new Whey DNA is an extremely simple and basic protein that avoids one of the more relevant contentious issues currently in the supplement industry; the issue of amino spiking. As such, Whey DNA does not contain any added amino acids, but rather packs in 24g of protein per serve from whey protein isolate and concentrate, about 5g of carbohydrates and 1g of fat totalling roughly 130 calories. BSN has indeed delivered with a simple whey protein which is completely different to that of their flagship protein Syntha 6. This should be an excellent and cost effective protein for fans of the company.
BSN Whey DNA Flavours, Taste & Mixability
Whey DNA will come in three official flavours; Vanilla Cream, Milk Chocolate and Strawberry Cream. Eventually though, the flavour range should expand as will the sizing options, which at the moment is only confirmed for the 1.8lb or 813g tub.
BSN Whey DNA Release Date
BSN's new Whey DNA has already been released in the US and should make its way down to Australia by the first quarter of 2015 around March.