BSN Syntha-6 Protein Crisp Review
BSN Syntha-6 Protein Crisp Facts
Announced and debuted at the 2016 Olympia weekend expo, BSN's Syntha-6 Protein Crisps are the company's latest foray into the high protein snack foods category. The product is said to be one of two new products coming from the veteran supplements company over the next few months. Let's take a look at what you can expect from the new BSN Syntha-6 Protein Crisp.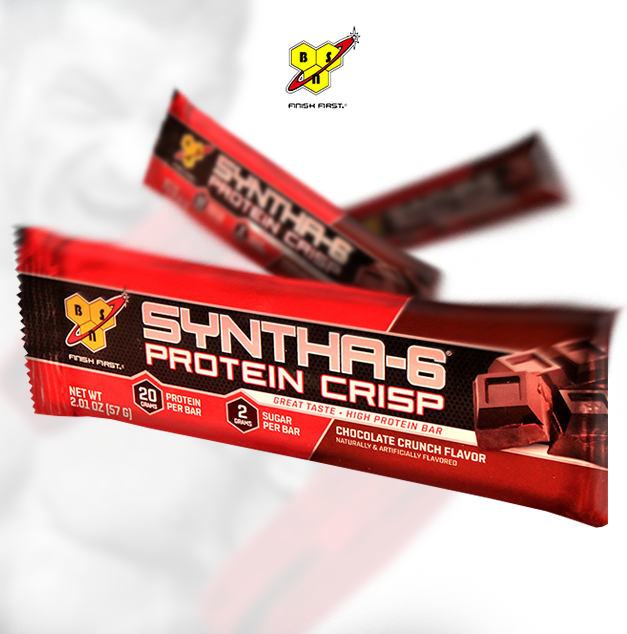 BSN Syntha-6 Protein Crisp Review & Ingredients
Not a whole lot is known about the new snack from BSN, however we do know that it will be a medium sized 57g bar which will provide:
20g of protein
2-4g of sugar per bar
The official ingredient make up isn't fully known, but we don't expect to be waiting too much longer for the details to arise. As soon as it does, you can bet we'll be the first to bring them to you.
BSN Syntha-6 Protein Crisp Flavours & Taste
The new Syntha-6 Protein Crisp will be made available in 4 flavours upon release including: Vanilla Marshmallow, Chocolate Crunch, Peanut Butter Chocolate and the delicious sounding Salted Toffee Pretzel. Taste wise, it's certainly a crunchy and crispy bar, similar to what you get from Rice Krispies/Bubble's bars, and the flavours will be fairly mild and not too sweet.
BSN Syntha-6 Protein Crisp Release Date
No official release dates for the BSN Syntha-6 Protein Crisp, although with packaging and product all ready to go, don't expect to be waiting too long with a most likely release date of sometime in November or December 2016.