BSKT Vegan Superfood Bar Review
Healthy snack bars are in high demand and the market is evolving and segmenting. People are wanting bars that not only taste good, but are made from more natural ingredients and ideal for anytime of day. Unique Australian company BSKT (pronounced like biscuit) have heeded the calls of health enthusiasts and have created their first supplement; the BSKT Vegan Superfood Bar.
BSKT Vegan Superfood Bar Highlights


Paleo & Vegan Friendly Bar
209 calories per serve with 5g of protein
Gluten Free, Dairy Free, Soy Free
Free from anything artificial
Unique flavours and perfect snack size
BSKT Vegan Superfood Bar Review & Ingredients
The BSKT Vegan Superfood Bar contains a variety of organic ingredients including dried fruits, seeds, nuts and coconut byproducts. Each bar contains:
Dried Fruits – Dates and sultanas
Seeds – Pepitas, Organic Tahini
Nuts – Almonds and cashews
Coconut Products – Coconut Chips, coconut sugar, coconut syrup and coconut oil
Cocoa Products – Cacao powder, cocoa mass and cocoa butter
Coffee Powder
Each 45g bar contains 209.5 caloires, 5.2g of protein, 11.7g of fat and 20.9g of carbs. In addition, each bar contains 4.5g of fibre. These figures differ slightly between flavours but will generally be around these levels.
BSKT Vegan Superfood Bar Benefits, Pros & Effectiveness
BSKT's new Vegan Superfood Bar has a couple of major benefits going for it. It's Paleo and Vegan friendly, making it ideal for a growing population of trainers and non trainers changing their diets. In addition, the bar is gluten, dairy and soy free – which further broadens its appeal, especially for individuals who are intolerant or allergic to the above ingredients, but still want a healthy snack bar. At just over 200 calories, the Vegan SuperFood Bar is perfect as a snack option. With nothing artificial and preservative free, you can't really get a cleaner bar than this.
BSKT Vegan Superfood Bar Negatives & Cons
There aren't a lot of negatives for the Vegan Superfood Bar. The protein content is a on the low end at only 5g per serve, so they could definitely try to find ways to improve this figure if they ever decide to reformulate. While the bar appears to be high in fats, the majority of it is unsaturated, making it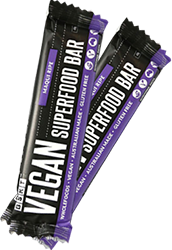 less of an issue.
BSKT Vegan Superfood Bar Flavours, & Taste
The BSKT Vegan Superfood Bar is currently available in three distinct and unique flavours including Cacao Ginger Nut, Maca Espresso and Macqui Ripe. While the flavours are odd in name, they taste quite nice. They're flavourful without being too sweet and there's plenty of textures thanks to the mix of fruits, nuts and seeds. The Maca Espresso is a personal favourite due to the strong coffee flavour, but all the others are equally as tasty.
BSKT Vegan Superfood Bar Verdict
The delicious new Vegan Superfood Bar from Gold Coast company BSKT is made for the health conscious individual looking for a convenient, healthy snack. Made from wholefoods, the bar is paleo and vegan friendly and free from gluten, dairy, soy and anything artificial. While it may be a little bit lower in protein, it's still a great option for those wanting something healthier than your typical snack to tide you over till your next meal. It's a great first supplement from the Aussie company and definitely worth a try.