Body War Mass War Review
Body War Nutrition is a relatively young Aussie company that has been making waves with some fantasic products, incuding popular pre-workout, PreWar, and Body Shred, a potent and versatile fat burner that many people use to boost their workout performance. Body War make products that are strong and effective, and many people have been waiting to see what this company will come out with yet.

The wait is finally over, with the announcement of Mass War, a supplement that supports muscle building.
Body War Mass War Ingredients and Review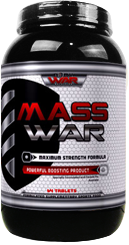 Mass War is a one of a kind supplement. Labelled as a Muscle Booster, Mass War contains a number of ingredients that work together to support muscle gain. These include D-Aspartic Acid, which encourages the body to up it's natural testosterone production; Stinging Nettle Extract, which increases free testosterone levels and is a valuable source of iron; Ginger extract, which has a number of health benefits, like calming digestion, alongside the potential to boost male hormone levels; 6-keto-pregn-4-ene-3,20-dione, or progesterone, not just a female hormone, but a by-product of testosterone production that may have a role in slowing age related muscle deterioration; grapefruit extract for overall health; and black pepper extract which enhances absorption of the aformentioned compounds into the bloodstream. These ingredients are likely to be complexed in a proprietary formula which possibly contains other muscle building compounds.
Mass War comes in capsules, which will be a good thing for many people, because some of the more potent muscle building ingredients can be quite bittter.
Body War Mass War Release Date
Many people have been looking forward to the release of this innovative new supplement. The good news is that Mass War is slated to appear on Australian shelves in September 2014.