Quick Summary Points
Blessed Protein is a natural plant-based protein from EHPLab's sister brand, Clear Vegan.
Blessed Protein is made with high quality golden pea protein isolate and contains no artificial flavours or artificial sweeteners.
Can be taken at any time during the day.
Suitable for those looking for dairy free, nut free, corn free, sugar free, gluten & vegan friendly alternatives.
Best flavour by in-house vote is Salted Caramel or Vanilla Chai if your looking to also include your own nuts, berries, fruits or yogurt to make a smoothie.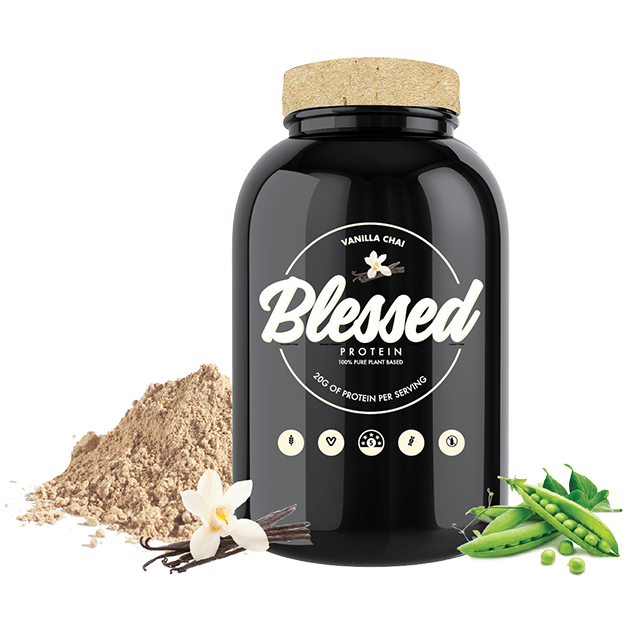 Given the high demand of natural proteins, EHP Lab's sister brand, Clear Vegan have released a 100% plant-based protein by the name of Blessed Protein. Let's take a look at some of the key benefits of Blessed Plant Protein. Keep reading for full review.
Blessed Protein Highlights
100% natural plant-based protein
Contains zero artificial additives, sweeteners or enzymes
No digestive stress
Certified Kosher & Halal
Dairy/Sugar/Nut/Gluten free
Vegan friendly
Blessed Protein Ingredients & Dosage
Blessed Protein is a simple formula made up of 100% natural ingredients. The main ingredient used in this protein is raw activated pea protein isolate. Each serve contains 25 grams of protein per serve. The blend also includes some natural flavours, sunflower oil creamer, inulin fiber, gum Arabic, rock salt sodium chloride), natural sweeteners (stevia extract, rebaudioside a) and psyllium seed powder.
Blessed Protein Benefits & Pros
Blessed Protein is a natural pea protein is a simple yet effective formula. Blessed Protein utilises 100% pure golden yellow pea protein isolate which is great for digestion. This is perfect for those who experience heavy bloating or for those just wanting to find a natural plant protein for better absorption and digestion. With 25 grams of protein, each serving delivers an excellent source of essential amino acids to support muscle recovery.
What makes pure pea protein isolate so special? Pea protein isolate is the highest quality pea protein source available. It is a dairy free, naturally occurring vegan source of protein extracted during a fermentation and water filtration process. It is traditionally high in Leucine, the key amino acid responsible for initiating muscle protein synthesis and highly recommended for muscle repair. Additionally, Blessed Protein can also be used to support weight loss as it is low GI and low in carbohydrates helping your body to control appetite, curb cravings and increases satiety.
Whether you are trying to increase your dietary requirements of protein or wanting to ensure your post-workout is optimal, Blessed Protein provides you with a complete source of clean protein to build lean muscle, ensure digestibility and assimilation.
Blessed Protein Side Effects
Natural, low allergenic and pure, pea is a gentle protein that has very few side effects.The most frequently reported of these are common to all protein types, and include bloating, diarrhoea and gas. This is a result of consuming large amounts of protein over a short amount of time and can usually be diminished by splitting the desired dose into smaller serves.
Best Flavour of Blessed Protein
Blessed Plant Based Protein is available in three different flavours. These include Choc Coconut, Vanilla Chai and Salted Caramel. Clear Vegan have ticked the right boxes in the flavouring department. Each flavour has an all-natural delicious taste that is not overly sweet. The most popular flavour amongst the three is Vanilla Chai where some consumers choose to blend it with almond milk and or fruits. On the other hand, the best & most popular flavour, that had the most votes, during our in-house Mr Supplement sampling of Blessed Protein was Salted Caramel.
When Do I Take Blessed Protein?
Blessed Protein powder is a versatile protein that can be taken at any time during the day and can be mixed with fruits or added into smoothies.
How To Use Blessed Protein?
Blessed protein is extremely easy to use. Simply mix 1 scoop with approximately 240ml in a shaker bottle. This can be mixed with either water or almond milk depending on the individual.
Who Can Use Blessed Protein?
Blessed Protein Powder can be taken by most individuals including pregnant or lactating women. It is also suitable for children who are over 12 years old, but we recommend starting off with half the adult dose (1 tablespoon).
Blessed Protein Verdict
For quality vegan protein, Blessed Protein delivers a complete protein source that contains the highest source of pea protein isolate to help with initiating muscle synthesis and muscle repair. Blessed Protein is one of the most environmentally sound proteins on the market that offers a range of alternatives to dairy based protein powders.