Whey protein powders are staples for those who work out and exercise intensely because their body's need more protein to help repair and maintain their lean muscle tissue. A good protein powder helps those who need a higher protein diet to keep on track week in and week out, making it easier to hit nutritional goals that help drive other performance and aesthetic goals. With a large range of protein powders on the market, we've ranked 10 best whey protein powders. Read on to uncover the best and most popular whey proteins in Australia.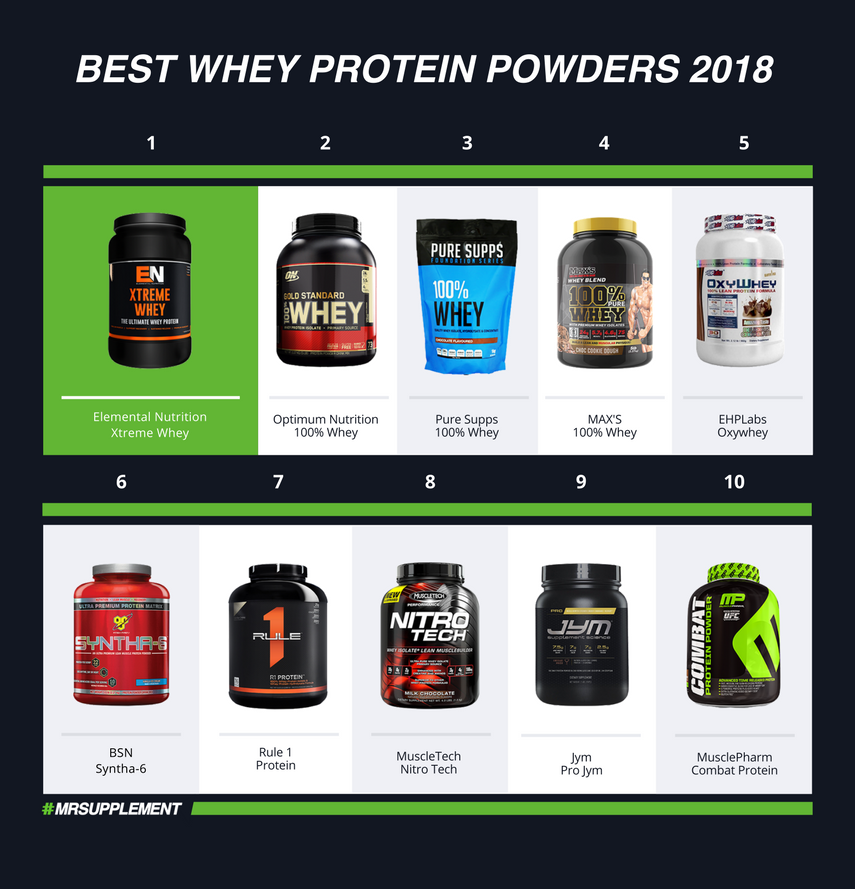 #1. Elemental Xtreme Whey
With its bold and sharp packaging, Elemental Xtreme Whey stands out and offers quality whey protein. With 32g of protein per serving, Xtreme Whey offers the high-quality mix of whey protein isolate, whey protein concentrate and hydrolysed whey protein. If you're looking for a protein powder to contribute to growth and repair in order to hit your nutritional targets each day which offers real value, Elemental Nutrition is the one for you.


#2. Optimum Nutrition Gold Standard 100% Whey
With 100% of its formula made up of pure whey protein, Optimum's whey protein truly represents the best of the best when it comes to protein supplements. Not only does Gold Standard Whey Protein have a protein-dense formula, but it also has faster-acting hydrowhey peptides that are quickly and easily absorbed into your system. Packed with desirable isolate proteins and available in a massive range of flavours, this classic high protein 100% whey is still holding on to its popularity and is a best seller for a reason.
#3. Pure Supps 100% Whey
Pure Supps 100% Whey is an uncomplicated whey blend that does not come with a premium price tag. The blend also contains additional vitamins and digestive enzymes to enhance absorption. It is a versatile protein that can be used at any time during the day. Pure Supps 100% Whey is an excellent source of high-quality protein that keeps the calories low.


#4. Max's 100% Pure Whey
Moving down the list we have Max's 100% Pure Whey. Each serve of 100% Whey provides scientifically based levels of branched chain amino acids (BCAAs) and glutamine to support faster recovery and improve muscle building capacity. Maxs 100% Pure Whey is a simple and versatile protein you can use anytime throughout the day.
#5. EHP Labs OxyWhey
Known for their best-selling fat burner OxyShred, EHP Labs created OxyWhey a delicious whey protein to maintain and support muscle growth and recovery. OxyWhey is a lean muscle formula that delivers a blend of isolate, concentrate and casein ideal for a post-workout meal. Additionally, the formula contains 5.3 grams of BCAAs to help with the reduction of muscle soreness and increase the overall recovery of your muscles after your workouts. It is a versatile supplement that can be used in cooking or baking.
#6. BSN Syntha 6
BSN Syntha 6 is a well-rounded protein powder that offers an extensive range of flavours to their customers. Syntha 6 includes a multi-functional micellar protein matrix along with essential amino acids and glutamine peptides for quick muscle recovery. On top of this, Syntha 6 is also fortified with fibre and digestive enzymes for better absorption. Overall, Syntha 6 is a multi-functional protein blend that is hard to look past.
#7. Rule 1 Protein
Rule 1 Protein is one of the very few companies that utilise super pure 100% whey isolate and fast-acting whey hydrolysate to provide your muscles an immediate supply of amino acids. With a great macronutrient profile made up of only high-quality ingredients, topped off by an array of unique flavours to the isolate market, R1 Protein is the perfect post workout supplement for those looking to maximise muscle growth and recovery.


#8. MuscleTech NitroTech
MuscleTech's Nitro Tech is another popular great tasting lean muscle builder that consists of 30 grams of protein per serving. While most of the product is composed of protein, there are also some other support ingredients including creatine monohydrate and taurine that help to improve muscle development. On top of that, Nitro Tech contains digestive enzymes to help to break down the ingested protein. If you're looking for a fast digesting protein to feed your muscles Nitro Tech is perfect to use after a gruelling workout.
#9. Jym Pro Jym
Jym Pro Jym is a high quality lean protein made by the legendary Dr Jim Stoppani. Pro Jym delivers 24 grams of protein per scoop and 140 calories. The protein blend is made up of micellar casein, milk protein isolates and egg white. The mix of different protein types allows for extended release of protein throughout the day. Like all Jym products, Pro Jym's ingredients are all clearly labelled. Pro Jym consists of only dietary protein and no unnecessary fillers.
#10. MusclePharm Combat 100% Whey
MusclePharm Combat Protein remains as one of the best options for blended protein powders. As a blended protein powder, each 32-gram scoop contains 25 grams of protein, 1 gram of sugar and 120 calories. If you want an all-round protein supplement that is guaranteed to keep your body supplied with the essential amino acids and nutrients Combat protein is a good choice for those who want nothing but whey.
Notable Whey Protein Powders of 2018
There's just a few that come close to this list but have just missed out.