Arguably the best type of protein around, a good whey protein is an essential for any serious trainer's stack if they can tolerate it. With more options than you can poke a stick at, the blended whey protein market is more saturated than ever. To help make choosing a whey protein easier for you, we've picked the top 10 whey protein powders you should be getting in 2017. This list will focus on all purpose blended whey proteins only, as there are already individual lists on WPI's and other different types of protein. Let's see what's made the cut in 2017: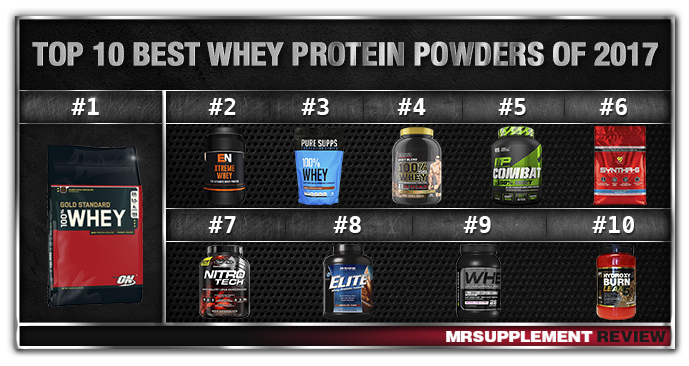 #1. Optimum Nutrition Gold Standard 100% Whey
Optimum Nutrition have made some exciting new changes to their brand in recent time with the addition of several different products. Most of this activity occurred during the latter half of 2016 as a way of celebrating their 30 year anniversary as a company. What hasn't changed though is their commitment to their flagship product; Optimum Nutrition Gold Standard 100% Whey. Still an incredibly high quality blended whey protein with the largest choice of flavours of any protein currently sold, it's hard to go past it as a whey protein of choice. While any of the choices in this list would be a fine pick, you really can't go past the high standards that Optimum have provided in their 100% Whey Gold Standard. 
#2. Elemental Nutrition Xtreme Whey
With slick new packaging and a brand new name, Elemental Nutrition Xtreme Whey is the latest version of their previous 100% Whey. Their formula hasn't changed much and still offers the high quality mix of whey protein isolate, whey protein concentrate and hydrolysed whey protein. The current version also has added leucine; considered the most anabolic of all amino acids. Along with the new packaging, Elemental Nutrition have also added some flavours to their range including the delicious Choc Honeycomb to Xtreme Whey protein. Comparable to Optimum's Gold Standard 100% Whey, the new Xtreme Whey is the no frills option that provides everything your muscles need to grow.
#3. Pure Supps 100% Whey
Value for money is an important aspect when it comes to purchasing supplements. After all, if you're planning to use a couple of products, you'd be racking up a bill of at least a couple of hundred dollars. The Australian company Pure Supps has taken this into mind and has provided a high quality blended whey protein that will also alleviate stress from the bank account. With all the components of Optimum's Gold Standard Whey, Pure Supps 100% Whey also has added leucine, glutamine, vitamins and minerals to boost muscle building and recovery potential. If cost matters to you; then Pure Supps 100% Whey is the protein for you.
#4. Max's 100% Pure Whey
Max's beloved Super Whey is about to be swapped over for their newly branded 100% Pure Whey. Featuring a higher protein percentage, each serve of 100% Whey also provides some extra branched chain amino acids (BCAAs) as well as glutamine to support faster recovery and improve muscle building capacity. Max's have also spent time further improving upon their flavouring technology with the 100% Pure Whey available in 3 delicious flavours such as Banana Cream Pie, Choc Cookie Dough and Vanilla Cream Slice. The only minor drawback to the new product is its limited sizing options; but if taste and results are what matter; then 100% Pure Whey from Max's is one of the best options to meet your needs in 2017.
#5. MusclePharm Combat & 100% Whey
MusclePharm had a pretty tough 2016 with the demise of their Arnold Schwarzenegger range, but has still managed to crank out some excellent new products. Their Combat protein still remains as one of the best options for blended protein powders, but their Combat 100% Whey is also a good choice for those who want nothing but whey. If you're mainly after a protein to use around workout times, the 100% Whey option might be best. However, if you're looking for a product to help top up protein intake throughout the day, the regular Combat might be a better choice thanks to its added slower protein sources such as casein and egg protein. Regardless of which you pick, both are tasty, easy to mix and one of the best blended whey proteins of 2017.
#6. BSN Syntha 6 & Syntha 6 Edge
BSN's Syntha 6 series isn't for everyone. In fact, most trainers find the extra carb and fat content a bit of an issue, but this is also what makes Syntha-6 an advantageous protein to use for advanced trainers. The extra carbs and fat not only make the protein taste unbelievably milkshake like, it also adds extra nutrients to help boost recovery from tougher, more intense workouts. For a leaner choice, Syntha-6 Edge is the way to go, but if you're about to kick up your training intensity, then go for the regular Syntha-6.
#7. Muscletech Nitro Tech
If there's one company you can count on for releasing new products throughout the year, then it has to be Muscletech. Last year alone, Muscletech added 3 more variations to their popular Nitro Tech series with Nitro Tech Ripped, Night Time and Power. However, the original is a rock solid value added protein thanks to a generous serving of creatine to support lean gains and performance benefits as well as some added digestive enzymes for greater absorption and less chance of gastrointestinal discomfort. If you want to cut down the amount of separate supplements you have, go for the comprehensive Nitro Tech from Muscletech.
#8. Dymatize Nutrition Elite Whey
If you're after a no frills, no fuss whey protein you can't go past Dymatize Nutrition's Elite Whey. Having been around for almost as long as Optimum Nutrition's Gold Standard 100% Whey or BSN's Syntha-6, Elite Whey offers a plentiful amount of whey protein isolate, whey protein concentrate and whey protein peptides, which absorbs quickly and gets to your muscles fast so you can start muscle building and recovering almost as soon as you drink it. Besides its high quality, Dymatize Nutrition's Elite Whey is also gluten free and includes plenty of digestive enzymes to further speed up absorption and delivery. 
#9. Cellucor COR Performance Whey 
If taste is one of the primary qualities you use to choose your proteins, then COR Perfomance Whey from Cellucor should be right up your alley. With a variety of unique and delicious flavours such as Molten Chocolate and Peanut Butter Mashmallow, COR Performance Whey is consistently considered one of the best tasting proteins around. Aside from the taste though, it offers 25g of protein per serve in the form of quick acting whey protein isolate and concentrate and is low in carbs and fat, making it a truly lean protein. If you like making smoothies with your protein powder, then you can't go past COR Performance Whey.
#10. BSc HydroxyBurn Lean 5  
Only released in late 2016, HydroxyBurn Lean 5 is the rebranded version of their fat loss protein HydroxyBurn Shred but without many of the fat loss ingredients. Instead, they've kept the strong base formula of 5 different types of protein, hence the name. What separates HydroxyBurn Lean 5 from other whey protein blends is its high fibre value, added prebiotic and unique digestive enzymes. So although they've removed most of the fat loss components, Hydroxyburn Lean 5 is still a perfect daily protein for anyone wanting to get lean or maintain their leanness. Available in 4 delicious flavours including Salted Caramel and Pineapple Coconut, BSc's HydroxyBurn Lean 5 rounds off our top 10 list of the best whey proteins for 2017.
Notable Whey Proteins of 2017
When it comes to whey protein blends, there's really no bad choice these days, as they're all mostly going to be very similar. However, the one's listed above are some of the best and most trusted sources of protein around. Being a limited list, some did just miss the cut, but still worthy of a mention. These include:
Whether you're new to protein powders or simply want to switch it up in 2017, our comprehensive list is the perfect place to start to help you make the right choice.