Australian companies are exceptionally good at making weight loss protein powders. 2015 has been an interesting year with the Americans also throwing their hats into the ring. However, when it comes to the best weight loss protein powders, the Aussies still dominate.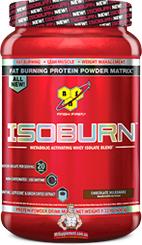 10. BSN IsoBurn
One of the rare American entries, BSN IsoBurn is the company's first attempt at making a weight loss protein. We have to commend their efforts as they have made a noble effort. Using WPI as the sole protein source, IsoBurn also contains a fat loss blend, which is made up of 10 ingredients to support fat loss and metabolism. Interestingly though, IsoBurn does not taste anything like the industry leading BSN Syntha-6 protein powder, which is well known for its delicious flavours.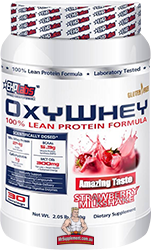 9. EHPLabs OxyWhey
Compared to Aussie fat loss proteins, EHPLabs OxyWhey is a relatively simple product, containing a blend of fast and slow digesting proteins, as well as a small handful of fat loss ingredients. EHP Labs OxyWhey was designed specifically to be used in conjunction with, and complement the effects of their top selling fat burner, EHPLabs OxyShred. For this reason, it is forgiven for not including more fat loss ingredients or stimulants. The real party piece for OxyWhey is its absolutely fantastic flavour, which is by far, the best on this list.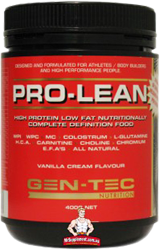 8. GenTec Pro Lean
GenTec Pro Lean is built on a base of proteins very similar to that of OxyWhey. It provides a sustained release of amino acids over hours while also providing a range of non-stimulant based fat loss ingredients. Much like many other GenTec protein powders, Pro Lean also contains added immune and recovery support in the form of colostrum and glutamine. This is especially important during periods of weight loss as a result of additional stress placed on the body from restricted food intake.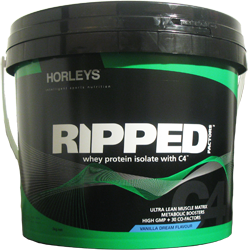 Draw 7 & 6. Horleys Ripped Factors & Balance Ultra Ripped Protein
Much like the Aussies, the Kiwis too are industry leaders in manufacturing weight loss protein powders. Horleys Ripped Factors uses the world famous Ice Whey as a protein base. Ice Whey is best known for its ridiculously high purity. As such, Ripped Factors contains just 0.6 g fat and 1 g carb per serve. On top of this, Horleys have added fat loss ingredients such as caffeine, Garcinia cambogia, Bioperine, and L-carnitine. Ripped Factors is also fortified with vitamins and minerals, making it suitable for use as a snack or meal replacement.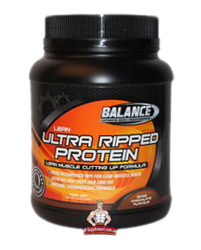 Where ever there's Horleys, fierce rivals Balance are never far away. To be honest, Balance Ultra Ripped and Ripped Factors are extremely similar and very difficult to split based on quality and formulation. So instead of splitting hairs, we'll give them a tied 6th and 7th spot.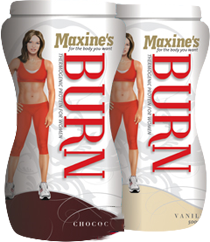 5. Maxine's Burn
Maxine's Burn is the only ladies protein powder on this list. Unlike some other companies which take advantage of unsuspecting women by putting inferior ingredients in a pretty little tub and jacking up the price, Burn is a genuinely good product. Maxine's Burn contains quality dairy proteins, effective weight loss ingredients, a vitamin and mineral blend, and has a fantastic taste developed specially for women who do not enjoy the taste of protein powders. There is also no exorbitant pricing here, making Maxine's Burn the number one choice for women.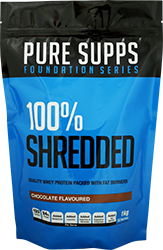 4. Pure Supps 100% Shredded
This new brand to the market has taken the Australian market by storm. Pure Supps is a brand that focuses on the product instead of marketing and hype. What this means is that their products are extremely good value for money. Their weight loss protein, Pure Supps 100% Shredded is giving longer established rivals something to be concerned about. This 100% whey based protein powder also contains premium additions such as glutamine, L-carnitine, green tea extract, coffee bean extract, and Garcinia cambogia. This is all presented in a product which also happens to be the best value for money out of everything on this list, which brings up a valid question – why pay more for similar products?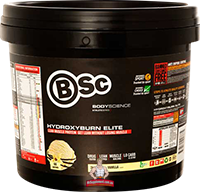 3. BSc HydroxyBurn Elite
BSc is a company with a solid reputation for providing quality and safe products. BSc HydroxyBurn Elite is the third revision in the HydroxyBurn protein series. The formula has consistently been improved upon with each revision, and now, it is better than ever. It may not have the huge number of ingredients it once had, but its dosing has improved. With HydroxyBurn Elite, you can expect a formulation that is well-rounded and ideal for use as a meal replacement, while also providing a taste that is more than enjoyable.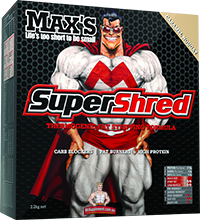 2. Max's Super Shred
Max's, the parent company of Maxine's also manufacture a weight loss protein for blokes. Max's Super Shred is one of the most comprehensive weight loss proteins currently on the market. It boasts a huge 90% protein, while also managing to jam in 6 separate weight loss supporting matrices. The WPI dominant formulation makes Super Shred a potent muscle-builder when used post workout. This ultra-premium protein powder is designed for the serious bodybuilding and weight training individuals wanting a zero compromise product oozing with quality.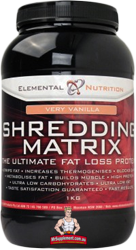 1. Elemental Nutrition Shredding Matrix
The formulation of Elemental Shredding Matrix has remained unchanged for years. Despite this, no other product can touch it for effectiveness, quality, and ingredients. When comparing Shredding Matrix to its competitors, it is easy to see why it has been, and will continue to be number 1 for years. It contains a profile of fat loss ingredients which are better dosed than most others on the market, while also somehow managing to provide good value for money and an excellent flavour profile. For these reasons, Shredding Matrix dominates its product category year after year.