Fat loss or weight loss protein powders are ideal supplements to get if you want an all-in-one fat loss and muscle building support. Although they aren't as popular away from Australia and New Zealand, other countries are finally catching up with the idea. The weight loss protein powder category hasn't really changed much in the past year with most company's focusing on other categories. Here are the top 10 best fat loss protein powders you should be getting in 2016.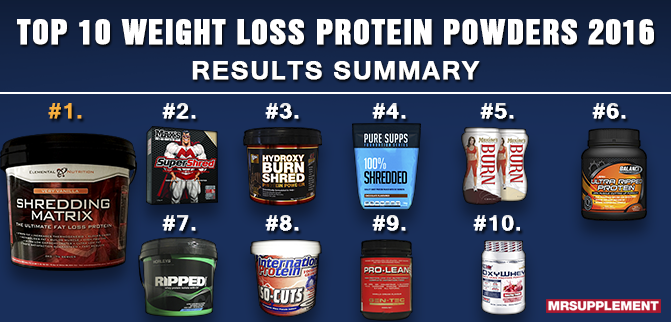 #1. Elemental Nutrition Shredding Matrix
Still one of the best weight loss proteins around, Shredding Matrix has maintained its prime position without any changes to its formula. It still provides high doses of quality fat loss ingredients along with a premium mixture of proteins to support muscle building and recovery. It's excellent taste and cost effectiveness are further reasons why Shredding Matrix remains the best fat loss protein of 2016.

#2. Max's Super Shred
Max's Super Shred is an extremely comprehensive fat loss protein powder featuring a WPI (whey protein isolate) base formula along with multiple weight loss support complexes. Super Shred not only provides you with plenty of protein to boost muscle building, but it also helps to boost metabolism, decrease appetite and limit carbohydrate digestion and absorption just to name a few functions. Max's Super Shred is a powerful, tasty formula that deserves its place amongst the best of the category.

#3. BSc Body Science Hydroxy Burn Shred
Having changed names 3 times in 2 years, the Hydroxy Burn protein powder is still one of the best around. Last years version was known as HydroxyBurn Elite, which has since been renamed as HydroxyBurn Shred. Not a whole lot has changed with this new version, however since the original, the formula has definitely been stripped back. The formula is still strong with a potent carb blocking formula as well as a potent thermogenic matrix which will help boost metabolism throughout the day. It's a great product to use throughout the day as well as after training to help get you lean and ripped.

#4. Pure Supps 100% Shredded
Pure Supps has had an incredible 2015 and is fast becoming one of Australia's most popular supplement companies. Their 100% Shredded is one of their best selling products and contains a formula that rivals some of the best with a top of the range whey protein blend along with added glutamine, carnitine, green tea extract, coffee bean extract and Garcinia Cambogia. The supplement is also one of the best value for money items on this list, making it the perfect option for those who want results, without having to spend a fortune.

#5. Maxine's Burn  
Maxine's Burn may be the only women centred product on this list, but don't be fooled by the pretty packaging. It packs in one hell of a formula that doesn't shy away from strong doses of effective fat loss ingredients. The powder mixes extremely well and is one of the best tasting weight loss proteins on the market. It's so good that it could easily be suggested for any trainer of any sex. Maxine's Burn is the number one choice of fat loss protein for women and its price point is super competitive.


#6. Balance Ultra Ripped Protein
When it comes to fat loss protein formulations, New Zealand company's also rank highly producing some stellar products. The Balance Ultra Ripped Protein is popular and carefully constructed formula which contains super clean whey protein isolate (WPI), along with a healthy dose of fat loss support ingredient such as caffeine, carnitine, choline, inositol, green tea extract and hydroxycitric acid. Add to this a range of vitamins and minerals and you have one of the easiest and best ways to help you lean down.

#7. Horley's Ripped Factors
Also hailing from new Zealand, Horley's Ripped Factors has a strong base in the form of their Ice Whey, which is one of the best WPI's on the market. Ripped Factors also includes plenty of caffeine and Garcinia Cambogia extract to help support appetite suppression and improved metabolism. Ripped Factors is ultra low in fat and carbs at 0.6g and 1g respectively per serve, so you're getting all the ingredients you need without any unnecessary extra calories.


#8. International Protein ISO-Cuts
Another popular Australian company, International Protein has all the experience backing of an accomplished bodybuilder. ISO Cuts is standout low fat formula, that offers similar excellent fat loss ingredients as many of the other supplements on this list. Expect faster muscle recovery and a leaner body composition with over 30g of protein per serve, along with green tea extract, green coffee bean extract, hydroxycitric acid, carnitine and fat metabolisers such as inositol and choline.

#9. Gen-Tec Pro Lean
Another brand with the expert backing from successful pro bodybuilder Nick Jones, Gen-Tec's Pro Lean may look deceptively simple, but it offers a powerfully effective formula. Pro Lean uses a whey protein base with added colostrum for recovery and muscle building support before hitting your system with carnitine, choline, garcinia and chromium. These ingredients help to elevate your metabolism and helps to ensure you're utilising the carbs and fats for energy support rather than storing it.

#10. EHPLabs OxyWhey   
Not your typical fat loss protein, OxyWhey is from the company who makes the most popular and one of the most successful fat burners on the market; Oxyshred from EHPlabs. OxyWhey is quite different from other supplements in the category as it doesn't contain any stimulants such as caffeine. Rather, it relies heavily on MCTs (medium chain triglycerides), green tea extract and grapefruit seed extract to help support better fat metabolism. Each serving of OxyWhey still has plenty of protein to help keep hunger and cravings under control and support muscle growth at the same time. EHPlabs OxyWhey Strawberry is one of the best tasting proteins in any category and rounds out our top 10 list of 2016.
Notable Weight Loss Proteins of 2016
As always, while we would've liked to include more than just 10 fat loss proteins on the list, our choices had to be finite. Which meant a few good weight loss proteins just missed out on the cut, including:
If you want a protein powder that does more to help get you shredded and toned in 2016, then any of the fat loss proteins above will do the trick.