Hydrolysed whey proteins are still regarded as the top tier of whey protein supplements, which typically  demand a higher price than your average blended whey protein. Perhaps because of this reason, they are the one category of whey protein powders that tend to experience the least in terms of new products and innovations.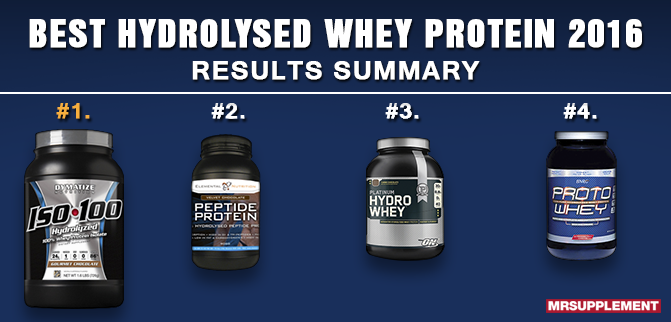 1. Dymatize Nutrition ISO100
ISO100 has always been a good selling whey hydrolysate and it should stay that way in 2016. The product is competitively priced for a hydrolysate and comes in a great range of flavours and sizes, meaning there's an option for everyone. This no doubt has been a key reason for the products' success with many other hydrolysates only coming in one size and/or flavour. The other standout feature is the quality of the taste. With whey hydrolysates known for their tendency to be bitter, many of the flavours of ISO100 are almost unbelievable. These key features should ensure the product continues to sell well in 2016.

2. Elemental Nutrition Peptide Protein
Peptide Protein is a high quality hydrolysed whey that boasts 20% minimum degree of hydrolysis. Degree of hydrolysis is a key measure when it comes to hydrolysed whey proteins, as it invariably determines the quality of a given hydrolysate. However, many supplements don't report it; presumably because it is not very high. The higher the degree of hydrolysis, generally the higher the short chain peptide content and the higher the bitterness factor. One taste of Peptide Protein and you can tell it is a quality product . There are obvious tones of bitterness, but not so much so that it detracts from the overall taste.


3. Optimum Nutrition Platinum Hydro Whey
By their own admission, Hydro Whey is Optimum's top shelf protein. Similar to ISO100, Optimum don't give us much more info about the specs of the whey, other than to simply say its hydrolysed. Hydro Whey comes with a slightly bigger serving size than most other proteins in its category, which is largely why it boasts impressive stats such as 30g of protein per serve and just under 9g of BCAAs. The truth is that if most other whey hydrolysates increased their serving size to 40g, they would boast very similar nutritional figures. Nonetheless, being from Optimum (the owner of the biggest selling whey protein in the world), its a given that Hydro Whey is a great product that should continue to feature among the top selling hydrolysed whey proteins in 2016.

4. BNRG Proto Whey
Proto Whey has traditionally been viewed as the leader in the whey hydrolysate category as it's the only hydrolysate to specify its actual di- and tri-peptide content. Proto Whey guarantees a minimum of 40% di- and tri-peptides, which is pretty good, but BNRG don't go as far as to specify the proteins' degree of hydrolysis. The other distinguishing feature of Proto Whey is its great flavour. BNRG obviously put a lot of work into developing the flavour system as Proto Whey contains ingredients such as psyllium fiber and medium chain triglycerides (MCTs) that you don't see in your typical whey hydrolysate. With these winning qualities it's hard to see Proto Whey being dislodged from the top selling whey hydrolysates in 2016.


As touched on above, whey hydrolysates are the premium type of whey protein, which means they don't appeal to your average user and as such can be hard to justify investing lots of money into R&D to produce new products or improved versions. Given this, its hard to predict how many new whey hydrolysate products we will see in 2016. It may be a case of waiting for more concrete research to validate the specific benefits of hydrolysate over non-hydrolysed whey before we see a flury of new products on the market.