Best HGH Supplements 2017 - Top 10 List of HGH Releasers
If you're serious about making gains in the gym, you need to worry about two hormones in particular; testosterone and human growth hormone. Both of these are crucial to gaining muscle, stripping body fat and boosting performance in the gym. Unfortunately levels of these hormone levels tend to decline as you age, making it harder to sustain the types of results you might have experienced when you were younger. But it's not all doom and gloom – natural hGH support supplements were specially designed to mitigate this loss by optimising levels in the body. With so many products available though and more coming out each month, which one is the best for you? We take a look at all the options and narrow the choice down to the 10 best natural hGH boosters on the market in 2017.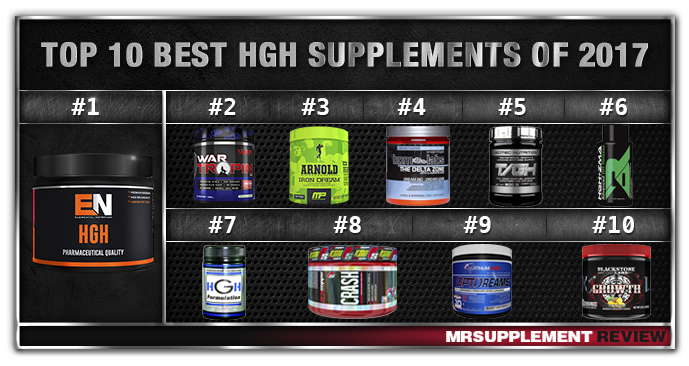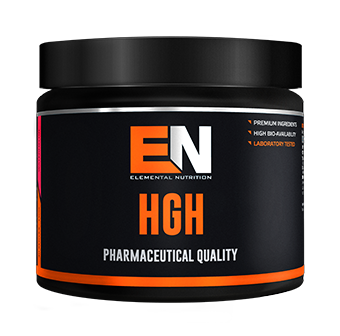 #1. Elemental Nutrition HGH
Elemental Nutrition HGH is the company's flagship product and is still one of the best natural growth hormone support supplements on the market. Its simple, clinically based formula contains all the key ingredients you need to optimise natural levels of GH, without loading you with sedatives like other competitor products. This means, you can use it for longer without developing a tolerance or experiencing side effects often associated with sleep support ingredients. Providing great value for money, if you're serious about your growth hormone levels, then Elemental Nutrition HGH should be your first port of call.
#2. Body War Wartropin
Now if you want some sleep support along with your GH boosting ingredients, you can't go pass Body War's Wartropin. Featuring your typical GH support ingredients of arginine and lysine, Body War has also thrown in a bevy of functional sleep supporting ingredients such as phenibut, velvet bean extract, valerian, tryptophan and tyrosine just to name a few. Together, they help to get you relaxed so you have an easier time falling asleep. Body War supplements are some of the best on the market, and they've always been a company who aren't afraid to transparently label all of their supplements. This transparency and a fantastic formulation is why Wartropin holds the coveted 2nd position on our list.
#3. Arnold Iron Dream
Arnold Iron Dream is a joint growth hormone and testosterone support supplement and it's sure packed in a heap of ingredients. From phenibut to fenugreek and horny goat weed to BCAAs and vitamins, the supplement aims to support faster muscle recovery and better gains. The recommended dose is a little bit small, but experimenting with slightly larger serves will help you reap the rewards of a fantastic formulation.
#4. BPM Labs The Delta Zone
BPM Labs are no strangers to a strong supplement, producing some of the most potent fat burners and pre workout supplements around. The Delta Zone is their designated hGH booster and is a simple formulation of only 8 active ingredients. Each serve provides a decent dose of phenibut to support deeper, more restful sleep; arginine to help optimise growth hormone levels and some testosterone support ingredients such as D-aspartic acid and velvet bean extract. It can be a little on the pricey side, but it's a potent little product, so you could probably get away with smaller serves every so often.
#5. Scitec T/GH
One of the first companies to jump onto the joint test booster/GH booster bandwagon, SciTec's supplement has had moderate success in the short time it's been on the market. This isn't a reflection on the formula though, which is a competent and well dosed blend of test boosting agents (D-aspartic acid, vitamin D and ZMA) along with GH support ingredients (arginine, lysine and ornithine). Scitec's T/GH is a transparently labelled formula and is a decent release from the veteran European company. It may not be the most popular GH booster on the market, but it's certainly one of the better ones.
#6. Body Ripped HGH Plus ZMA
This veteran supplement has been on the market for some time now and is still one of the most popular. Its formula is almost identical to Elemental Nutrition's HGH, but the doses of the GH boosting ingredients are slightly lower, which is why it's pushed just out of the top 5. Body Ripped HGH + ZMA is still a great supplement though and doubling down will really have you noticing the effects.
#7. Powerzone Nutrition HGH
Another hGH supplement similar to Elemental Nutrition's top ranking HGH, Powerzone's version comes at a premium price. Unfortunately for that price, you don't actually get anything extra; so while the formula is good, its value for money is not. If you've got money to spare or want an unflavoured variation of the Elemental Nutrition HGH, then Powerzone HGH is a worthy alternative.
#8. Pro Supps Crash
Technically a sleep support supplement rather than a GH support supplement, Pro Supps Crash contains a range of ingredients to help get you relaxed and ready for a more restful nights rest as well as some thermogenic compounds. It should be known that deeper, more uninterrupted sleep helps support growth hormone release. So together with the thermogenic ingredients, you'll be experiencing benefits associated with optimized growth hormone levels as well as boosted fat and weight loss. For stronger GH support, pair Pro Supps Crash with a supplement such as Elemental Nutrition HGH.
#9. Platinum Labs Opti Dreams
Like Pro Supps Crash, Platinum Labs Opti Dreams is another joint sleep support and fat loss supplement. It doesn't really offer much by way of GH support ingredients, but can still benefit and optimise growth hormone levels by ensuring uninterrupted sleep and release profiles. It's a fully transparent product and offers some excellent ingredients to help you get relaxed and ready for bed, whilst also helping to boost your natural fat burning ability for a leaner body composition. If you're after recovery, muscle gain and weight loss, Opti Dreams is an incredible supplement to have in your stack.
#10. Blackstone Labs Growth
A new addition to the list, Blackstone Labs Growth is a hybrid sleep support and natural test booster. Unfortunately, like the previous two products in this list, Growth doesn't really contain any of the common GH support ingredients, but rather helps optimize GH levels by ensuring deeper sleep. The inclusion of Vitamin D and Chlorophytum Borivilaniumm helps to tackle test levels; the other all essential hormone for muscle building. Blackstone Lab supplements are some of the most novel and unique, but when they truly shine is when they're stacked. For the ultimate hormone support stack, make sure to include Blackstone Labs Apex Male along with Growth.
Notable HGH Supplements of 2017
The natural HGH support category isn't the biggest, but with more research into growth hormone support ingredients, no doubt we'll be seeing more products pop up in the future. A couple of important products did just miss the list though, including:
The use of natural growth hormone boosters is often misguided and misinformed, but they can definitely help support a leaner physique and boosted recovery and performance potential. If you're ready to take your gains and training up a level in 2017, the above list of the best natural GH boosters is a great starting point.