The desire to lose weight is something that a huge number of people can relate to. Male, female, old, young - there are a lot of people out there looking to shed the kilos. Whether you're trying to lose those stubborn final few standing between you and your perfect body, cutting for a competition or an event, or maybe you are one of the fifty percent of Australians who is overweight, there is a huge number of weight loss products out there. Choosing the one that is right for you can be confusing. On the positive side, the amount of competition means that manufacturers of fat burners are constantly looking to improve and come up with the best and most effective product to capture this large market. There has never been a better time to get serious about losing weight. The past year has seen some serious developments in fat burners, which has made it incredibly difficult to choose our top ten for 2015. Now is the time to start working toward the new you. Here are the ten best ways to give yourself the weight loss edge.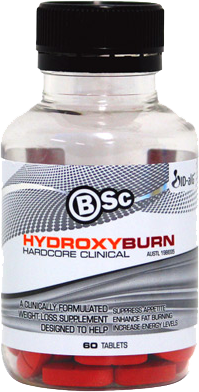 10. BSc Hydroxyburn Hardcore
BSc is one of Australia's biggest and most trusted supplement companies. So when they make a fat burner, you can be confident that it will be a high quality formulation. BSc Hydroxyburn Hardcore is quite possibly one of the most beginner friendly fat burners on this list. If you have never tried a fat burner before and are unsure as to how you'd react, or if you will like it, then Hydroxyburn is the safe choice. It is relatively low in stimulants, and will not get you completely wired. Instead, it works quietly in the background and as an appetite suppressant. In addition, it is a great companion for BSc Hydroxyburn Elite protein powder.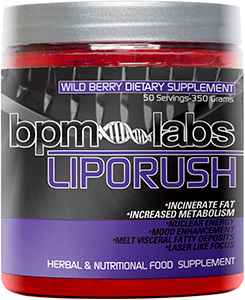 9. BPM Labs LipoRush
BPM Labs recently updated their hugely popular fat burner, LipoDrive, rechristening this exciting reformulation with the name LipoRush. BPM Labs forged their reputation with The One, one of the strongest pre-workouts on the market, and have leveraged this into the fat burner market with a series of products that exhibits similar properties. Make no mistake, this is a seriously potent fat burner that will jolt even the most sluggish metabolism into overdrive. The stimulant heavy blend of LipoRush has been formulated to stimulate the mind as well as the body, and provides the focus and energy you need to reach your weight loss goals without jitters or crashing. Be warned - LipoRush is not for the faint hearted! For the truly hardcore that feel even LipoRush is a bit on the tame side, there's always its bigger brother, BPM Labs Annihilate.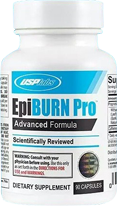 8. USPLabs EpiBurn Pro
Many may be wondering where OxyElite has gone. It turns out the OxyElite Pro name has been succeeded by EpiBurn Pro. Despite the name change, EpiBurn has retained much of the same characteristics as its predecessor. Really, EpiBurn can simply be looked at as if it was OxyElite 3.0. Using a relatively simple formulation, USPLabs have once again developed a popular and effective fat burner which is pleasing to the masses. Before making it to Australia, EpiBurn had to undergo reformulation into a powder and to remove the banned yohimbine ingredient. This, however was done cleverly without taking too much away from the original American formulation.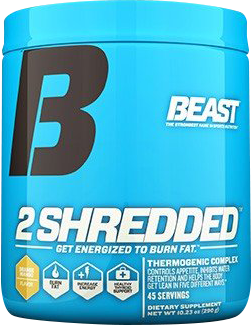 7. Beast 2 Shredded
Beast 2 Shredded is a very clever product that combines classic and cutting edge ingredients into a comprehensive formulation that attacks fat in a number of different ways. This is no ordinary fat burner. While it can be used by anyone, the formula is geared toward active people. This is evidenced by the inclusion of ingredients like Beta Alanine, which enhances the muscular endurance capability, and cAMP, the precursor to the body's energy molecule ATP. These unusual but inspired choices make Beast 2 Shredded an ideal pick for someone looking for a product that will enhance their own hard work to get results like never before. Luckily, Beast 2 Shredded can deliver the focus to succeed, with a potent neurostimulating blend that will kick motivation into overdrive. On top of this, Beast 2 Shredded is one of the only fat burners on the market to feature a diuretic complex, making it ideal for guys who are cutting to get that hard, dry, shredded look.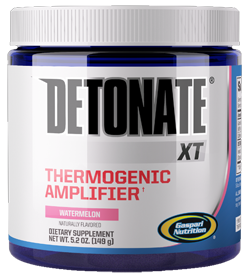 6. Gaspari Detonate XT
The original Detontate was barely available in Australia before it was pulled from the market. Aussies have been waiting patiently for years before they were able to see Detonate reappear. The XT version is a complete overhaul on the original formulation and shares few similarities. Although it lacks the unique energy and sensory experience, it does still manage to bring a feature packed list of ingredients that have been used in fat burners for years. It stays true to the Detonate name by providing both a crash-free boost to metabolism together with mood elevation. We would be lying if we said the XT formulation is better than the original, but it is still good enough to retain a top 10 position.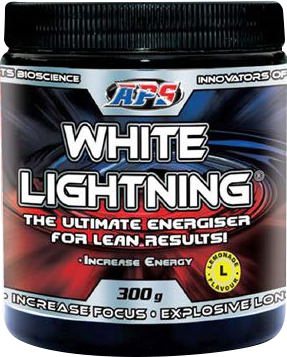 5. APS White Lightning
APS is an American company whose name should be familiar to anyone who takes their training seriously. Known for making some of the most dynamic products on the market, like seriously potent pre-workout Mesomorph 2.0, the company has shot straight to the front of the pack with their most recent release, White LIghtning. The company prides itself on the versatility of this product, and White Lightning could double as a super energising pre-workout. White Lightning combines some of the best known and proven fat burning ingredients, like thermogenic green tea, green coffee extracts and metabolism boosting forskolin, with some of the strongest legal stimulants out there. White Lightning is the only fat burner to feature Acacia rigidula extract, hailed by many as the new Ephedra, as its main ingredient, so you know this is a fat burner that means business. Start with a low dose of White Lightning and hang on!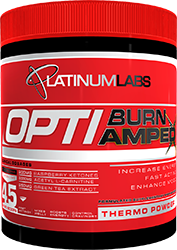 4. Platinum Labs Optiburn Amped
Platinum Labs is another Australian company that has specialised in the pre workout and fat loss categories. Despite their new emergence, it is quite apparent that these are categories they do very well. Optiburn Amped is the revised edition of the original Optiburn. The "Amped" part of the name makes reference to the new active ingredient, AMP-citrate, which has been likened to DMAA for its energy hit. In addition to this, it contains very solid doses of raspberry ketones, acetyl L-carnitine, and green-tea, which are among the most effective ingredients to support weight loss. As a package, Optiburn offers thermogenesis, appetite suppression, energy, mood enhancement, and even contains a mild herbal diuretic.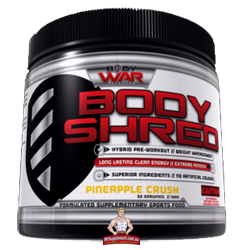 3. Body War Body Shred
Only a couple of years ago, Body Shred was the first release from fledgling Australian company Body War. It can be hard for a totally untested brand to score a foothold in a field that is very much built on reputations and dominated by the big names, but the massive popularity of Body Shred has shown that people who use fat burners are looking past the advertising, and taking note of the quality of the product. Body Shred is based on carnitine and green tea, which are some of the best researched fat metabolisers on the market, and products that have been proven effective on their own. These are joined by a collection of some of the most exciting and newest ingredients in weight loss, like Raspberry Ketones, Garcinia cambogia, African mango, and Citrus aurantium. Body Shred also contains one of the best collections of mood and focus boosting ingredients around, with Acacia rigidula, PEA, taurine, and methyltryptamine. Body Shred makes you feel good while the fat melts away.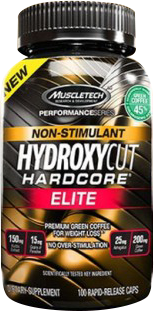 2. Hydroxycut Hardcore Elite
Hydroxycut Hardcore Elite is the jewel in the Hydroxycut franchise, and the brand's most popular offering by far. One of the strongest fat burners on the market, this product is designed for serious trainers who are familiar with the effects of strong fat burners, who are looking for a powerful boost to their metabolism and mood. Not only does it kick the metabolism into overdrive, but Hydroxycut Hardcore Elite also supports thermogenesis, suppresses the appetite, and gives long lasting, intense energy. Many people find powdered formulations hard to drink. The strongest fat loss ingredients can be very bitter, so Hydroxycut Hardcore Elite comes in capsule form, which makes this not only the most palatable alternative for many people, but also convenient - You can take Hydroxycut anywhere.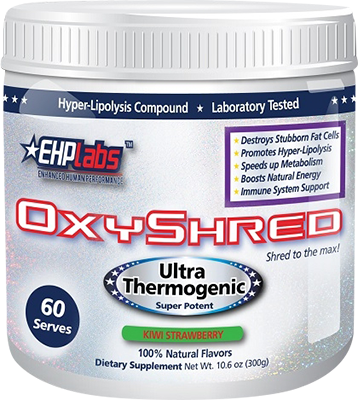 1. EHP Labs Oxyshred
Oxyshred is the undisputed king of the fat burners. Like Body Shred, Oxyshred was the first offering from then-unknown EHP Labs, and once again, the overwhelming success of this product is a testament to consumers that value top quality over a brand name. That said, after a number of years at the top of the game, Oxyshred is now one of the best known names in supplements, and has given EHP Labs the recognition they need to move into other products, including their fantastic new lean protein, OxyWhey. So what sets Oxyshred apart? Unlike a lot of the top performers, Oxyshred is not a stimulant heavy product. The hyper lipolysis compound contains a comprehensive blend of highly effective metabolic enhancers and thermogenics, and the mood enhancing matrix is a modest combination of simple, effective focus enhancers. Weight loss can take a toll on the immune system, which can set back training and slow progress. Oxyshred may be the only product that directly addresses this issue, with an immune boosting matrix and a full spectrum of B vitamins assisting in the maintenance of optimal health. EHP Labs went out on a limb with some unconventional flavouring choices with this product, but this has paid off, and Oxyshred is not only delicious, but memorable for its uniqueness. In spite of this quirk, Oxyshred does not have to rely on gimmicks. It is the worldwide number one fat burner for a reason, and that reason is consistent and solid weight loss results.
Notable Fat Burners of 2015
Body War Shred 24 – Fantastic low stim alternative to Body Shred. It can be used at all hours of the day and when cycling off high stim fat burners.
Cellucor Super HD - A solid, effective, and great tasting product from the makers of C4.
DFine8 Zero - A mild fat burner that suppresses appetite. A hit with the ladies!
MyoLabs Thermovol - A triple threat! This energy boosting thermogenic will also give you massive pumps.
PES Alphamine - Popular for its potent, no fuss formula.
Nutrex Lipo 6 Black – An oldie, but a goodie. Its formulation has not changed in years, but it is still one of the strongest fat burners around.