Let's face it, customers of pre workouts love stimulants. Quite often, they are those after a pre workout that is strong, something that can help them power through their training. With the latest ingredients around, there certainly is no shortage of strong pre workouts available for sale. This article will give you a list of the top 7 strongest pre workouts available in Australia in 2015.
Benchmark: Cellucor C4 Extreme
Australia's top selling pre workout will serve as our benchmark. Providing 320 mg caffeine and 100 mg bitter orange at the full double scoop, Cellucor C4 Extreme is no slouch. It contains enough stimulants to hold its own, but not to overwhelm most people.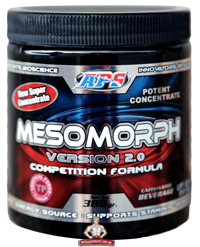 7. APS Mesomorph 2.0
The Mesomorph name has been with us for years. It has always been known to be one of the strongest pre workouts around, and the current APS Mesomorph 2.0 still retains a spot on our list of strongest pre workouts in 2015. Although Mesomorph 2.0 contains an amount of caffeine similar to C4 (300 mg), it also contains the seriously potent Arcacia rigidula, and the fast acting theobromine. Unlike many other pre workouts of this type, Mesomorph 2.0 also contains very high doses of citrulline and beta alanine, two powerful non-stimulant performance boosting ingredients.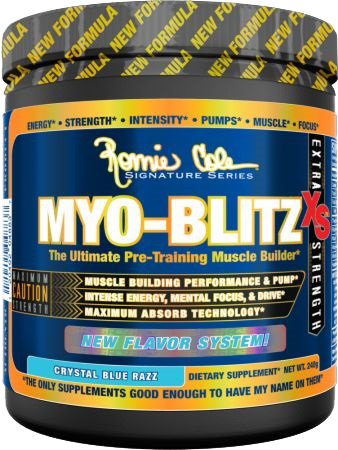 6. Ronnie Coleman MyoBlitz XS
The previous MyoBlitz was a fairly decent pre workout, but not many would agree that it is the strongest. However the new Ronnie Coleman MyoBlitz XS is worlds apart from its older brother. Now containing caffeine, extended release caffeine, Arcacia rigidula, synepherine, and Cocoabuterol (cocoa extract containing stimulants), it's not hard to see how different the new XS is. Just like the previous version, MyoBlitz XS can be stacked with Testogen XR for some extra pump.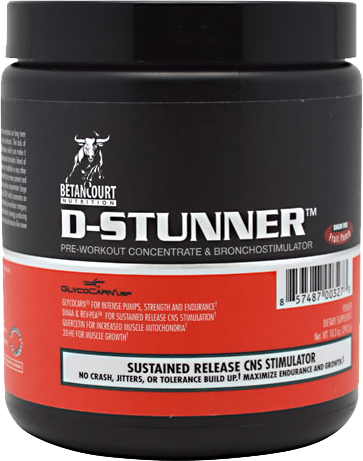 5. Betancourt D-Stunner
Even though Betancourt D-Stunner does not give much away in regards to dosing, it's pretty obvious, just from the first scoop that this is a seriously strong product. It combines phenylethylamine (PEA), theobromine, caffeine, methyltyramine, and three other stronger PEA derivatives, which are quite reminiscent of the original Driven Sport Craze. There's no doubt this product is strong, but the reason that this is not higher on the list is that some customers have reported stomach discomfort.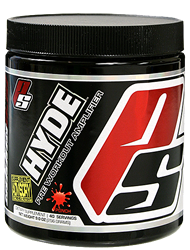 4. ProSupps Mr Hyde
ProSupps Mr Hyde was previously number two on the list of strongest pre workouts. However, it was formulated without the use of the latest and strongest stimulants. Despite this, it holds its own and still retains a top 5 position in 2015. It does this with over 400 mg of caffeine from three sources, 200mg methyltyramine, 30mg bitter orange, 15 mg octopamine, and 5 mg of dendrobium extract. The resulting product provides a huge surge of energy without a crash. A single serve is enough to energise any one, till long after muscle fatigue sets in.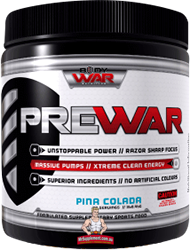 3. Body War PreWar
Body War PreWar follows the ProSupps approach in formulating a pre workout by using a cocktail of stimulants. However, its dosing is extreme and contains the new stimulant, AMP citrate, which has been hailed as the first true DMAA alternative. All up, it contains 300 mg caffeine, 50 mg bitter orange, 200 mg AMP citrate, and 130 mg Dendrobium (30 times more than Hyde). The PreWar experience is the epitome of a single focus pre workout. Pump is not its forte, but when it comes to energy and focus, it is hard to beat.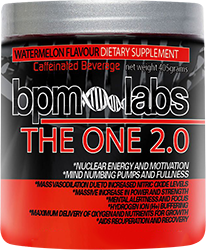 2. BMP Labs The One 2.0
BMP Labs The One 2.0 is much like its older brother. It is strong. Like D-Stunner, this one is hard to tell by looking at the label. Its active stimulants include AMP citrate (called Pouchong tea extract here), caffeine, theobromine, higenamine, and bitter orange. However, soon after taking a single dose, there is no shadow of a doubt that The One 2.0 is one of the strongest pre workouts around. It's true that it may not be one of the best tasting products around, but if we are chasing the energy high to get through tough sessions, this is the product to consider.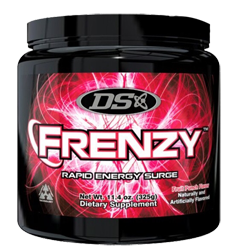 1. Driven Sports Frenzy
There are no bigger shoes to fill than that of Driven Sport's legendary Craze. Finally Driven Sports have responded with their long awaited pre workout Driven Sports Frenzy. We are excited to report that most people who were fans of Craze will also love Frenzy, albeit for different reasons. Frenzy doesn't feel anything like Craze, but it certainly does provide a huge energy rush. Again, AMP citrate is the star of the ingredients, followed by beta-PEA, and caffeine. This blend makes the overall sensory experience of Frenzy both intense yet uplifting.