https://www.mrsupplement.com.au/merica-labz-castle-bravo?variation=16109
Merica Labz Castle Bravo (416g / 20 Serves Cereza Lime)
Merica Labz
Supplements > Pre Workout > Pre Workout High-Stim
https://cdn.mrsupplement.com.au/resources/imgs/products/merica-labz-castle-bravo.1688552118545.png
http://schema.org/NewCondition
http://schema.org/InStock
AUD
https://www.mrsupplement.com.au/merica-labz-castle-bravo?variation=16109
79.95
AUD
https://www.mrsupplement.com.au/merica-labz-castle-bravo?variation=16108
Merica Labz Castle Bravo (416g / 20 Serves Fairground Apple)
Merica Labz
Supplements > Pre Workout > Pre Workout High-Stim
https://cdn.mrsupplement.com.au/resources/imgs/products/merica-labz-castle-bravo.1688552118545.png
http://schema.org/NewCondition
http://schema.org/InStock
AUD
https://www.mrsupplement.com.au/merica-labz-castle-bravo?variation=16108
79.95
AUD
https://www.mrsupplement.com.au/merica-labz-castle-bravo?variation=16107
Merica Labz Castle Bravo (416g / 20 Serves Mango Foxtrot)
Merica Labz
Supplements > Pre Workout > Pre Workout High-Stim
https://cdn.mrsupplement.com.au/resources/imgs/products/merica-labz-castle-bravo.1688552118545.png
http://schema.org/NewCondition
http://schema.org/InStock
AUD
https://www.mrsupplement.com.au/merica-labz-castle-bravo?variation=16107
79.95
AUD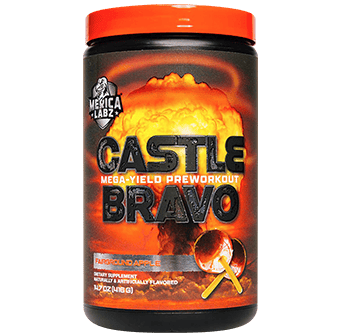 Castle Bravo
Mega Yield Pre-Workout for Mega Gainz
Crazy Insane Energy
Muscle Pumps You Won't Believe
Increase Focus, Drive & Power
Great Flavours: Cereza Lime, Fairground Apple & Mango Foxtrot
In Stock

(0)
Write a review
Product
Q&A's
Related Articles
Reviews
Add To Cart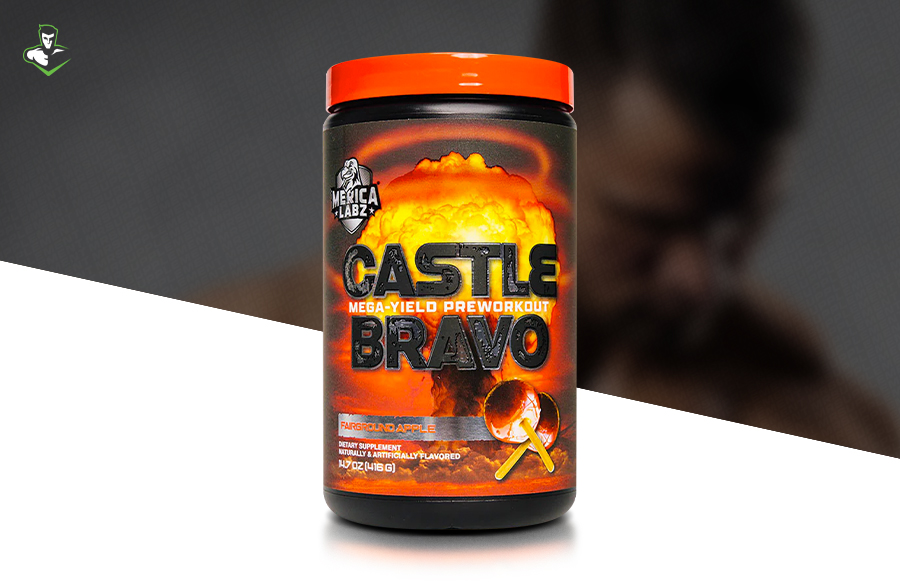 Unleash the power within you with Merica Labs Castle Bravo, the pre-workout supplement that will take your training to explosive new heights. Packed with a potent blend of carefully selected ingredients, Castle Bravo is designed to give you the energy, focus, & endurance needed to conquer your workouts like never before.
Main Ingredients
L-Citrulline Malate (7000mg): Boosts nitric oxide production, enhancing blood flow to muscles for improved pumps & nutrient delivery
Beta Alanine (3200mg): Reduces muscle fatigue & helps you push through those last few challenging reps
Peak02 (2000mg): A powerful blend of adaptogenic mushrooms to enhance endurance & overall performance
L-Tyrosine (2000mg): Supports cognitive function & mental focus during intense training sessions
Caffeine Anhydrous (350mg): Provides a surge of energy and alertness to keep you motivated & driven
Alpha-GPC 50% (300mg): Enhances mind-muscle connection & supports neurotransmitter function
Pine Bark Extract (250mg): Rich in antioxidants, it aids in reducing oxidative stress & supporting overall well-being
Caffeine Citrate (200mg): A fast-acting form of caffeine for an immediate energy boost
ElevATPⒸ (150mg): A combination of ancient peat & apple extract to increase ATP production & improve performance
Theobromine HCI (100mg): A natural stimulant that promotes sustained energy & mood elevation
Synephrine HCI (30mg): Supports metabolism & helps promote fat breakdown during workouts
Huperzia serrata Extract (20mg): Enhances mental clarity & focus by inhibiting acetylcholinesterase
Mercina Labz Castle Bravo: Key Benefits
Experience explosive energy & unstoppable drive during your workouts
Achieve skin-splitting pumps & increased nutrient delivery to muscles
Reduce muscle fatigue, allowing for longer & more intense training sessions
Heighten mental focus & clarity, keeping you in the zone
Boost endurance & performance with Peak02's adaptogenic support
Improve mind-muscle connection for more controlled & effective lifts
Enhance overall well-being with the antioxidant-rich Pine Bark Extract
Support fat burning and metabolism with Synephrine HCI
Don't settle for mediocre workouts; embrace the power of Merica Labs Castle Bravo & unleash the beast within. With its precise formulation of cutting-edge ingredients, this pre-workout is your ticket to pushing past limits to achieve new heights of strength & performance. Get ready to dominate the gym & leave a lasting impact on your fitness journey. Grab your Castle Bravo today & experience the ultimate transformation.
Q&A's
Ask a question about
Merica Labz Castle Bravo
How much total caffeine is in Castle Bravo?




Castle Bravo contains 450mg of caffeine per serving.

What sorts of caffeine does Castle Bravo contain?




Castle Bravo contains two forms of caffeine. Caffeine Anhydrous: This form of caffeine is a dehydrated & concentrated version, providing an immediate energy boost. Caffeine Citrate: This type of caffeine yields 50% caffeine & offers a fast-acting and sustained energy release.

Is Castle Bravo suitable for beginners?




Yes, Castle Bravo's potency can be adjusted by starting with half a scoop for new users.

Can women use Castle Bravo?




Yes. Castle Bravo is suitable for both men and women seeking peak performance. Women & newer users may choose to begin on 50% of the recommended dosage.

Will Castle Bravo cause jitters or crashes?




Castle Bravo is designed to provide a smooth & sustained energy boost without jitters or crashes.

When should I take Castle Bravo?




Consume 1 scoop with water 15-30 minutes before your workout for maximum effect.

Can I stack Castle Bravo with other supplements?




Yes, Castle Bravo stacks well with other non-stimulant products to complement your fitness goals.

Does Castle Bravo contain any banned substances?




No, Castle Bravo is free from banned substances and is compliant with industry regulations. We note however, it is not 3rd party tested, as such tested athletes may choose to avoid this supplement.

Is it safe to take Castle Bravo daily?




We recommend cycling Castle Bravo to avoid tolerance build-up, making it effective when you need it most. We recommend taking it only on workout days.

Can Castle Bravo help with mental focus for non-athletic tasks?




Yes, Castle Bravo's blend of cognitive enhancers can boost focus for various mentally demanding activities.

Will Castle Bravo interfere with my sleep?




Avoid taking Castle Bravo close to bedtime due to its energizing effects to ensure quality sleep. This is a high stimulant pre-workout supplement, as such it should not be taken within 5 hours of sleep.

How long does Castle Bravo's effect last?




The effects of Castle Bravo can last for several hours, supporting your entire workout session & beyond.

Is Castle Bravo suitable for endurance athletes?




Yes, Castle Bravo's adaptogenic ingredients enhance endurance & performance for various athletic disciplines.
Related Articles
Reviews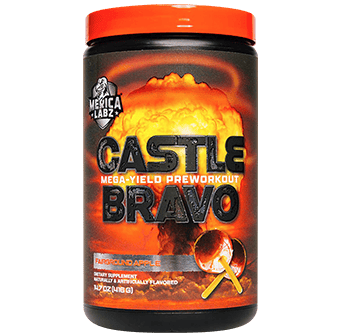 Based on reviews collected by
&
Write a review

Contact Us