Quick Summary
Most individuals will like Kiwi Strawberry; Citrus fans will go mad for Pink Grapefruit; Guava Paradise is subtle and easy to drink, and Wild Melon is a fresh twist on a favourite. It's hard to go wrong.
The taste of Oxyshred is among the best taste of any supplement in the industry. The flavouring system used by EHPlabs is premium and nothing short of delicious.
The number 1 selling flavour at Mr Supplement over many years is Strawberry Kiwi.
Rainbow Candy was introduced in 2018 & discontinued after stocks were sold.
Orange Gummy introduced in 2019 proved not as popular as some others.
Cosmic Blast introduced Nov 2019 was limited and now has finished.
Raspberry arrived in September 2020 and again is a limited-edition flavour.
Gummy Snake launched in 2021. Has hints of fruit flavours and tastes like liquid candy.
Mystery Flavour released in 2021 has some sweet but sour tones for those who like a sharper taste.
Released end of 2021 Lychee Daiquiri is a great summertime flavour with a sweet Lychee easy-to-drink taste.
Released February 2023 is Peach Candy Rings, another delicious taste of summertime.
Juicy Watermelon was released Thursday, May 25th 2023 & boy is it juicy.

OxyShred Overview
When OxyShred exploded onto the market, it rapidly staked a claim as one of the top weight loss products. In an industry that can be dominated by new, flavour-of-the-month products, this was a remarkable achievement, particularly because it was the first product that a brand new company, EHP Labs, had put onto the market.
It is easy to see why OxyShred has been so successful now over many years. Containing active ingredients, OxyShred supports fat loss in many different ways, boosting metabolism and promoting thermogenesis with several powerful scientifically-backed fat-burning ingredients which have been combined into a unique hyper-lipolysis complex.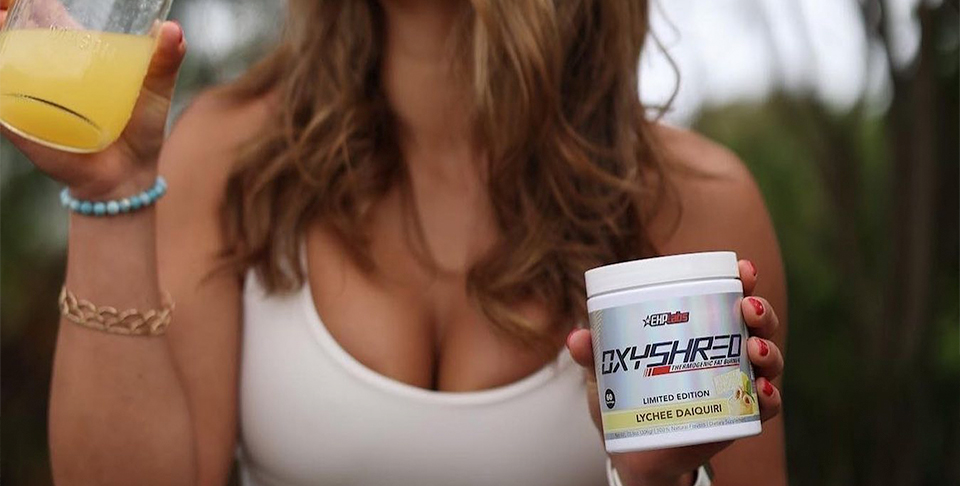 Multi-Faceted Oxyshred Ingredients
Weight loss can be stressful on both the mind and body. EHP Labs had this in mind when formulating OxyShred, and it is distinguished from many other products by the inclusion of ingredients that support mood and immune function. OxyShred has a low-stimulant formulation that concentrates on metabolic enhancement over appetite suppression, supporting sustainable, healthy fat loss, making it suitable to use for longer periods than many of its competitors.
EHP Labs have made a product that people return to time and time again. It is easy to underestimate how important taste is in this equation. A product can have the best ingredient list out there, but if it tastes bad, it is doomed. Flavouring is something that EHP Labs have put a great deal of effort into.
Like the list of ingredients, the flavours chosen for OxyShred are unique. While many manufacturers stick to the familiar classics like fruit punch or blue razz, which arguably makes choosing a bit easier, EHP Labs have bravely gone in the opposite direction with a suite of exotic and unfamiliar flavours.
Best Flavours of OxyShred
We decided to conduct an in-house taste test to learn more about these unusual flavours and to pick our favourites. Here are the results: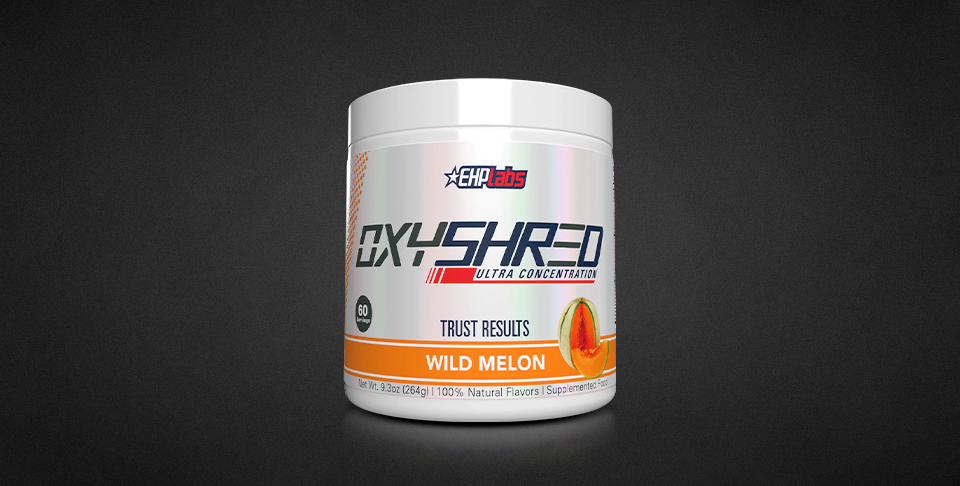 #5 Wild Melon – What's so wild about wild melon? Well, it's a bit of a wild card, because people expecting to encounter watermelon, which is becoming an increasingly popular flavour, will be surprised at the distinctive rockmelon flavour that EHP Labs have delivered. Sweet, with a slight tang, wild melon is incredibly easy to drink despite being one of the stronger flavours in the range. Melon fans will be blown away by the incredibly realistic taste of deliciously ripe rockmelon.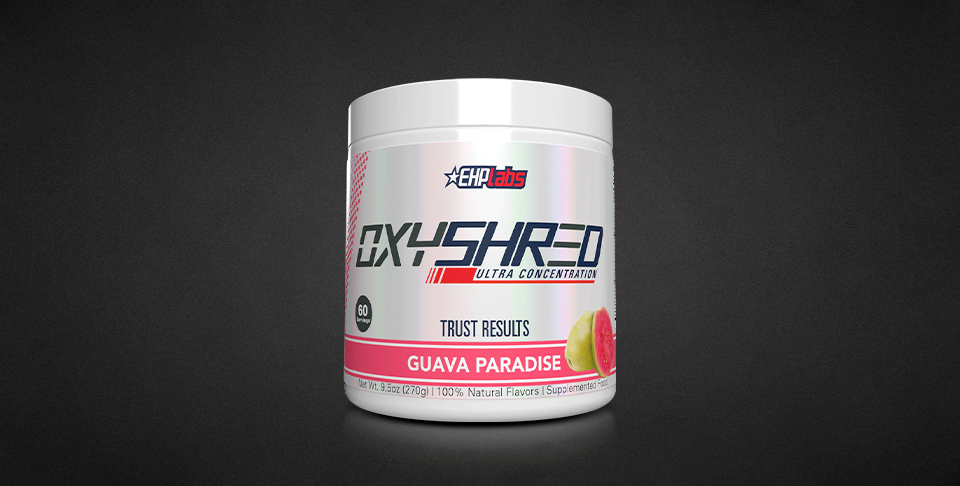 #4 Guava Paradise – Guava is a sweet, aromatic tropical fruit that is commonly eaten in many countries around the world. It's usually a big hit with people who like sweeter fruits, such as pear and mango. EHP Labs have not only done a great take on the guava flavour, but they have included natural guava extract in the formulation. Guava Paradise is one of the more subtle flavours of OxyShred, and this is the pick for people who aren't too keen on stronger flavours. Despite this, the taste of the active ingredients, some of which are less than palatable, is close to undetectable.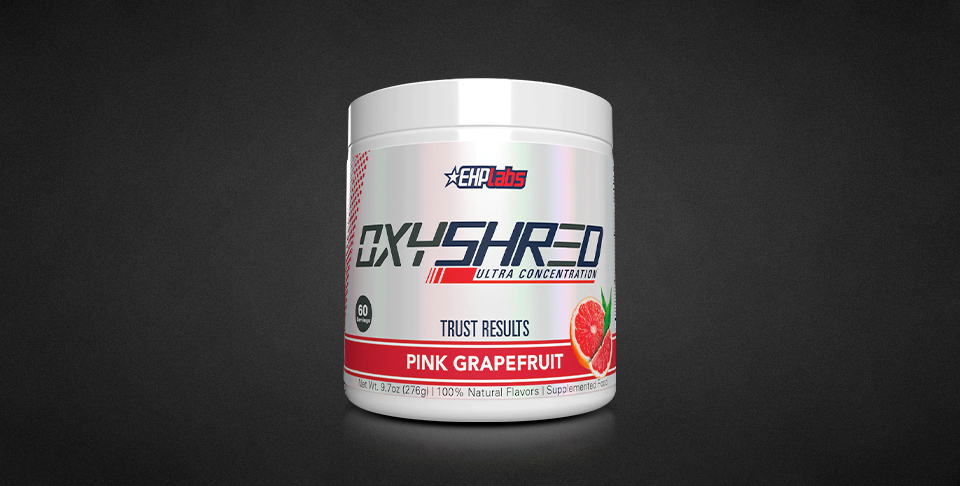 #3 Pink Grapefruit – After tasting OxyShred Pink Grapefruit, it is surprising that more companies haven't jumped on the Grapefruit bandwagon. Fans of this fruit will be over the moon with the realistic combination of sweet and sour, and marvel at how well the slight bitterness of the flavour masks any hint of ingredient. While Pink Grapefruit is a very distinctive flavour, it is very well balanced and easy to drink.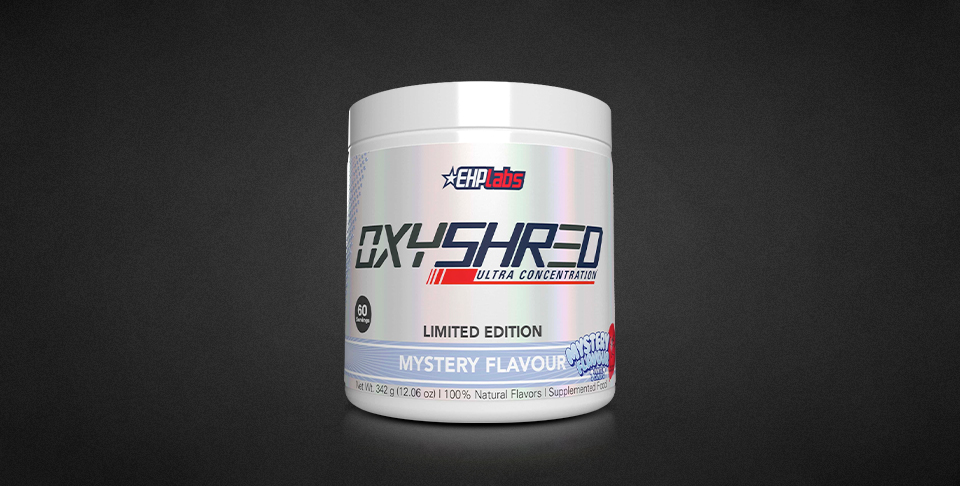 #2 Mystery Flavour - After conducting additional taste testings as new flavours were released. We simply couldn't go past adding the Oxyshred Mystery Flavour to our top list of best tasting Oxyshred's. What we like about this flavour apart from it being a mystery, thus not knowing what the taste is before drinking it. Is that Mystery Flavour Oxyshred has such a great balance of sweet and sour with more emphasis on sour. All too often in fat burners or pre-workouts, one finds either a sweet or sour taste. Mystery flavour however shall satisfy users looking for both plus everyone in between. Making it popular with a broader range of people.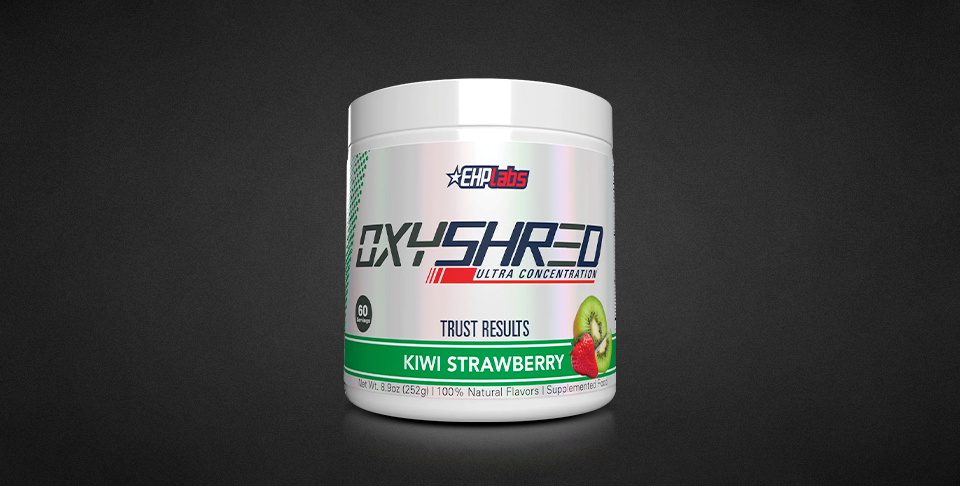 #1Kiwi Strawberry – If there's one generalisation that can be made about the various flavours in the OxyShred range, it is that EHP Labs has done an excellent job of making them taste natural and true to life. Kiwi Strawberry could be the best example of this. It would be easy to combine these two flavours into a sickly sweet syrup, but instead, this is a delicious, nuanced flavour in which the taste of both fruits is discernable. It is easy to imagine that this flavour would have been designed for those with a sweet tooth in mind, but this is delicious and easy to drink, and it is something that most people are likely to enjoy.
Often, in a flavour range, there is a clear standout or a confusing mistake. One thing that has to be said about the OxyShred range is that all of the flavours were rated very highly, and choices were largely dependent on personal preference. While the flavours are unique and exotic, they are also very true to life which takes a lot of the guesswork out of finding a flavour. EHP Labs have catered very well to a wide variety of taste preferences.
So what's the best flavour of OxyShred? Almost everyone will like Kiwi Strawberry, Citrus fans will go mad for Pink Grapefruit, Guava Paradise is subtle and easy to drink, and Wild Melon is a fresh twist on a favourite. It's hard to go wrong.



Rainbow Candy Flavour Oxyshred - New in 2018
Bought to market in 2018 the flavour sold off the shelf with mixed reviews from customers. Our take in short is the market wanted another flavour to try, yet the viability of having Rainbow Candy as a permanent flavour just wasn't warranted when considering consumer reviews and feedback. Thus if you still have a jar consider it now a collector's item.
Orange Gummy Flavour Oxyshred - New in 2019
July 2019 & EHP introduce Oxyshred Orange Gummy Flavour to the range, cool name, something different from all the other flavours, but how does it taste? The answer in short is fantastic. Unlike a standard orange flavour, Orange Gummy flavour has a nice note of bitter acid which gives it a sweet orange flavour coupled with a tangy kick. It's uniquely delicious & a must-try for all Oxyshred fans who are ready for a new tasty flavour.
Cosmic Blast Flavour Oxyshred - New in November 2019
Could Cosmic Blast be the best tasting Oxyshred ever? Well in speaking with the lads at EHP that is their intention. On tasting Cosmic Blast ourselves here at Mr Supplement. The consensus is WE LOVE IT. A sweet strawberry note that's almost identical to Strawberry Starburst. Is it the best flavour? You decide for yourself.
Raspberry Flavour Oxyshred - New in September 2020
A true raspberry flavour this limited edition Oxyshred is a raspy taste. As with all the Oxyshred flavours, Raspberry is delicious, mixes easily and is a pleasure to drink.
Gummy Snake - New in 2021
Gummy Snake is a real taste of candy and does taste like a liquid gummy snake from the packet. Gummy Snake was well received by the Australian consumer and seems now to be a permanent flavour within the Oxyshred range.
Mystery Flavour - New in 2021
The Oxyshred Mystery flavour is another candy-tasting flavour described by some as white candy or airheads candy. So it's a little more tangy or sour than the recent gummy snake flavour. If you like a little sweet and sour the Mystery Flavour now isn't such a mystery.
Lychee Daiquiri - New for 2021/2022 Aussie Summer
What can we say? The Lychee flavour tastes exactly like Lychee giving it a sweet aromatic taste with hints of grape, rose and watermelon.
Peach Candy Rings - A New Drop in February 2023
The delicious taste of sweet peach with a splash of candy is done only the way EHP Labs can do it. We've tasted it and we love it. Get your limited edition Candy Peach Rings Oxyshred while it is still available.
Juicy Watermelon - Available in late May 2023
It is just so juicy. And just like a real watermelon it's a watery mild taste, so not too OTT sweet. Easy to drink it's just another great flavour from EHP.