Optimum Amino Energy Review
Quick Summary Points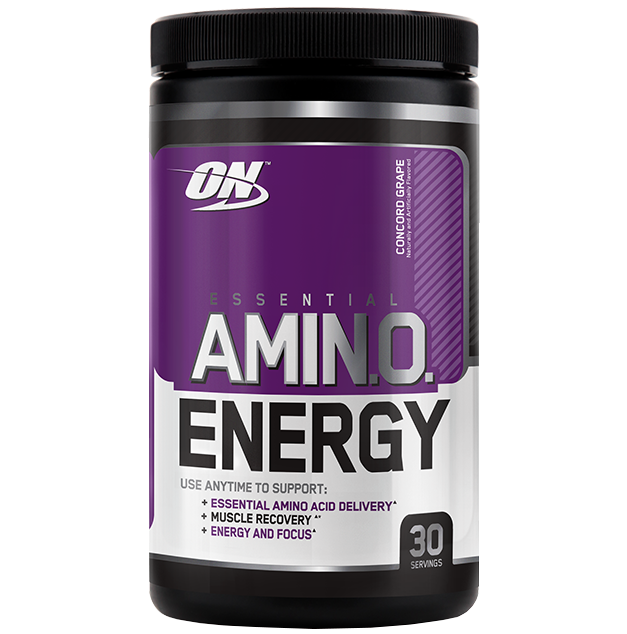 Optimum Amino Energy is a highly effective essential amino acid supplement that delivers energy, pump and supports muscle recovery
Can be taken either as a pre workout or as a post workout
Contains a combination of rapidly absorbed free form amino acids
Contains 160mg of Caffeine derived from Green tea and Green Coffee Extract
Mixes easily & available in various delicious flavours
Optimum Nutrition is one of the most reputable companies around and never fails to deliver extremely potent supplements for their consumers. By the name of Optimum Amino Energy, it is a muscle building essential amino acid supplement that can be used anytime during the day. Here, we're going to give you an in-depth review on Optimum's Amino Energy.
Optimum Amino Energy Highlights
5g of Micronised free form amino acids
Improved energy & focus
Fastens muscle recovery
Mixes easily & available in delicious flavours
Optimum Amino Energy Ingredients & Dosage
Amino Energy is made up of 2 blends including:
1. Amino Blend - 5g
This blend contains a mixture of micronised free form amino acids consisting of:
Micronized Taurine, Micronized L-Glutamine, Micronized L-Arginine, Micronized L-Leucine, CarnoSyn Beta-Alanine, Micronized Citrulline, Micronized L-Isoleucine, Micronized L-Valine, Micronized L-Tyrosine, Micronized L-Histidine, Micronized L-Lysine, Micronized L-Phenylalanine, Micronized L-Threonine, Micronized L-Methionine
2. Energy Blend - 160mg
Caffeine (from Green Tea), Green Tea Extract (Camellia sinensis) (leaf)(standardised for EGCG), and Green Coffee Extract.
Optimum Amino Energy Benefits, Pros & Effectiveness
Each product Optimum Nutrition creates and formulates comes with solid scientific backing behind each ingredient in the formulation. Optimum Amino Energy is another potent supplement that not only delivers energy levels but helps to boost performance for all trainers. The primary component of Amino Energy is the Amino Blend which contains 5 grams of micronised amino acids which is essential for muscle growth and recovery. The blend also includes an effective dose of beta alanine to help improve muscular endurance.
More importantly, what trainers are interested in is the energy kick from Amino Energy. The energy blend contains 160 mg of caffeine derived from green tea and green coffee extract. This is equivalent to a large cup of coffee which is a significant amount of caffeine. With this combination energy blend, these ingredients help to provide a constant supply of energy to get you through your workout. Another highlight of Optimum's Amino Energy is its versatility. Amino Energy can be taken as a pre workout, intra workout, post workout or anytime during the day for some extra energy. Additionally, Optimum Amino Energy is also very cost effective for the quality you'll be getting which is definitely a bonus.
Optimum Amino Energy Negatives, Cons & Side Effects
When it comes to amino acids or intra workout supplements it is hard to go wrong unless the supplement is under-dosed. In this case, each ingredient has been dosed correctly. Aside from that, Amino Energy does contain a variety of artificial flavours and colours that could be left off the ingredients list. As for side effects, Optimum's Amino Energy are imminent due to the 50mg of caffeine per serving. Having said this, for those who are sensitive to caffeine and have trouble sleeping we recommend taking it earlier in the day as opposed to in the afternoon.
Optimum Amino Energy Taste, Flavour & Mixability
Optimum Amino Energy is available in various tasty flavours consisting of Blue Raspberry, Watermelon, Fruit Fusion, Concord Grape, Orange, Lemon Lime and Green Apple. Each flavour is fruity and does not have a bitter aftertaste. In terms of mixability, it mixes easily with water with no chunks or excessive foam. Amino Energy is easy to drink and is definitely worth a rating of 10/10 on taste.
Optimum Amino Energy Verdict
Optimum's Amino Energy is a great product for those looking for a versatile supplement that can be taken at almost any time. This product kills multiple birds with one stone and we recommend it for those who do not supplement independently with caffeine, beta-alanine or branched chain amino acids. It tastes great, keeps you focused, and supplies you with a fair amount of amino acids. All aspects considered, Optimum Amino Energy is definitely a great addition to your exercise regime.