https://www.mrsupplement.com.au/musashi-protein-creatine-bundle
Musashi Bulk Protein + Creatine Bundle
Musashi
Supplements > Supplement Bundles > Muscle Building Stacks
https://cdn.mrsupplement.com.au/resources/imgs/products/musashi-bulk-creatine-bundle.1693786183609.png
http://schema.org/NewCondition
http://schema.org/InStock
78
110
AUD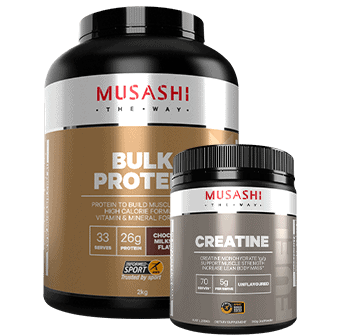 Bulk Protein + Creatine Bundle
The Ultimate Mass Gainer & Performance Stack
Max Gains: Bulk Protein & Creatine combo for muscle & strength
Quick Recovery: Speeds up post-workout healing
Nutrient-Rich: Packed with essential vitamins
Tasty & Easy: Mixes into a creamy, delicious shake
In Stock

(0)
Write a review
Product
Stack Details
Q&A's
Reviews
Add To Cart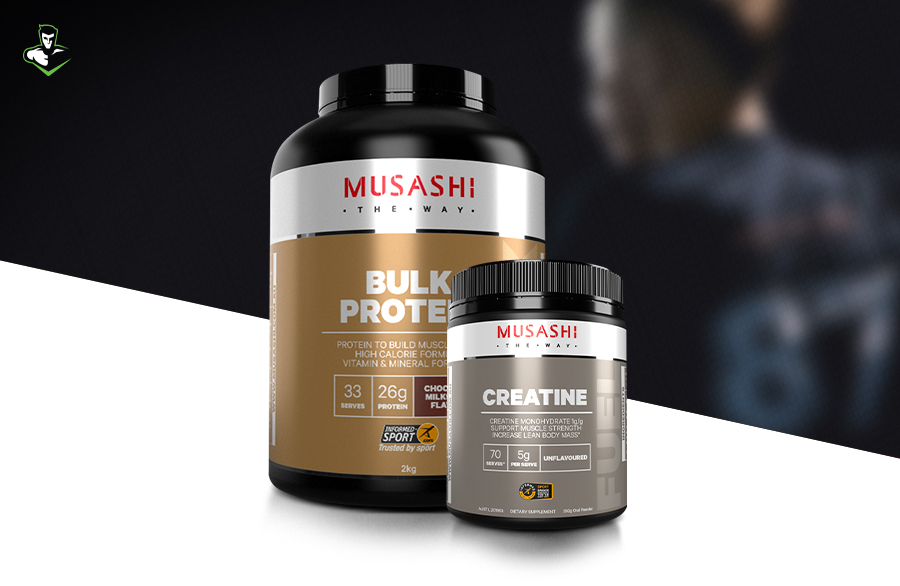 Looking for a no-compromise solution to skyrocket your fitness gains? Introducing the Musashi Bulk Protein + Creatine Bundle—your one-stop solution for muscle growth, increased strength, & rapid recovery.
Why Choose This Bundle?
Robust Protein Blend: The Musashi Bulk Protein is a high-calorie formula with a unique 50/50 Carb to Protein Ratio, featuring Whey Protein Concentrate (WPC) & Whey Protein Isolate (WPI) to aid muscular development.
Boosts Athletic Performance: Our 99.9% pure free-form Creatine Monohydrate is designed to enhance your strength, power, & muscle gains, all while helping to replenish ATP levels during high-intensity workouts.
Sustained Energy & Recovery: Bulk Protein's complex maltodextrin & simple dextrose work hand-in-hand to provide sustained energy for your workouts & expedite recovery post-exercise.
Nutritionally Balanced: This bundle is fortified with essential vitamins & minerals to meet the increased nutrient demands of active individuals.
Mixes Easily & Tastes Great: No lumps or residues. Just smooth, creamy shakes that you'll look forward to.
Nutrition Information
Musashi Bulk Protein Per 60g Serve: 26g Protein, 24.2g Carbs, 2.9g Fat Musashi
Creatine Monohydrate Per 5g Serve: 5g Creatine Monohydrate (equiv. Creatine 4.4g)
How To Use
Bulk Protein: Mix 60g with 300mL of water or 500mL of full cream milk until dissolved.
Creatine Monohydrate: Mix 5g with water or suitable juice & consume immediately.
With the Musashi Bulk Protein + Creatine Bundle, you're not just investing in a supplement; you're securing an edge in your fitness journey. Unleash the potential within you.
Stack Details
Q&A's
Ask a question about
Musashi Bulk Protein + Creatine Bundle
Reviews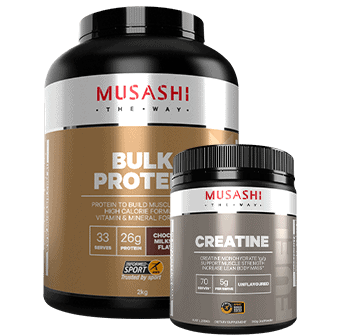 Based on reviews collected by
&
Write a review

Contact Us