https://www.mrsupplement.com.au/musashi-100-whey-creatine-bundle
Musashi 100% Whey + Creatine Bundle
Musashi
Supplements > Supplement Bundles > Muscle Building Stacks
https://cdn.mrsupplement.com.au/resources/imgs/products/musashi-100-whey-creatine-bundle.1693785235393.png
http://schema.org/NewCondition
http://schema.org/InStock
80
110
AUD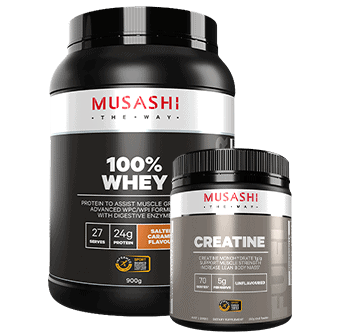 100% Whey + Creatine Bundle
All-in-One Performance Bundle
For Muscle Growth, Recovery, & Enhanced Workouts
Features an Advanced Protein, & Pure Creatine Monohydrate
Convenient Easy-to-mix Formulas& Delicious Protein Flavours
Banned Substance Tested & Certified
In Stock

(0)
Write a review
Product
Stack Details
Q&A's
Related Articles
Reviews
Add To Cart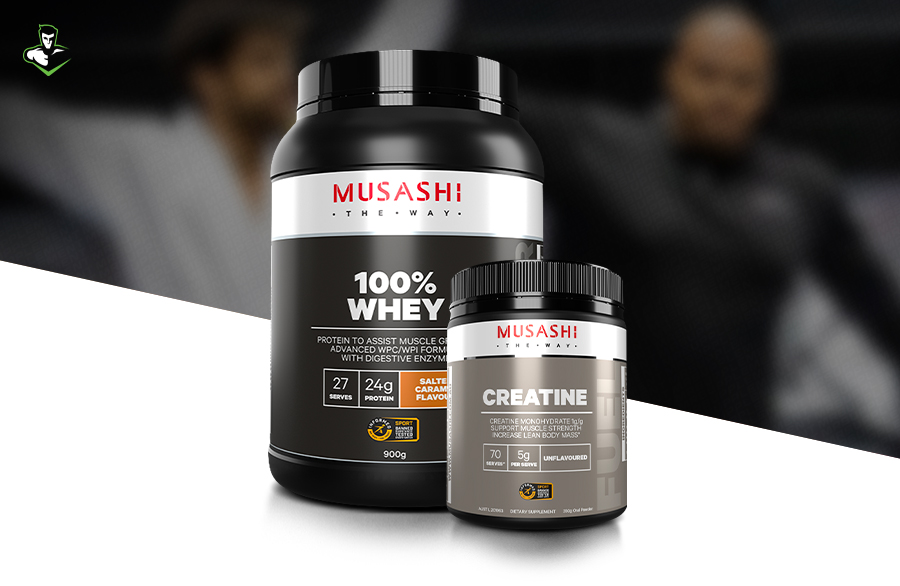 Unleash your athletic potential & maximize your gains with the Musashi 100% Whey + Creatine Stack. Specifically curated for fitness enthusiasts, bodybuilders, & athletes, this superlative bundle combines the powerful benefits of two industry-leading products: Musashi 100% Whey Protein Powder & Musashi Creatine Monohydrate.
Crafted for excellence, this stack is your go-to solution for muscle growth, workout recovery, & enhanced performance.
Key Features
Comprehensive Muscle Support: The advanced WPI & WPC blend in Musashi 100% Whey Protein Powder provides high-quality protein, essential for muscle growth & repair.
Instant Energy Boost: Infuse your muscles with the energy they crave during high-intensity activities with the 99.9% pure Creatine Monohydrate.
Optimal Nutrient Absorption: The added digestive enzymes in the Whey Protein formula ensure efficient nutrient uptake.
Certified & Safe: Both products are banned substance tested and certified, so you can focus on your fitness goals without worry.
Easy to Mix: Formulated for convenience, both products easily dissolve in water, juice, or your choice of liquid, making it perfect for those on-the-go.
Multiple Delicious Flavours: Choose your Whey Protein in Vanilla Milkshake, Chocolate Milkshake, or Salted Caramel for a delightful tasting experience.
Bundle Includes
Musashi 100% Whey Protein Powder (Choice of 900g or 2Kg size)
Musashi Creatine Monohydrate (5g per serving, 70 servings per bottle)
Nutritional Synergy
When taken together, the amino acids from the Whey Protein complement the creatine's energy-boosting properties. This allows for a more effective workout & quicker recovery.
Directions for Use
Musashi 100% Whey: Add 33g (1 heaped scoop) to 200mL of water or milk and mix until dissolved. Consume 60-90 minutes before or within 30 minutes after resistance training.
Musashi Creatine Monohydrate: Add 5g (1 level scoop) to water or suitable juice, stir until mixed, & consume immediately. Take 1-2 servings daily, before or after exercise.
Achieve new levels of fitness & performance with the Musashi 100% Whey + Creatine Stack. Whether you're looking to build muscle, improve recovery, or simply elevate your workouts, this stack has you covered. Choose the Musashi 100% Whey + Creatine Stack & redefine what you can achieve.
Stack Details
Q&A's
Ask a question about
Musashi 100% Whey + Creatine Bundle
Is this Musashi 100% Whey & creatine stack suitable low-carb or high-protein diets?




Yes, the Musashi 100% Whey + Creatine Stack is designed with a low-carbohydrate & high-protein formula, making it suitable for a range of dietary goals.

Do I need to use a blender to mix these products?




No blender needed. Both the Whey Protein & Creatine are formulated to mix easily, even with just a spoon or a shaker.

Can I expect to see results quickly with this bundle?




Many users report feeling more energetic & noticing quicker recovery times shortly after starting to use this product stack. While individual results may vary, consistent use alongside a balanced diet & exercise regimen can yield noticeable benefits.

How long will this Musashi bundle last me?




With 70 servings of Creatine & a choice between 900g or 2Kg for the Whey Protein, this stack is designed to last. The actual duration will depend on your individual usage & serving sizes.

Why is the Musashi brand a good choice for my fitness needs?




Musashi is a reputable brand known for high-quality, scientifically-backed ingredients. If you're serious about your fitness journey, this stack offers a reliable & effective solution.
Related Articles
Reviews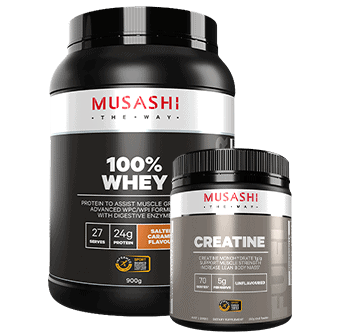 Based on reviews collected by
&
Write a review

Contact Us