https://www.mrsupplement.com.au/musashi-intra-workout?variation=12839
Musashi Intra Workout (350g / 24 Serves Grape)
Musashi
Supplements > Amino Acids > BCAAs
https://cdn.mrsupplement.com.au/resources/imgs/products/musashi-intra-workout.1552625663260.png
http://schema.org/NewCondition
http://schema.org/InStock
AUD
https://www.mrsupplement.com.au/musashi-intra-workout?variation=12839
59.95
AUD
https://www.mrsupplement.com.au/musashi-intra-workout?variation=12838
Musashi Intra Workout (350g / 24 Serves Watermelon)
Musashi
Supplements > Amino Acids > BCAAs
https://cdn.mrsupplement.com.au/resources/imgs/products/musashi-intra-workout.1552625663260.png
http://schema.org/NewCondition
http://schema.org/InStock
AUD
https://www.mrsupplement.com.au/musashi-intra-workout?variation=12838
59.95
AUD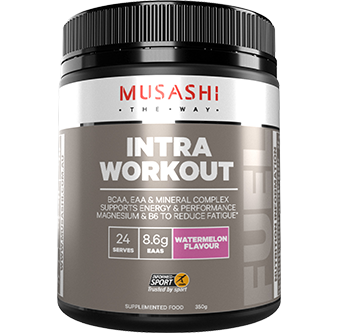 Intra Workout
High Performance Intra Workout Fuel
Fully Dosed BCAA & EAA & Mineral Complex
Reduce Fatigue & Muscle Soreness
Support Energy & Performance
Informed Sport Certified for Competitive Athletes
In Stock

(1)
Write a review
Product
Q&A's
Reviews
Add To Cart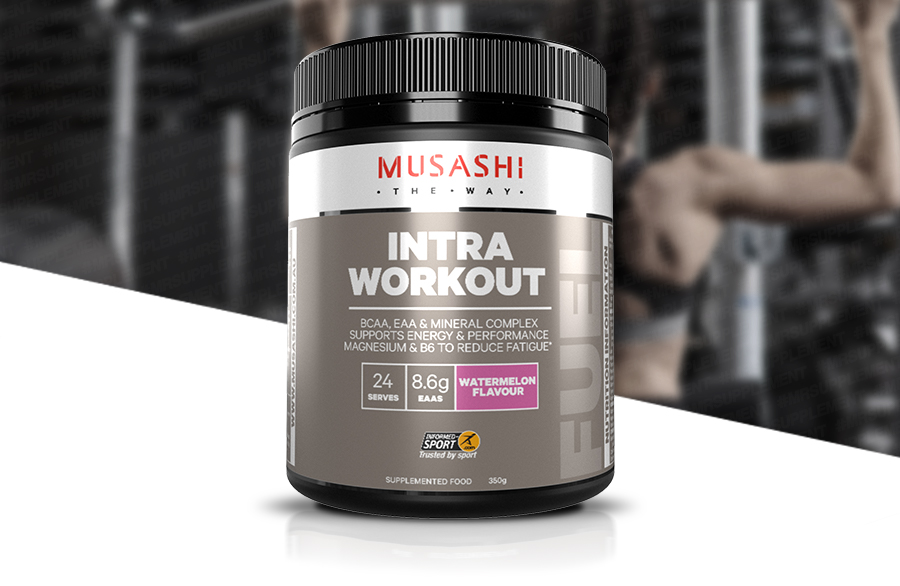 Musashi Intra workout is a scientifically formulated high performance blend that contains a matrix of Branched Chain Amino acids (BCAAs), Essential amino acids (EAAs), with glutamine and ornithine, as well as vitamins and minerals including magnesium to support muscle protein synthesis.
Designed for intra-workout consumption, Musashi intra-workout is an advanced formulation that is designed specifically to meet the needs of athletes whether competing on the field or working out on the gym floor. Easy mix ability, a delicious taste and high strength ingredients act as an intra-workout catalyst to take your game or gym session to the next level.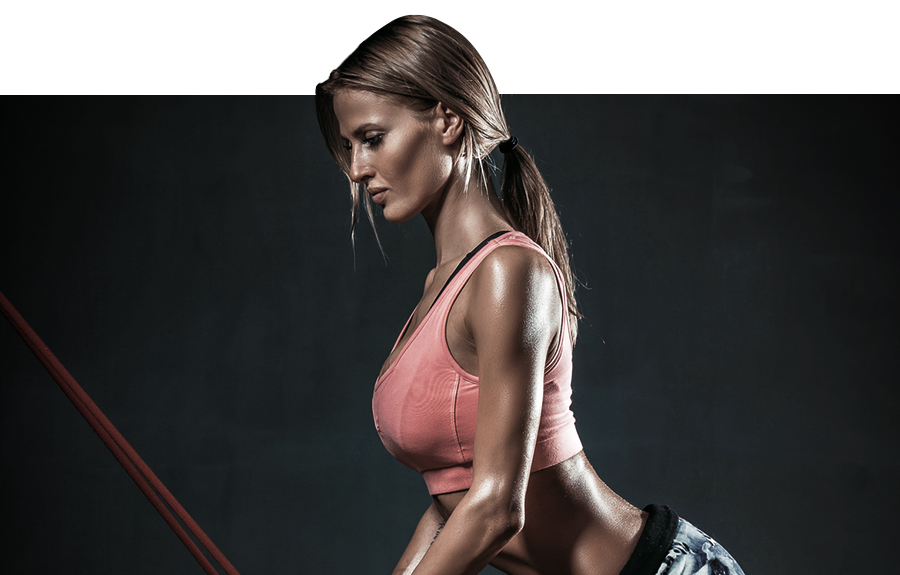 Benefits
Stimulate & Sustain Muscle Protein Synthesis
Lead to Less Soreness & Quicker Recovery Times
Improve Strength & Endurance
Keep Hydrated Throughout Workout
Q&A's
Ask a question about
Musashi Intra Workout
Reviews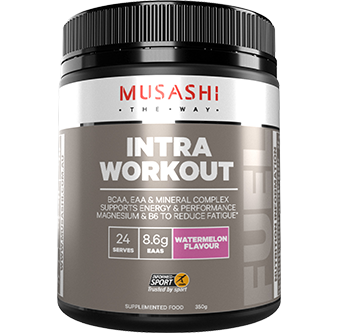 Excellent

Based on reviews collected by
&
Write a review

Musashi Intra Workout
Musashi Intra Workout
Musashi Intra Workout
350g / 24 Serves Grape
Love this product so far. It gives me heaps of energy during my workout without the feeling of a sugar high. Easy to sip on during the work out and taste is not over bearing.
Collected via Trustpilot
Next Page
Contact Us