What is Long Jack?
Long Jack (also known as Eurycoma longifolia, Longifolia, Jack, Tongkat Ali, Pasak Bumi, Tung Saw and Malaysian Ginseng) is a very bitter tasting small tree with medicinal properties. It has traditionally been used as an aphrodisiac, but may also have applications for bodybuilding & strength by boosting testosterone levels.
Is Long Jack & Tongkat Ali The Same?
Yes. Long Jack is the same as Tongkat Ali. Traditionally the name Long Jack was more popular in developed 1st world countries including The Unites States, Europe, Canada & Australia. Tongkat Ali however was the more common name used in Asia including Malaysia & Indonesia where the plant is grown. Since around 2020 and beyond however the name Tongkat Ali has become the default name globally, propelled by it's continual use on social media channels.
Where Does Long Jack Come From?
Tongkat Ali or Long Jack is found commonly in Malaysia and Indonesia, but also in parts of Vietnam, Laos, and Thailand. It does come from other countries as well however these countries grow and harvest the large majority of this shrub.
What Colour is Tongkat Ali?
Tongkat Ali (Long Jack) generally comes in a colour range from tan (yellow) & light brown through to dark brown. The colour is dependent on the exact root that is extracted which may vary in colour shade. Almost all Tongkat Ali supplements shall display in this brownish colour. Of interest there is also a red colour available (although uncommon as an extract) in Indonesia named Tongkat Ali - Pasak Bumi Merah (merah" translates to red). Whilst writing there is no scientific evidence to confirm a particular colour Tongkat Ali offers a better quality or more potent version than the other. Anecedotal evidence or user opinions vary as to what the best quality colour is. Whilst writing there is no scientific evidence to confirm a particular colour Tongkat Ali offers a better quality or more potent version than the other. Anecedotal evidence or user opinions vary as to what the best quality colour is.
Long Jack Benefits
The benefits of Long Jack are all related to its effect on increasing testosterone in men. This is due to the presence of a group of bitter organic compounds present in the root of Long Jack, known as quassinoids. A minimum of ten different quassinoids can be found that have been discovered in the Long Jack/Tongkat Ali plant (Miyake et al 2009, Meng D 2014).
Long Jack Benefits for Bodybuilding & Lean Gains
Testosterone is the hormone that is responsible for male characteristics such as strength and muscle mass. It is well known that increases in testosterone results in increases in lean mass and strength, and decreases in fat (Bhasin et al, 1996). Although this is easy to do with steroids, the use of such pharmaceutics may result in some seriously adverse health effects. Consequently, these substances are not readily available to the public in Australia. Herbal supplements such as Long Jack have been shown to be effective in naturally increasing the body's testosterone without the associated side effects of steroids, and may therefore be a viable and valuable alternative for bodybuilders.
In a study, it was shown that men experienced a 47% increase in serum testosterone after a month of treatment with 200 mg Long Jack extract/day (Tambi et al, 2011). It is therefore no surprise that when test subjects were given 100mg/day Long Jack while weight training, they experienced significant improvements in gains compared to those receiving a placebo. In five weeks, lean mass increased by over 2 kg, while fat mass decreased by almost 3%. Furthermore, supplemented individuals saw an increase in one rep max (1RM) strength of 134% greater than those receiving the placebo (Hamzah & Yusof, 2003).

Long Jack Benefits for Libido & Fertility
As men age, testosterone levels decrease and they experience a drop in libido and fertility. This also sometimes happens among younger men. There is some scientific evidence to suggest that Long Jack helps to increase sexual arousal and extending the duration of erections (Cyranoski, 2005).
There is also evidence to show that Long Jack increases male fertility by improving markers of sperm quality (increases in semen volume, sperm concentration, and percentage of well-formed and mobile sperm) in men, and resulting in increased incidences of pregnancy (Tambi & Imran, 2010). Studies such as these show the potential for Long Jack to be used by couples struggling with infertility.
Long Jack Negatives and Side Effects
Whilst rare it has been reported that some people experience light headache, mild fevers, and rash after the first few days of taking Long Jack (Cyranoski, 2005). It may therefore be wise to slowly introduce Long Jack into your diet to increase tolerance.
There have been many incidences of fake Long Jack products available in the market place for sale. At the best, these will not work, but fake products may also be harmful. It is therefore important that you purchase Long Jack from a reputable manufacturer and supplier in Australia.
Long Jack extract is extremely bitter due to its quassinoid content. This means that consuming it may not be particularly pleasant to your taste-buds, but it is also a good way to tell whether your Long Jack is genuine or not. However, it is important to know that some supplement mixtures mostly in powder form, that contain Long Jack may not be bitter because the taste could be masked by added favours and sweeteners.
Long Jack Recommended Doses and Ingredient Timing
As stated above, Long Jack is effective when given at doses of 100 to 200 mg extract per day. It also appears safe to take in doses up to 600mg daily, larger doses can be split up and taken throughout the day with food.
Should I Cycle Long Jack (Tongkat Ali)?
Much like other testosterone boosting supplements Long Jack/Tongkat Ali should be cycled. There are many suggested or recommended cycling methods that do vary. As a general rule and based on anecedotal evidence we'd recommend having a 3 week break for every 10-12 weeks of Tongkat Ali daily use.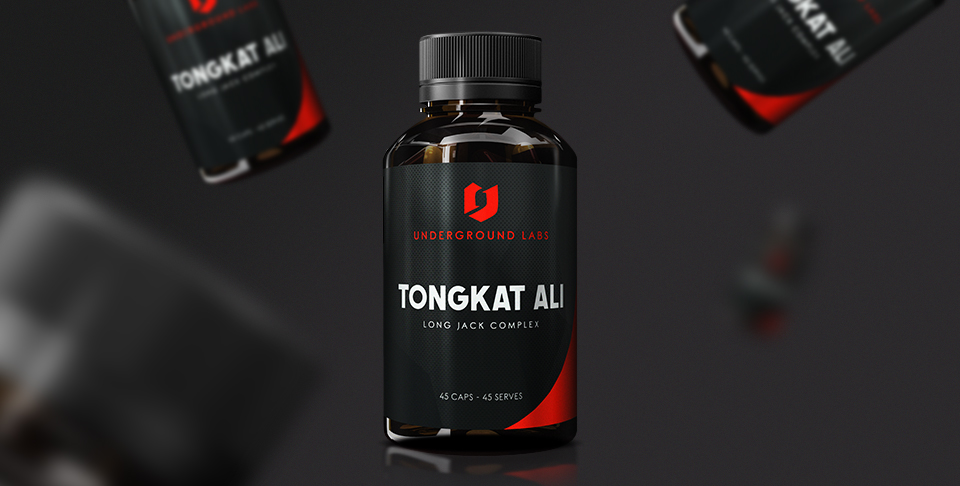 Long Jack Supplements
Long Jack can be purchased as a herb or a stand-alone extract. It can also be found in a range of testosterone boosting supplements. Be sure to look out for alternative names as detailed in this article.
Stacking Long Jack
Long Jack can be stacked with other testosterone booster ingredients such as tribulus (just be sure not to exceed a combined recommended dosage). Long Jack may be combined with oestrogen blockers/aromatase inhibitors, growth hormone boosters &/or Ecdysteroids including Ecdysterone or Turkesterone. Taken together these may help optimise your anabolic hormone profile to maximise muscle building potential.
Bhasin et al (1996). The effects of supraphysiologic doses of testosterone on muscle size and strength in men. N Engl J Med 1996;335:1–7.
Cyranoski (2005), Malaysian researchers bet big on home-grown Viagra. Nature Medicine, 11, doi: 10.1038/nm0905-912a
Hamzah & Yusof (2003), The ergogenic effects of Eurycoma longifolia Jack: A pilot study IN Joint Conference of BASEM and BASES. Br J Sports Med, 37: 464-470
Miyake et al (2009), Quassinoids from Eurycoma longifolia. J. Nat. Prod., 72: 2135–2140
Tambi & Imran (2009), Eurycoma longifolia Jack in managing idiopathic male infertility. Asian Journal of Andrology, 12: 376–380
Tambi et al (2011), Standardised water-soluble extract of Eurycoma longifolia, Tongkat ali, as testosterone booster for managing men with late-onset hypogonadism? Andrologia, S1: 226-230Dali Meng, Xin Li, Lingfei Han, Lulu Zhang, Weiwei An, Xian Li PMID: 24513570 DOI: 10.1016/j.fitote.2013.10.009