BSc Nitrovol Lean Muscle Review
BSc Body Science has spent the last two years slowly transforming and updating their entire range. One of the most recent re-releases is the lean muscle builder BSc Body Science Nitrovol Ultra Premium Lean Muscle Protein Powder.
BSc Nitrovol Lean Muscle Ultra Premium Highlights
Comprehensive recovery and lean mass builder protein
40:60 ratio of protein to carbs
Fast & Slow releasing sources of protein and carbs
Added muscle builders and recovery nutrients such as creatine and glutamine
Tasty & mixes easily
BSc Nitrovol Lean Muscle Ultra Premium Review & Ingredients
The new Nitrovol Ultra Premium combines a selection of different proteins, carbohydrates and added amino acids to create a versatile lean mass gainer or a post-workout shake. Below is a quick listing of the different components of Nitrovol:
Fast & Slow Protein Blend – Whey protein concentrate, micellar casein and whey powder
Fast & Slow Carbohydrate Blend – Non-fat dry milk powder, maltodextrin and dextrose
Growth & Muscle Volumizer Amino Blend – Creatine, glycine and glutamine
Each recommended 60g serving of Nitrovol contains 224 calories, 22g of protein, 32.1g of carbs, 1.1g of fat and 3g of creatine.
BSc Nitrovol Lean Muscle Ultra Premium Benefits, Pros & Effectiveness
BSc Body Science have kept to the essence of the original Nitrovol with the product being a mix of a lean mass gainer protein and a post workout recovery shake. The protein provides a good hit of fast and slow digesting protein and carbs to help support a sustained recovery process. The formulation aims to provide a trickle of amino acids over a couple of hours along with a longer carbohydrate digestion profile aimed at elongating the anabolic processes. The addition of creatine and glutamine further helps to support recovery and future performance capacity.
One of the other key benefits of the protein is that it is certified banned substance free, making it an ideal protein for any athlete or trainer who is drug tested frequently. Even if you're not, you can rest easy knowing the new Nitrovol Ultra Premium is pure, unadulterated and trusted to contain what's on the label.
BSc Nitrovol Lean Muscle Ultra Premium Negatives & Cons
For the most part, the new Nitrovol Ultra Premium is a well thought out supplement with decent macros and formulation. However, some of the ingredients they've used could do with some revision. For example, the use of whey powder as one of the protein sources. Whey powder is often the initial starting product before it is further processed to create higher protein percentage powders such as whey protein concentrate and isolate. As such, whey powder is generally higher in carbs. This isn't such a big issue, but one wishes they would use a higher grade protein powder. Similarly, one of their listed carbohydrates is non-fat dry milk powder. It's a relatively cheaper source of carbs, so future revisions might include better sources of slower absorbing carbs such as isomaltulose or waxy maize.
BSc Nitrovol Lean Muscle Ultra Premium Flavours, Taste & Mixability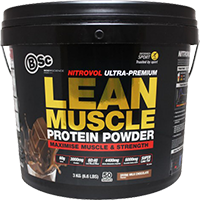 The new Nitrovol Lean Muscle is available in two flavours including: White Chocolate and Milk Chocolate. The original Nitrovol was one of the tastiest supplements around and the latest version is no different. It mixes into a slightly creamy shake, which is made creamier with milk instead of water. The White Chocolate flavour is slightly reminiscent of a sweeter vanilla, but not sickly sweet. Both flavours are tasty, mix easily and will go down easily any time of day. There is a little bit of grittiness in the product, but it's not as noticeable as a straight casein product.
BSc Nitrovol Lean Muscle Ultra Premium Verdict
BSc Body Science's Nitrovol Lean Muscle Ultra Premium is a very decent recovery protein and lean mass builder. It's perfect for those who want a little more from their shakes instead of just protein. Although some of the protein and carb sources could be better, overall, the new Nitrovol is a tasty, filling shake. It's also certified banned substance free, making it ideal for any athletes, competitive bodybuilders and any trainer wanting a purer product.