https://www.mrsupplement.com.au/bsc-whey-protein?variation=12812
BSc Whey Protein (1.8kg / 45 Serves Chocolate)
BSc Body Science
Supplements > Protein Powders > Whey Protein Blends
https://cdn.mrsupplement.com.au/resources/imgs/products/bsc-whey-protein.1687747349507.png
http://schema.org/NewCondition
http://schema.org/InStock
AUD
https://www.mrsupplement.com.au/bsc-whey-protein?variation=12812
89.95
AUD
https://www.mrsupplement.com.au/bsc-whey-protein?variation=16071
BSc Whey Protein (900g / 22 Serves Chocolate)
BSc Body Science
Supplements > Protein Powders > Whey Protein Blends
https://cdn.mrsupplement.com.au/resources/imgs/products/bsc-whey-protein.1687747349507.png
http://schema.org/NewCondition
http://schema.org/InStock
AUD
https://www.mrsupplement.com.au/bsc-whey-protein?variation=16071
54.95
AUD
https://www.mrsupplement.com.au/bsc-whey-protein?variation=12811
BSc Whey Protein (1.8kg / 45 Serves Vanilla)
BSc Body Science
Supplements > Protein Powders > Whey Protein Blends
https://cdn.mrsupplement.com.au/resources/imgs/products/bsc-whey-protein.1687747349507.png
http://schema.org/NewCondition
http://schema.org/InStock
AUD
https://www.mrsupplement.com.au/bsc-whey-protein?variation=12811
89.95
AUD
https://www.mrsupplement.com.au/bsc-whey-protein?variation=16072
BSc Whey Protein (900g / 22 Serves Vanilla)
BSc Body Science
Supplements > Protein Powders > Whey Protein Blends
https://cdn.mrsupplement.com.au/resources/imgs/products/bsc-whey-protein.1687747349507.png
http://schema.org/NewCondition
http://schema.org/InStock
AUD
https://www.mrsupplement.com.au/bsc-whey-protein?variation=16072
54.95
AUD

Whey Protein
Ultra Whey Blend
26g of Protein per Serving
Complete & Rich in BCAAs & EAAs
Nutrient-Rich with Probiotics & 5 Digestive Enzymes
Tested, Safe & Compliant for Competitive Athletes
In Stock

(2)
Write a review
Product
Q&A's
Reviews
Add To Cart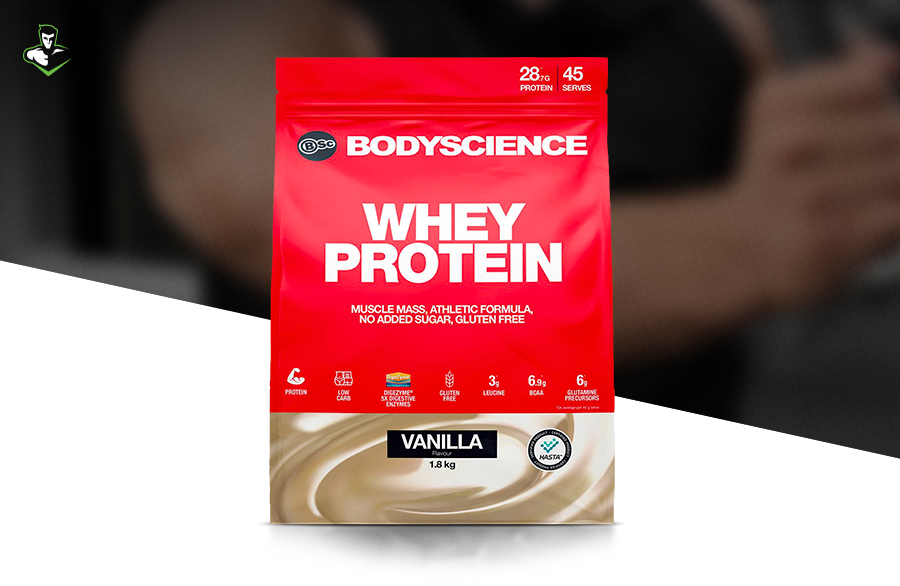 BSc Whey Protein is an advanced whey protein. The formula features 6g of BCAAs, 14.4g of EAAs and 4.9g of glutamine precursors which is considered an excellent ratio that may help support muscle, repair and recovery. BSc Whey Protein is a clean formula and contains a complete whey protein profile that combines hydrolysed whey protein, isolates, concentrate and a whole heap of digestive enzymes for maximum absorption of nutrients.
Body Science is the only Australian company that can boast no artificial colours, flavours or sweeteners in any of their products, and banned substance-tested and compliant supplements that any athlete can use. Despite their natural ingredients, the Body Science ultra range boasts some of the best flavours and ingredient profiles we've seen on the market.
BSc Whey Protein: Features & Benefits
100% Hydrolyzed Whey Protein, Isolates & Concentrates
Probiotics & 5 Digestive Enzymes
Banned Substance Tested & Gluten Free
No Artificial Colours, Flavours & Sweeteners
Q&A's
Ask a question about
BSc Whey Protein
Reviews

Great

Based on reviews collected by
&
Write a review

BSc Whey Protein
BSc Whey Protein
BSc Whey Protein
1.8kg / 45 Serves Chocolate
I used to purchase Bsc Whey Protein Isolate and the sweetener. was stevia and now it contains sucralose it is sweeter and not as tasty.
Collected via Trustpilot
BSc Whey Protein
BSc Whey Protein
Good taste, good results
Collected via Trustpilot
Next Page
Contact Us