APS BCAA 8:1:1 Review
APS Nutrition is known for high potency, top quality supplements, and has had a great deal of success with powerful products like pre-workout Mesomorph, and high quality single ingredients like creatine monohydrate and beta alanine. The company has recently added to its well-regarded range, and one of these new products is an 8:1:1 BCAA formula.

APS BCAA 8:1:1 Highlights
Top quality ingredients
Versatile
High in muscle building leucine
Assists recovery and muscle growth
APS BCAA 8:1:1 Ingredients & Dosage
APS BCAA is a very simple product that contains nothing but Branched chain amino acids Leucine, Isoleucine and Valine in An 8:1:1 ratio, which means each 5g scoop contains 4g of Leucine and 0.5g each of the other two branched chain aminos, although this dosage can be doubled. APS has used top quality Ajipure amino acids and the product is free from colours, flavours, additives and fillers.
APS BCAA 8:1:1 Pros & Effectiveness
APS has gone back to basics with this product, which contains nothing but top quality active ingredients. Amino acids can be derived from many sources including chicken feathers and human hair, which many people find disturbing. For those who are understandably put off, Ajipure is the name to look out for. Ajipure aminos are produced by bacterial fermentation and because they're totally free from animal products, they're suitable for vegetarians and vegans.
This is a very versatile product. The fact that it is flavourless means that it will go with anything, from a protein shake to a sports drink, or even juice or plain water, and it is micronised for easy mixing.
BCAAs have been proven to assist in recovery and support the development of strength and lean muscle. Leucine is known as a powerful stimulator of the mTOR pathway within the body, an anabolic system which tells the body to lay down lean muscle. BCAAs are available in varying ratios, and 8:1:1 is near the top in terms of leucine content, which many believe maximises muscle building potential.
APS BCAA 8:1:1 Cons & Negatives
The simple formulation of this product has a lot of advantages, but there are quite a few people out there that would prefer something a bit more complex. Many people use BCAAs during or after a workout, and are going to prefer an all in one formulation containing electrolytes and carbs, while other products successfully combine BCAAs with ingredients like creatine, vitamins, nitric oxide boosters and metabolic enhancers – the list is almost endless.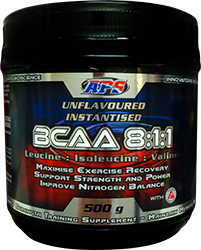 The optimal ratio of leucine to isoleucine and valine in a BCAA supplement is a source of some debate. At one end of the spectrum are those products that aim to replicate the physiological ratio of these amino acids, which is close to 2:1:1, and at the other, there are products that feature as much as 12 parts leucine to each of the other branched chain amino acids. APS has gone to the high end of the middle with their 8:1:1 ratio, a well thought out choice which nonetheless will not sit well with everyone.
APS BCAA 8:1:1 Taste & Mixability
This unflavoured, micronised product will mix into your beverage of choice with minimal mixing.
APS BCAA 8:1:1 Overall Verdict
APS has come up with a top quality, versatile product, which is likely to meet the muscle building and recovery needs of many people.