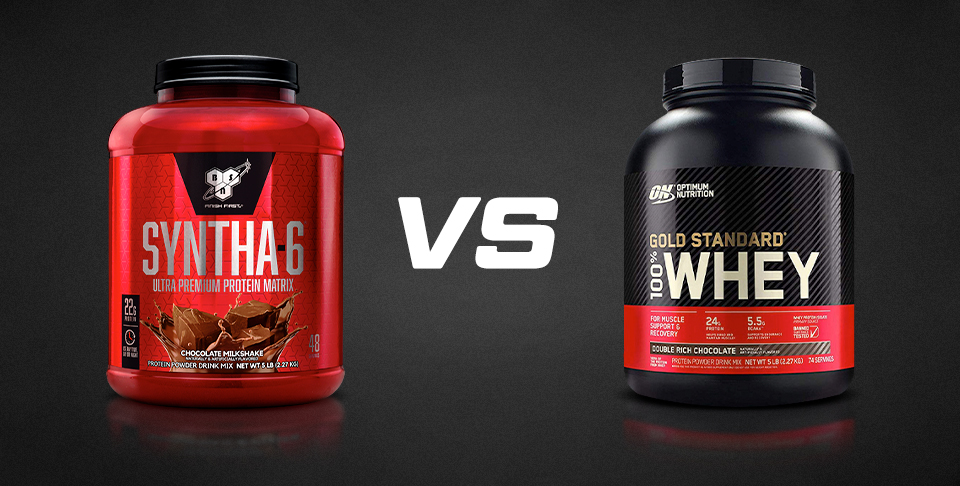 Quick Summary
Both Optimum Nutrition's 100% Whey Gold Standard and BSN's Syntha-6 are owned by Glanbia, ensuring high-quality production standards
Whey Gold Standard features a simple, fast-absorbing protein mix, ideal for post-workout
Syntha-6 offers a complex protein blend for slower sustained release
Whey Gold prioritizes a higher protein content with minimal extras, while Syntha-6 includes various proteins, flavouring agents, & additives
The choice between the two depends on individual fitness goals, dietary needs, & protein intake preferences
Whey Gold delivers a higher protein percentage per serving compared to Syntha-6, which has additional carbs & fats
Both products are effective; Whey Gold is preferable for lean muscle building, and Syntha-6 is ideal for longer-lasting energy or weight gain
Both offer multiple flavour options, with Whey Gold having a wider selection
Syntha-6 wins on taste, offering a richer flavour & a shake-like consistency, whereas Whey Gold is more watery
Overall Winner: 100% Whey Gold Standard edges out as the overall winner due to its high protein content & purity
Deciding between Optimum Nutrition's 100% Whey Gold Standard and BSN's Syntha-6 can feel like an athlete choosing the perfect gear. Both are frontrunners in the world of protein powders and interestingly, they come from the same parent powerhouse, Glanbia.
But here's the scoop: these siblings are formulated to serve different champions. Let's break down their strengths & weaknesses to see who earns the gold medal!
Blend and Benefits: Simplicity vs. Complexity
100% Whey Gold Standard keeps it straightforward. Its trio blend of whey protein isolate, concentrate, & hydrolysed whey protein focuses on rapid muscle recovery post-workout. You'll also find flavour enhancers and digestive enzymes in its roster.
In contrast, Syntha-6 brings complexity with six types of protein, promising a sustained protein release suitable for any time of the day. Its rich formula includes essential amino acids & digestion-friendly enzymes, though it also welcomes a host of flavourings & additives.
Verdict: It's a tie! Your pick depends on personal goals: quick recovery post-exercise or a prolonged protein supply. Quality-wise, they're on an even playing field, thanks to shared family resources.

Dosage Dynamics: Protein Power
Optimum 100% Whey Gold Standard packs a powerful 24g of protein in a minimal 29.4g serving (flavour-dependent), making it about 81.6% protein-hearted. It's low on carbs & fats, catering to those sculpting their physique.
Syntha-6 enters the ring with 22g of protein in a heftier 47g scoop, approximately 47% protein, with a balance of carbs, fats, & fibre. It's a nod towards individuals aiming for mass gain or seeking a substantial type of meal replacement.
Dosage & Nutrition Verdict: 100% Whey Gold Standard takes the trophy for those preferring high protein concentration with fewer additives.
Efficacy: Tailored to Your Goals
Effectiveness is like personal bests; it's individual-centric. Both products cater to active lifestyles, offering premium protein. However, your end goals dictate the choice. Cutting calories or getting shredded? Whey Gold stands by you. Need a near-meal supplement with extra calories? Syntha-6 won't let you down.
Effectiveness & Performance Verdict: Another tie! The right choice adheres to your dietary strategies & fitness aspirations.
Sensory Experience: Taste and Texture
Delight in diversity with both contenders offering a flavour fiesta. Whey Gold extends its palette range wider, yet, when it comes to a rich, satisfying taste, Syntha-6 steals the spotlight with its shake-like, luxurious texture, making protein sipping a delightful indulgence.
Flavour Taste & Texture Verdict: Syntha-6 triumphs with its dessert-like gustatory appeal.

And the Protein Champion Is...
The Final Verdict: In the head-to-head battle, 100% Whey Gold Standard edges victory with its high protein potency & purity, ideal for those with defined muscle-building objectives.
However, the true winner is subjective, resting on your personal nutrition and fitness goals. Remember, the best protein supplement doesn't just stand in the winner's circle but also aligns seamlessly with your lifestyle, fitness ambitions, & of course, taste preferences.
Although we try to be as objective as possible, we understand that opinions can vary between individuals. As such, the results of this comparison may not be agreed upon by everyone and should only be used as a guide.