https://www.mrsupplement.com.au/oxyshred-ultra-energy-cans?variation=15209
EHP Labs Oxyshred Ultra Energy (12 x 355mL Guava Paradise)
EHP Labs
Supplements > Pre Workout > Pre Workout RTD
https://cdn.mrsupplement.com.au/resources/imgs/products/ehp-labs-oxyshred-carbonated-cans.1641249910619.png
http://schema.org/NewCondition
http://schema.org/InStock
AUD
https://www.mrsupplement.com.au/oxyshred-ultra-energy-cans?variation=15209
59.95
AUD
https://www.mrsupplement.com.au/oxyshred-ultra-energy-cans?variation=15440
EHP Labs Oxyshred Ultra Energy (12 x 355mL Gummy Snake)
EHP Labs
Supplements > Pre Workout > Pre Workout RTD
https://cdn.mrsupplement.com.au/resources/imgs/products/ehp-labs-oxyshred-carbonated-cans.1641249910619.png
http://schema.org/NewCondition
http://schema.org/OutOfStock
AUD
https://www.mrsupplement.com.au/oxyshred-ultra-energy-cans?variation=15440
59.95
AUD
https://www.mrsupplement.com.au/oxyshred-ultra-energy-cans?variation=15205
EHP Labs Oxyshred Ultra Energy (12 x 355mL Kiwi Strawberry)
EHP Labs
Supplements > Pre Workout > Pre Workout RTD
https://cdn.mrsupplement.com.au/resources/imgs/products/ehp-labs-oxyshred-carbonated-cans.1641249910619.png
http://schema.org/NewCondition
http://schema.org/InStock
AUD
https://www.mrsupplement.com.au/oxyshred-ultra-energy-cans?variation=15205
59.95
AUD
https://www.mrsupplement.com.au/oxyshred-ultra-energy-cans?variation=15207
EHP Labs Oxyshred Ultra Energy (12 x 355mL Passionfruit)
EHP Labs
Supplements > Pre Workout > Pre Workout RTD
https://cdn.mrsupplement.com.au/resources/imgs/products/ehp-labs-oxyshred-carbonated-cans.1641249910619.png
http://schema.org/NewCondition
http://schema.org/InStock
AUD
https://www.mrsupplement.com.au/oxyshred-ultra-energy-cans?variation=15207
59.95
AUD
https://www.mrsupplement.com.au/oxyshred-ultra-energy-cans?variation=15206
EHP Labs Oxyshred Ultra Energy (12 x 355mL Peach Candy Rings)
EHP Labs
Supplements > Pre Workout > Pre Workout RTD
https://cdn.mrsupplement.com.au/resources/imgs/products/ehp-labs-oxyshred-carbonated-cans.1641249910619.png
http://schema.org/NewCondition
http://schema.org/OutOfStock
AUD
https://www.mrsupplement.com.au/oxyshred-ultra-energy-cans?variation=15206
59.95
AUD
https://www.mrsupplement.com.au/oxyshred-ultra-energy-cans?variation=15208
EHP Labs Oxyshred Ultra Energy (12 x 355mL Pina Colada)
EHP Labs
Supplements > Pre Workout > Pre Workout RTD
https://cdn.mrsupplement.com.au/resources/imgs/products/ehp-labs-oxyshred-carbonated-cans.1641249910619.png
http://schema.org/NewCondition
http://schema.org/InStock
AUD
https://www.mrsupplement.com.au/oxyshred-ultra-energy-cans?variation=15208
59.95
AUD

Oxyshred Ultra Energy
Clean Energy & Burn in a Can
Delicious & Refreshing
Razor Sharp Focus
No Sugar, Zero Carbs & Less Than 5 Calories
Zero Crash
In Stock

(0)
Write a review
Product
Q&A's
Reviews
Add To Cart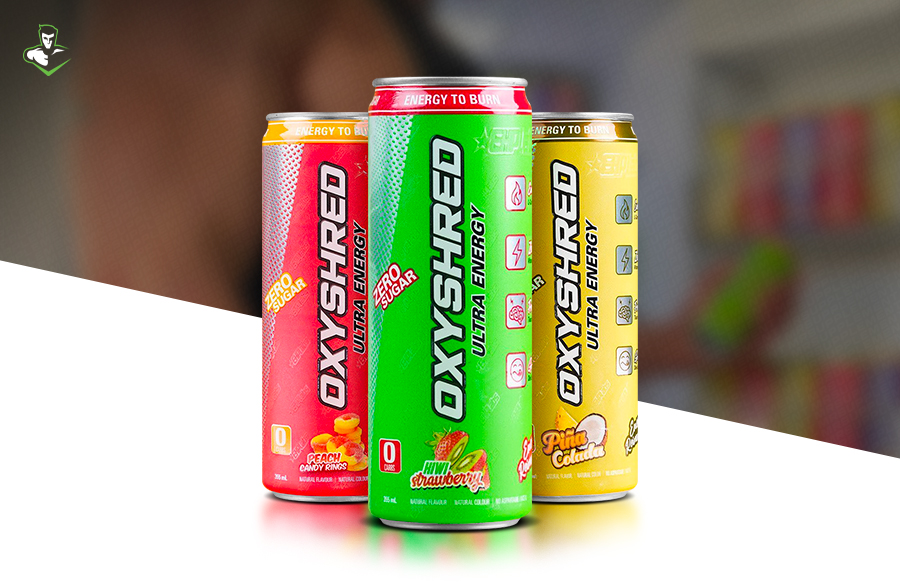 OxyShred Ultra Energy is a highly advanced powerful thermogenic fat burner in a convenient RTD can. From EHP Labs the makers of the world-famous Oxyshred powder comes this easy to drink great tasting carbonated can.
What Does OxyShred Ultra Energy Drink Do
Oxyshred Ultra is designed to stimulate your body's fat receptor cells, boost your metabolism & promote an increased level of fat burning. It may assist in curbing your appetite, limit calorie absorption, support immunity and provide a natural boost of clean energy.
OxyShred Ultra Energy Drink Flavours
The flavours of Oxyshred Ultra Energy Cans are nothing short of fantastic. Some would say they are out of this world. With a great selection there is a flavour to suit any palate including;
Passion Fruit
Kiwi Strawberry
Guava Paradise
Peach Candy Rings
Pina Colada
So what is the Oxyshred Ultra Energy best flavour? Some will say it's Passion Fruit or those with a sweeter tooth may prefer Peach Candy Rings or Kiwi Strawberry. The truth is they are all very easy to drink because they taste delicious. Why not try them all before you decide.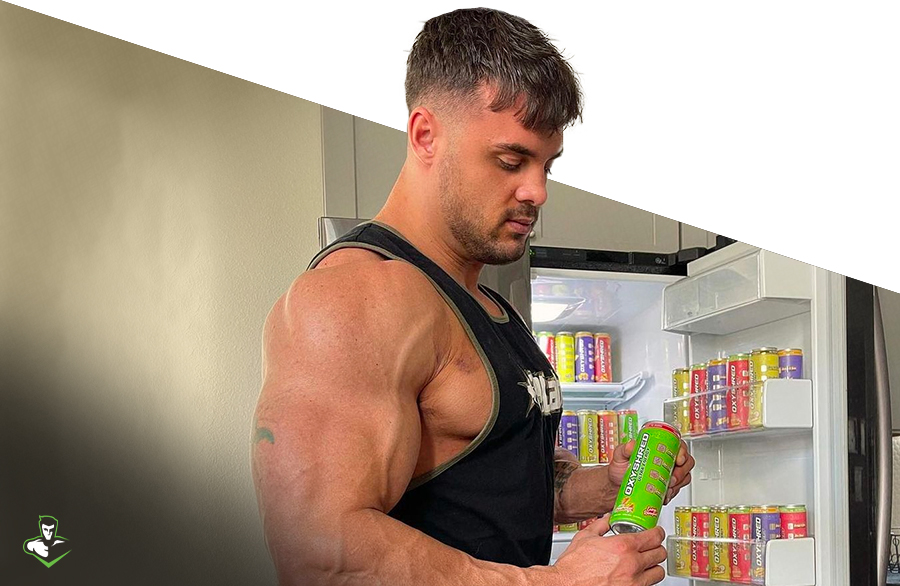 Oxyshred Ultra Energy Ingredients
Energy Reimagined. Imagine a clean, smooth & exciting energy drink that delivers the feeling of 200mg of caffeine, but does this with a sensible 113mg of caffeine, enhanced with natural guarana + green tea + l-carnitine, b-vitamins & inositol. Now that's some clean caffeine.
Oxyshred Ultra Energy Cans Review
EHP Labs have a reputation for producing world-class supplements and their Oxyshred Ultra Energy Can is no different. This carbonated RTD formula really does provide the feeling one has come to expect from OxyShred, yet offers real convenience with no mixing, scooping, blending or mess. With great taste, these cans will keep you coming back & it would be very easy to understand why a user would make it a regular drink on their daily routine. Additionally, they use only natural colours & natural flavours.
We would describe it as a mainstream lifestyle supplement that most users shall really enjoy. To be clear Oxyshred Ultra Energy is NOT an OTT stimulant-based drink. It does however provide a nice clean energy uplift and would be more than fine as an early morning pick me up or suitable as a pre-workout. For more reviews from our Australian customers be sure to click the Review tab on this page.
Q&A's
Ask a question about
EHP Labs Oxyshred Ultra Energy
What is Oxyshred Ultra Energy?




Oxyshred Ultra Energy is EHP Labs Caffeinated Beverage RTD Can. Based on the original Oxyshred powdered formula Oxyshred Ultra Energy looks to provide the same benefits of energy, focus & weight management. In a tasty carbonated drink.

What supplements can I combine or not combine with Oxyshred Ultra Energy?




Oxyshred Ultra Energy combines well with almost all supplements. Bear in mind to monitor the total amount of caffeine you may be taking, in doing so you may choose to avoid or limit additional supplements that contain stimulants.

Are Oxyshred Ultra Energy cans healthy?




With no sugar and less than 5 calories yes they are a healthier option energy can. In comparison, the leading energy cans in Australia contain 37g + of sugar per standard can.

What size is the can?




Oxyshred Ultra Energy cans come in 355mL which is the standard U.S can size. For comparison purposes the standard Coca Cola can size in Australia is 375mL.

Will these cans aid my energy & focus?




Yes. Oxyshred Ultra Energy for most users shall enhance energy and focus.

Can Oxyshred Ultra Energy Cans help me lose weight?




Oxyshred Ultra Energy may assist with weight loss. The beverage contains a number of common weight loss ingredients. Couple this with it's low calorie zero sugar formula Oxyshred Ultra Energy cans may aid weight loss. For best weight loss results always combine with a sensible exercise program and diet.

How many calories per can is in Oxyshred Ultra Energy?




There is less than 5g of calories per can.

How much sugar is in Oxyshred Ultra Energy Cans?




There is NO sugar in this product.

How many Oxyshred Ultra Energy cans may I drink daily?




Whist there are no manufacturer guidelines sighted we would recommend limiting consumption to between one and two cans daily.

Who can take Oxyshred Ultra Energy Cans?




Oxyshred Energy cans may be consumed by healthy individuals, both men and women who are aged 16 years or over. They are not suitable for minors. Always follow the manufacturers label recommendations.

How long before bed should I not take Oxyshred Ultra Energy?




Whilst there is no official manufacturers recommendation we are aware of. We would recommend NOT consuming this or any other type of caffeinated beverage within 6 hours of sleep.

How much caffeine is in Oxyshred Ultra Energy Cans?




There is a sensible 113mg of caffeine anhydrous in each can. As it though is combined with other stimulant type ingredients including guarana extract, green tea extract, inositol, l-carnitine and b-vitamins. Oxyshred Ultra Energy shall likely feel stronger than 200mg of caffeine.

Is there any creatine or beta alanine in this can?




There is NO creatine or beta alanine in this formula.

Are there any negative side effects from Oxyshred Ultra Energy Cans?




Taken as directed by healthy individuals we would expect NO negative side effects from this beverage. We do however recommend avoiding continual long term use of Caffeinated Energy Beverages. Always follow the manufacturers label directions.

Does Oxyshred Ultra Energy contain any banned or ingredients?




NO. All ingredients listed are legal for import, advertising & sale in Australia.

Is Oxyshred Ultra Energy suitable for use in WADA competitions?




We sight NO ingredients in this beverage that would make it illegal under WADA rules. Responsibility though always remains that of the athlete to check with their governing body.

Are Oxyshred Ultra Cans Vegan friendly & free of nasties?




Yes. Oxyshred Ultra Energy cans are Vegan friendly. Additionally they are also gluten free, soy free & have zero artificial dyes.
Reviews


Based on reviews collected by
&
Write a review

Contact Us