https://www.mrsupplement.com.au/muscletech-shatter?variation=15651
MuscleTech Shatter (387g / 30 Serves Blue Raspberry Slushie)
MuscleTech
Supplements > Pre Workout > Pre Workout
https://cdn.mrsupplement.com.au/resources/imgs/products/muscletech-shatter.1663287300198.png
http://schema.org/NewCondition
http://schema.org/InStock
AUD
https://www.mrsupplement.com.au/muscletech-shatter?variation=15651
59.95
AUD
https://www.mrsupplement.com.au/muscletech-shatter?variation=15652
MuscleTech Shatter (387g / 30 Serves Tropical Paradise)
MuscleTech
Supplements > Pre Workout > Pre Workout
https://cdn.mrsupplement.com.au/resources/imgs/products/muscletech-shatter.1663287300198.png
http://schema.org/NewCondition
http://schema.org/InStock
AUD
https://www.mrsupplement.com.au/muscletech-shatter?variation=15652
59.95
AUD

MuscleTech Shatter
Extreme Sensory Formula
200mg Caffeine Per Serve
BCAA Matrix
Optimised Electrolyte Blend
Sensory Blend For Razer Focus
In Stock

(0)
Write a review
Product
Q&A's
Reviews
Add To Cart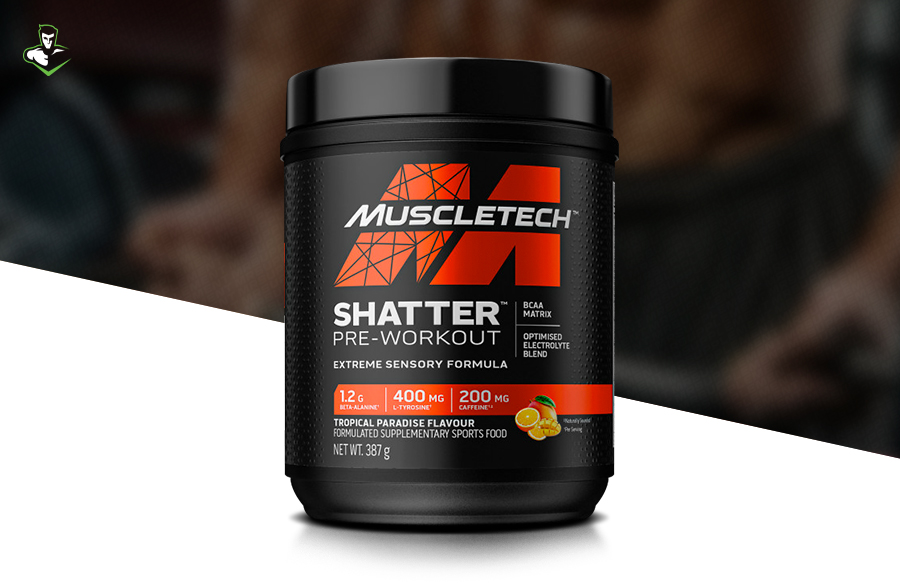 Scientifically Engineered
This cutting-edge formula delivers five scientifically researched, novel blends designed to propel you through any training session.
Advanced Formula
Shatter includes research-inspired doses of L-citrulline, L-arginine and beta-alanine plus a full BCAA matrix.
Extreme Sensory Blend
The precise blend of innovative ingredients includes choline, L-tyrosine, and caffeine.
Electrolyte Plus Blend
The Shatter pre-workout formula delivers precise amounts of ingredients that contribute to the electrolyte supply, including watermelon juice and coconut water powder.
The Science
Each serving of Shatter Pre-Workout delivers an amped-up combination of L-citrulline and L-arginine, plus a full BCAA Matrix, which are the essential building blocks of protein.
Q&A's
Ask a question about
MuscleTech Shatter
Reviews


Based on reviews collected by
&
Write a review

Contact Us