https://www.mrsupplement.com.au/muscletech-100-mass-gainer?variation=15495
MuscleTech 100% Mass Gainer (2.3kg / 7 Serves Chocolate Fudge Brownie)
MuscleTech
Supplements > Protein Powders > Mass Gainers
https://cdn.mrsupplement.com.au/resources/imgs/products/muscletech-100-mass-gainer.1653429076931.png
http://schema.org/NewCondition
http://schema.org/OutOfStock
AUD
https://www.mrsupplement.com.au/muscletech-100-mass-gainer?variation=15495
59.95
AUD
https://www.mrsupplement.com.au/muscletech-100-mass-gainer?variation=15496
MuscleTech 100% Mass Gainer (2.3kg / 7 Serves Vanilla Milk Shake)
MuscleTech
Supplements > Protein Powders > Mass Gainers
https://cdn.mrsupplement.com.au/resources/imgs/products/muscletech-100-mass-gainer.1653429076931.png
http://schema.org/NewCondition
http://schema.org/OutOfStock
AUD
https://www.mrsupplement.com.au/muscletech-100-mass-gainer?variation=15496
59.95
AUD

100% Mass Gainer
100% Mass Gainer
Massive 1500 Calories
60g of Protein
305g Complex Carb Blend
5g of Creatine

(0)
Write a review
Product
Q&A's
Reviews
Add To Cart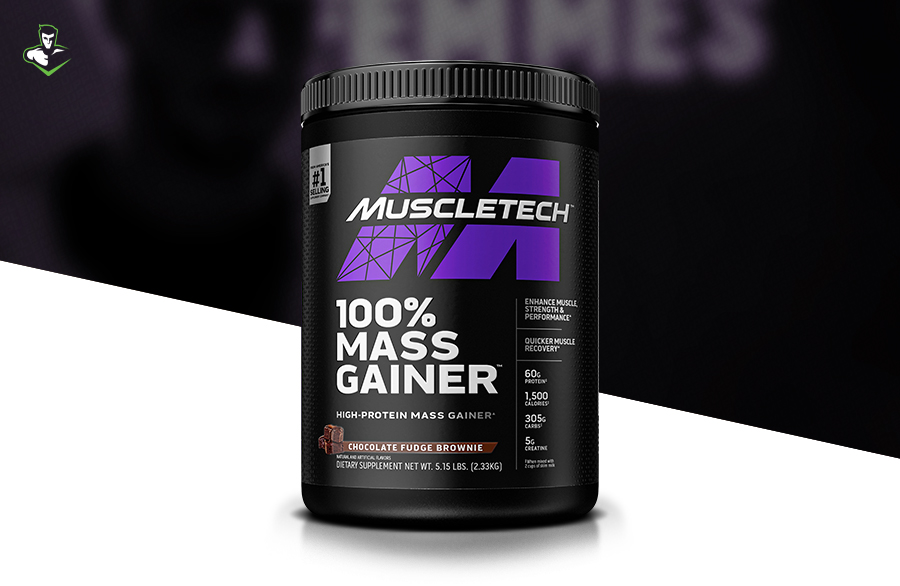 100% Mass Gainer is packed with high-quality protein and mass-producing calories, plus muscle-fueling creatine, a proven anabolic driver for faster mass and strength gains. Muscletech's 100% Mass gainer boasts an insane 1500 calories* per serving. These calories are broken down into:
60g of protein* -A macronutrient that is essential to building muscle mass. Protein ensures you hold onto muscle built in and out of the gym.
305g Complex Carb blend* - A precise, nutrient-dense carb-to-protein ratio for better gains in size and strength.
On top of this surplus-splitting amount of calories 100% Mass Gainer also includes 5g of creatine. Creatine is found naturally in the muscle cells and helps your muscles produce energy during heavy lifting or HIIT exercise.
*when mixed with 2 cups of skim milk
Q&A's
Ask a question about
MuscleTech 100% Mass Gainer
Is MuscleTech 100% Mass Gainer halal?




No. It is not halal certified.
Reviews


Based on reviews collected by
&
Write a review

Contact Us