Max's protein powders have always been highly regarded, both for its superior quality and for its delicious taste. The latest addition to their ample range is known as Max's 100% Pure Whey, a blended whey protein that is designed to be the foundation on which to stack all your other supplements. Let's take a look at what's in it and how well it compares with other similar products.

Max's 100% Pure Whey Highlights
High quality blended whey protein with mostly whey protein isolates
Three types of whey protein to sustain muscle building processes for longer
Added glutamine and branched chain amino acids for improved recovery
High in protein – 24g/serve
Low in fat and carbs
[video embed]Maxs 100% Pure Whey[/video]
Max's 100% Pure Whey Ingredients & Dosages
Max's 100% Pure Whey is a simple blended whey protein that incorporates the three different types of whey including:
Each serve also contains some added:
Glutamine (Total 4.6g/serve)
BCAAs (Total 5.7g/serve)
Each 30g serve of the Pure Whey provides 119 calories, 24.4g of protein, 2.8g of carbs and 1g of fat.
Max's 100% Pure Whey Benefits, Pros & Effectiveness
As the foundation of most trainer's stacks, there's really little you can fault a 100% whey protein. Max's version is slightly higher in protein percentage than the world's leading 100% whey; Optimum Nutrition's Gold Standard (81% vs 79%). This makes it ideal for those wanting more protein in their shakes and less carbs and fat. The inclusion of the three different types of whey protein also work to sustain amino acid supply, so that your muscles stay in an anabolic 'growth and recovery' phase for longer.
Max's 100% Pure Whey Negatives & Cons
There's really not much to fault when it comes to Max's latest 100% Pure Whey. One could argue that the added Glutamine and BCAAs aren't really all that necessary, however, a bit extra definitely doesn't hurt. This is especially true if you're just utilising a protein powder and no other supplements. It'd be good to see some other flavours being made available, but the product is still fairly new, so there's plenty of opportunity in the future to do so.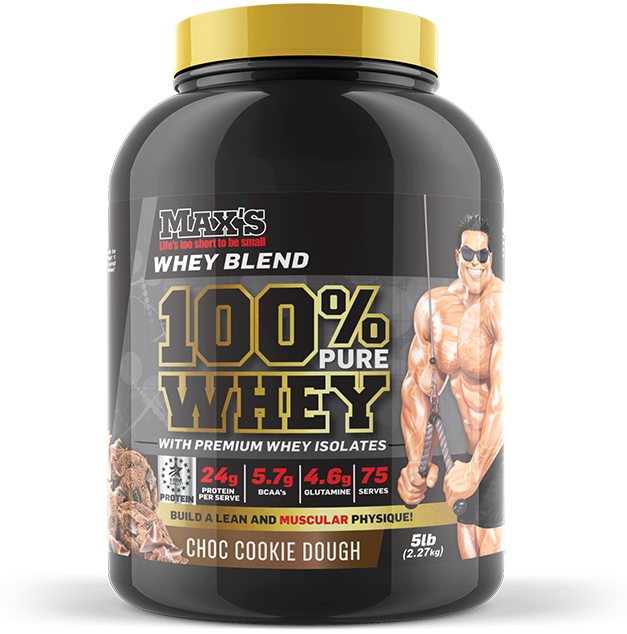 Max's 100% Pure Whey Flavours, Taste & Mixability
Currently, the 100% Pure Whey from Max's is available in three flavours including: Choc Cookie Dough, Vanilla Cream Slice and Banana Cream Pie. If you've ever had Max's Superior Whey, the taste of Pure Whey is extremely similar, but with a much richer taste. All the flavours offer a flavourful, milkshake like quality to it and should please the fussiest of trainers. Max's have spent a lot of time in terms of their flavouring over the last few years and it definitely shows in their latest products. 100% Pure Whey also mixes extremely easily with negligible clumping.
Max's 100% Pure Whey Verdict
When it comes to comparing 100% Whey proteins, there's very little that separates brands. Max's 100% Pure Whey is a very suitable alternative and utilises high quality whey proteins sourced from Australian dairy. It's higher in protein than the world's best selling 100% Whey so you know you're getting value for your money. If you're after a good, tasty whey protein to help consolidate your effort in the gym without any extra carbs and fats, then Max's 100% Pure Whey fits that bill.