https://www.mrsupplement.com.au/international-protein-ripped-to-shredz?variation=15032
International Protein Ripped To Shredz (270g / 40 Serves Atomic Apple)
International Protein
Supplements > Fat Loss > Fat Burners
https://cdn.mrsupplement.com.au/resources/imgs/products/international-protein-ripped-to-shredz.1633067623331.png
http://schema.org/NewCondition
http://schema.org/InStock
AUD
https://www.mrsupplement.com.au/international-protein-ripped-to-shredz?variation=15032
72.95
AUD
https://www.mrsupplement.com.au/international-protein-ripped-to-shredz?variation=15033
International Protein Ripped To Shredz (270g / 40 Serves Bubblegum Burst)
International Protein
Supplements > Fat Loss > Fat Burners
https://cdn.mrsupplement.com.au/resources/imgs/products/international-protein-ripped-to-shredz.1633067623331.png
http://schema.org/NewCondition
http://schema.org/InStock
AUD
https://www.mrsupplement.com.au/international-protein-ripped-to-shredz?variation=15033
72.95
AUD
https://www.mrsupplement.com.au/international-protein-ripped-to-shredz?variation=15035
International Protein Ripped To Shredz (270g / 40 Serves Cinnamon Brown Sugar)
International Protein
Supplements > Fat Loss > Fat Burners
https://cdn.mrsupplement.com.au/resources/imgs/products/international-protein-ripped-to-shredz.1633067623331.png
http://schema.org/NewCondition
http://schema.org/InStock
AUD
https://www.mrsupplement.com.au/international-protein-ripped-to-shredz?variation=15035
72.95
AUD
https://www.mrsupplement.com.au/international-protein-ripped-to-shredz?variation=15034
International Protein Ripped To Shredz (270g / 40 Serves Cyclone Icypole)
International Protein
Supplements > Fat Loss > Fat Burners
https://cdn.mrsupplement.com.au/resources/imgs/products/international-protein-ripped-to-shredz.1633067623331.png
http://schema.org/NewCondition
http://schema.org/InStock
AUD
https://www.mrsupplement.com.au/international-protein-ripped-to-shredz?variation=15034
72.95
AUD

Ripped To Shredz
Athlete-Tested Fat Burner
Promote Use of Fat as Energy Source
Create Positive Mood
Increase Energy Expenditure Through Thermogenesis
Improve & Sustain Focus
In Stock

(0)
Write a review
Product
Q&A's
Reviews
Add To Cart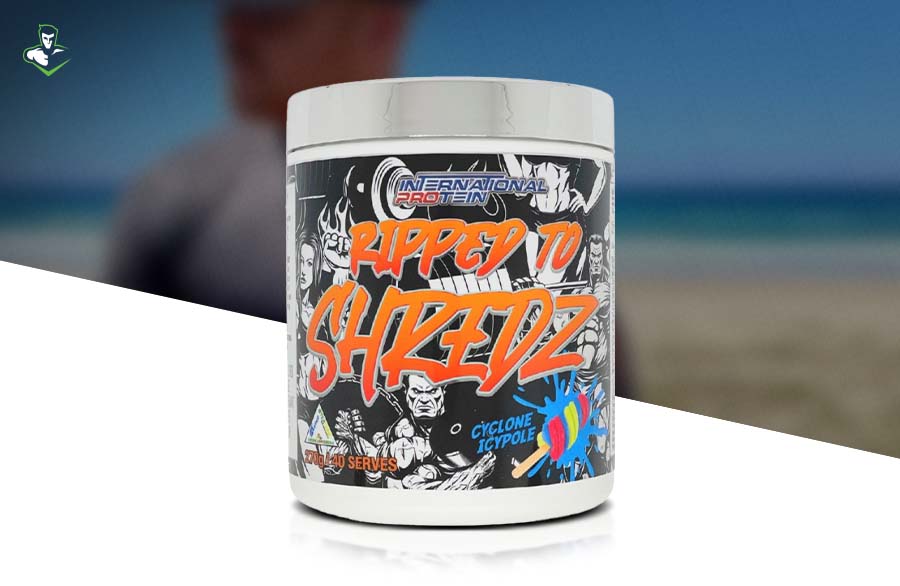 Ripped to Shredz contains research-proven fat-burning ingredients, high potency energy and focus boosters, and mood-enhancing elements to provide the smoothest fat loss experience possible. This scientist-created, athlete-tested formulation is the perfect blend of effective ingredients for noticeable results that leaves you feeling lean and energized. Get ready to take on your toughest workout or workday.
Flavours
International Ripped to Shredz comes in four exciting flavours that are sure to satisfy including Atomic Apple, Bubblegum Burst, Cinnamon Brown Sugar & Cyclone Icypole. They are all delicious but which is the best flavour? That is for you to decide.
Ingredients
Ripped to Shredz offers a comprehensive array of macro ingredients including a metabolic blend, mood blend, BCAA blend and a vitamin B blend. For more information on what is in this formula simply refer the ingredient panel on on this page.
Review
International Ripped to Shredz is a comprehensive fat burner that may also be used as your pre workout. The caffeine level is moderate without being OTT, instead it does contain a higher than normal amout of brain fueling ingredients including nootropics & vitamin B. When taken as directed by healthy users Ripped to Shredz should have no negative side effects & is suitable for men and women alike. For Mr Supplement customer reviews be sure to click the Reviews tab on this page.
Q&A's
Ask a question about
International Protein Ripped To Shredz
Reviews


Based on reviews collected by
&
Write a review

Contact Us