International Protein Amino Charged WPI - Amino Acid Enhanced Formula
Advanced Amino Recovery Technology
WPI plus Whey Peptides
Added Glutamine & Arginine
Stabiliser Free for Rapid Absorption
What do you get when you take Whey Protein Isolate, boost it with natural Whey Peptides and then super-charge it with maximum legal amounts of L-Glutamine and L-Arginine? Amino charged WP,I 35g of high quality whey protein per 40g serve, it's the most delicious whey to boost protein nutrition and re-charge your system every day
About the Formulation
Whey Protein Isolate (WPI) - highest protein (94% by dry weight basis), lowest fat and less than 1% carbohydrates and sugars (lactose). WPI is naturally high in bioactive peptides for muscle tissue synthesis and immunoglobulin proteins for immune system support. This nutrient packed protein is a rich source of all the essential amino acids, and contains the highest concentration (24-25%) of Branch Chain Amino Acids (BCAA's), especially leucine, of any protein source. BCAA's help facilitate muscle recovery after hard training or sport.
Whey Peptides - di and tri peptides from carefully hydrolysed whey protein isolate for ultra rapid absorption. Whey peptides start the muscle building process by stimulating the liver to produce anabolic growth factors that stimulate muscle growth and enhance muscle recovery. Natural Fermented L-Glutamine - produced from rice without the use of chemicals so there are no toxic residues; only pure, clean L-Glutamine for recovery and immune function.
Free Form L-Glutamine and L-Arginine - added to the naturally occurring glutamine & arginine in whey protein isolate to boost their levels closer to those found in other types of protein, providing an even stronger amino acid profile. L-glutamine & Arginine are 'critical cluster' amino acids which help spare muscle during periods of low energy intake/dieting.
No Fillers or Stabilisers - nothing diluting this pure protein, just high quality protein and amino acids available for your body to digest at the fastest possible rate. Why pay for whey protein isolate and then slow its quick absorption with vegetable gums, thickeners and fillers?
Easily Digested - highest quality whey protein isolate, fastest digesting hydrolysed whey protein isolate (whey peptides) and free form amino acids for rapid and efficient assimilation. NO vegetable gums or soy proteins, so it won't leave you feeling bloated.
No Gluten - no cheap glutamine peptides derived from hydrolysed wheat or low quality wheat proteins making it suitable for coeliacs and people with wheat allergies.
100% Great Taste - a range of delicious flavours that will leave you wanting more.
Ultra Low Fat - 99% fat free for guilt free supplementation.
No Aspartame - sweetened with sucralose for a pleasant taste and no unwanted compounds.
Easy Mixing - just add water and shake. Amino Charged WPI mixes quickly and easily into a light, delicious shake without the need for a blender.
International Protein Amino Charged WPI
Serving Size
Serving Per Container
Formulated Supplementary
Sports Food
40g
31
Nutrition Information
Per Serve
Per 100g
Energy
636kJ
152Cal
1589kJ
379Cal
Total Carbohydrates
1.4g
3.5g
Essential Amino Acids
Per Serve
Per 100g
Non-Essential Amino Acids
Per Serve
Per 100g
Aspartic Acid
3525mg
8813mg
International Protein Amino Charged WPI Ingredients
Whey Protein Isolate, Flavours, Hydrolysed Whey PROTEIN Isolate (Whey Peptides), Cocoa, L-Gutamine, L-Arginine, Chocolate Flake (%), Sweetener (Sucralose), Natural Colour (Curcumin), Emulsifier (SOY Lecithin).
International Protein Amino Charged WPI Directions
Mix 40g (approx. 1 1/3 scoops) with 200ml - 300ml of cold water in a shaker or blender. Take three times daily to obtain your required protein intake. Best times for use are first thing in the morning, 20-30minutes before and immediately after training or exercise.
Replace lid and close tightly immediately after use store 30°C. Sold by weight, not volume. Settling may occur.
This product is not a sole sou Not suitable for children under 15 years of age or pregnant women. Should only be used under medical or dietetic supervision.
General Product Warning
Users should seek medical advice prior to beginning any supplementation program. This especially applies to individuals taking prescription medication or those with pre-existing medical conditions. Always read the label prior to consuming any supplement, always follow the manufacturer's directions & never exceed the recommended dose. In the event of experiencing any unwanted effects discontinue use immediately & seek medical advice if symptoms persist. Keep out of reach of children.
Copyright
Copyright MrSupplement Marketing Pty Ltd 2013. This website, and the images, text and tables on it are subject to copyright under the Australian Copyright Act 1968 (Cth), as well as under the copyright law of other countries by virtue of worldwide treaties, belonging to MrSupplement Marketing Pty Limited and to its suppliers & or product manufacturers. Reasonable portions of this website may be printed out solely insofar as is necessary to order products from the MrSupplement.com.au web site. Any other reproduction or communication in whole or in part is unauthorised and may result in legal proceedings being taken to protect the intellectual property rights of MrSupplement Marketing Pty Limited and/or suppliers & product manufacturers.
International Protein WPI Reviews
Good protein powder from a good aussie company. Taste 10/10, effects 9/10, mixability 9/10
Ordered this product on Monday evening and it arrived Tuesday morning as I walked into work! Amazing service! I will always come back to this website to purchase because of the fast and efficient service. This product tastes great, nice large tub and they also threw a little freebies in the box :-) Thanks guys
i am a hard gainer this product helped me a lot to gain strength and muscle size .... valuable product
Mixes very well..drinkable straight away, unlike some powders that need to be mixed hours before to allow everything to dissolve. Finished my choc 1.25kg tub and am going to re-order the 3kg. I've dropped a few kg's in 3-4weeks of working out, everything feels firmer and is starting to gain some size. Bottom line: Buy it!
I'm a fan of the whole International Protein range! The WPI is virtually the only low carb protein I like to buy. As a personal Trainer myself, I often recommend Mr Supplement and International Protein to a lot of my clients.
International Protein WPI Information
Ask a question about
International Protein WPI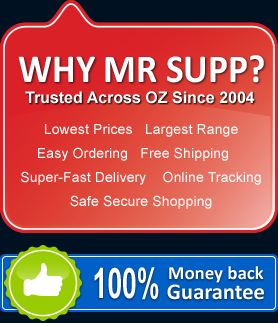 © Copyright 2014 All Rights Reserved MrSupplement