https://www.mrsupplement.com.au/gat-sport-nitraflex-burn?variation=16434
GAT Nitraflex Burn (200g / 30 Serves Apple Melon)
GAT
Supplements > Weight Management > Thermogenics
https://cdn.mrsupplement.com.au/resources/imgs/products/gat-sport-nitraflex-burn.1701910142766.png
http://schema.org/NewCondition
http://schema.org/InStock
AUD
https://www.mrsupplement.com.au/gat-sport-nitraflex-burn?variation=16434
69.95
AUD
https://www.mrsupplement.com.au/gat-sport-nitraflex-burn?variation=16435
GAT Nitraflex Burn (200g / 30 Serves Spicy Mango-rita)
GAT
Supplements > Weight Management > Thermogenics
https://cdn.mrsupplement.com.au/resources/imgs/products/gat-sport-nitraflex-burn.1701910142766.png
http://schema.org/NewCondition
http://schema.org/InStock
AUD
https://www.mrsupplement.com.au/gat-sport-nitraflex-burn?variation=16435
69.95
AUD
https://www.mrsupplement.com.au/gat-sport-nitraflex-burn?variation=16436
GAT Nitraflex Burn (200g / 30 Serves Tropic Thunderburst)
GAT
Supplements > Weight Management > Thermogenics
https://cdn.mrsupplement.com.au/resources/imgs/products/gat-sport-nitraflex-burn.1701910142766.png
http://schema.org/NewCondition
http://schema.org/InStock
AUD
https://www.mrsupplement.com.au/gat-sport-nitraflex-burn?variation=16436
69.95
AUD

Nitraflex Burn
Thermogenic Pre-Workout Powder
Long-Trusted Formula of Nitraflex
Includes NitraBurn™ & Nitrosogine
Increase Both Pumps & Thermogenesis
Benefits Can Last Up to 6 Hours AFter Training
In Stock

(0)
Write a review
Product
Q&A's
Reviews
Add To Cart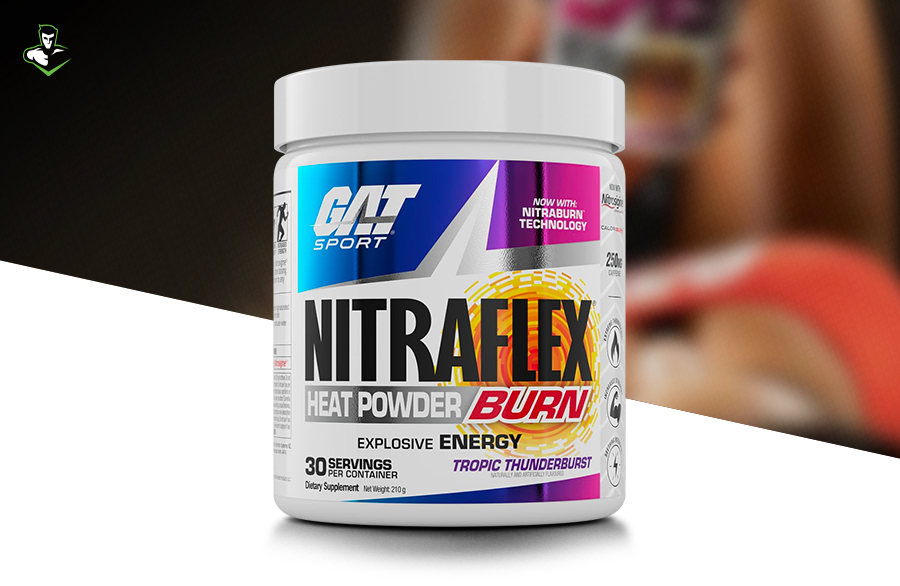 For almost a decade, NITRAFLEX® has been the go-to name in pre-workout supplements. Now, introducing the revamped NITRAFLEX BURN®, a scientifically advanced muscle-building dynamo designed to sculpt lean, dense muscle while incinerating subcutaneous body fat.
Experience the power surge within minutes. NITRAFLEX BURN is your catalyst for enhanced training, propelling both your physique and performance to the next level!
Why choose Nitraflex Burn Thermogenic Pre-Workout?
For nearly a decade, NITRAFLEX® has set the standard for pre-workout formulas. Now, NITRAFLEX® raises the bar by introducing Nitrosigine to the mix and adding the new NitraBurn™ to the formula. This potent combination of Nitrosigine® and CaloriBURN® takes pumps and thermogenic potential to new heights, exceeding all expectations. This is the most potent and best-tasting NITRAFLEX® BURN yet!
Inclusion of Patented Nitrosigine
Scientifically validated benefits of Nitrosigine® last up to 6 hours after dosing. Beyond vasodilation (pump) and overall performance enhancement, Nitrosigine® is clinically shown to enhance mental focus, making it a well-rounded and multi-faceted addition to any effective pre-workout formula.
For maximum results
Stack Nitraflex® BURN with Flexx EAAs.
Incorporate both weight and cardiovascular training into your workout regimen.
Opt for 4-5 smaller, balanced meals throughout the day.
Minimize fast food and other high-saturated fat and high-sugar foods.
Stay adequately hydrated by consuming ample water throughout the day.
Available Flavors
Apple Melon
Spicy Mango-Rita
Tropic Thunderbust
WARNING: THIS THERMOGENIC PRE-WORKOUT IS EXTREMELY POTENT, USE ONLY AS DIRECTED!
"SPICY" INGREDIENT PROFILE
When consuming Nitraflex Burn, you may experience a mild spicy sensation in your mouth and throat. This is completely normal and is a natural reaction induced by the CaloriBURN Grains of Paradise.
Additionally, an increase in perspiration may occur due to the thermogenic effect of Nitraflex Burn.
For professional athletes, competitors preparing to step on stage, or fitness enthusiasts striving for better shape and improved health, if you seek RESULTS, nothing compares to Nitraflex Burn!
Q&A's
Ask a question about
GAT Nitraflex Burn
Reviews


Based on reviews collected by
&
Write a review

Contact Us