https://www.mrsupplement.com.au/faction-labs-attention?variation=14710
Faction Labs Attention (210g / 35 Serves Candied Grape)
Faction Labs
Supplements > Health > Nootropics
https://cdn.mrsupplement.com.au/resources/imgs/products/faction-labs-attention.1588293831139.png
http://schema.org/NewCondition
http://schema.org/InStock
AUD
https://www.mrsupplement.com.au/faction-labs-attention?variation=14710
79.95
AUD
https://www.mrsupplement.com.au/faction-labs-attention?variation=13669
Faction Labs Attention (210g / 35 Serves Orange Passionfruit)
Faction Labs
Supplements > Health > Nootropics
https://cdn.mrsupplement.com.au/resources/imgs/products/faction-labs-attention.1588293831139.png
http://schema.org/NewCondition
http://schema.org/InStock
AUD
https://www.mrsupplement.com.au/faction-labs-attention?variation=13669
79.95
AUD
https://www.mrsupplement.com.au/faction-labs-attention?variation=13818
Faction Labs Attention (210g / 35 Serves Peach Mango)
Faction Labs
Supplements > Health > Nootropics
https://cdn.mrsupplement.com.au/resources/imgs/products/faction-labs-attention.1588293831139.png
http://schema.org/NewCondition
http://schema.org/InStock
AUD
https://www.mrsupplement.com.au/faction-labs-attention?variation=13818
79.95
AUD
https://www.mrsupplement.com.au/faction-labs-attention?variation=14712
Faction Labs Attention (210g / 35 Serves Red Raspberry)
Faction Labs
Supplements > Health > Nootropics
https://cdn.mrsupplement.com.au/resources/imgs/products/faction-labs-attention.1588293831139.png
http://schema.org/NewCondition
http://schema.org/InStock
AUD
https://www.mrsupplement.com.au/faction-labs-attention?variation=14712
79.95
AUD
https://www.mrsupplement.com.au/faction-labs-attention?variation=13819
Faction Labs Attention (210g / 35 Serves Strawberry Melon)
Faction Labs
Supplements > Health > Nootropics
https://cdn.mrsupplement.com.au/resources/imgs/products/faction-labs-attention.1588293831139.png
http://schema.org/NewCondition
http://schema.org/InStock
AUD
https://www.mrsupplement.com.au/faction-labs-attention?variation=13819
79.95
AUD
https://www.mrsupplement.com.au/faction-labs-attention?variation=14711
Faction Labs Attention (210g / 35 Serves Vanilla Cola)
Faction Labs
Supplements > Health > Nootropics
https://cdn.mrsupplement.com.au/resources/imgs/products/faction-labs-attention.1588293831139.png
http://schema.org/NewCondition
http://schema.org/InStock
AUD
https://www.mrsupplement.com.au/faction-labs-attention?variation=14711
79.95
AUD

Faction Labs Attention
Limitless Cognitive Function, Nootropic Powder
Promotes Attention, Focus & Mental Cognition
Powerful Formula with 16 Active Ingredients
Zero Sugar & Zero Gluten
Great Tasting Flavours
In Stock

(3)
Write a review
Product
Q&A's
Reviews
Add To Cart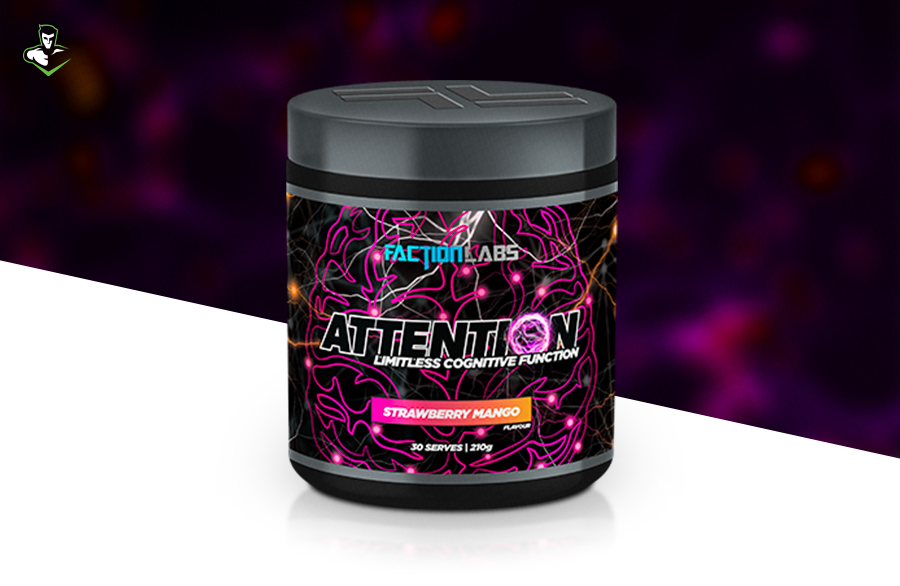 Faction Labs Attention is a high level nootropic & cognitive enhancer designed to give you the mental edge. A powerful 16 active ingredient formula Attention is ideal for anyone seeking improved focus, energy, drive, motivation or mental clarity.
Q&A's
Ask a question about
Faction Labs Attention
Hi just wondering when will this be back in stock?




Attention is scheduled to be released to the Australian market 3rd quarter 2020.
Reviews

Great

Based on reviews collected by
&
Write a review

Faction Labs Attention
Faction Labs Attention
Faction Labs Attention
210g / 35 Serves Red Raspberry
Works!

I brought this because I have used the faction labs Disorder pre- workout which I am so impressed with and works amazingly and is the best pre workout on the market bar none! so I decided to give this a go I was a bit sceptical, but after taking it I can say it did help.

It's not going to turn you into Einstein and make you figure out the worlds hardest algebra equations, but what it did for me is help me to focus and concentrate more which is what I was after.

I felt the effect after about 20 minutes I just started to feel a slight tingle but nothing major, and then after about 50 minutes is when it really started to work. I took it before a study block of about four hours and after about 50 minutes I was really concentrating and focusing on the readings I was doing. It helps to calm and slow down your mind, and helps you to focus on the task at hand, and as advertised pay 'attention' to what you're doing and not give in to distractions and I'm a person who can be easily distracted. Similar to a pre workout the effects wear off after about 4 or five hours.

So yeah another winner from Faction Labs and it worked for me.
Faction Labs Attention
Faction Labs Attention
Faction Labs Attention
210g / 35 Serves Vanilla Cola
Nice taste. Helped me zone in on my week. No adverse effects to note. Awesome service from the guys at Seven Hills. Shaker was broken tho 😭😭
Collected via Trustpilot
Faction Labs Attention
Faction Labs Attention
Faction Labs Attention
210g / 35 Serves Orange Passionfruit
Great nootropic, keeps you sharp without making you look strange. Nice clear focus however this works much better when stacked with ALCAR. Not a fan of the colouring
Next Page
Contact Us