https://www.mrsupplement.com.au/bsc-leanest-lo-carb-bars?variation=16171
BSc Leanest Low Carb Bars (7x30g Caramel Toffee)
BSc Body Science
Supplements > Protein Powders > Bars & Snacks
https://cdn.mrsupplement.com.au/resources/imgs/products/bsc-leanest-lo-carb-bars.1651448285217.png
http://schema.org/NewCondition
http://schema.org/InStock
AUD
https://www.mrsupplement.com.au/bsc-leanest-lo-carb-bars?variation=16171
17.95
AUD
https://www.mrsupplement.com.au/bsc-leanest-lo-carb-bars?variation=15457
BSc Leanest Low Carb Bars (7x30g Choc Berry Ripple)
BSc Body Science
Supplements > Protein Powders > Bars & Snacks
https://cdn.mrsupplement.com.au/resources/imgs/products/bsc-leanest-lo-carb-bars.1651448285217.png
http://schema.org/NewCondition
http://schema.org/InStock
AUD
https://www.mrsupplement.com.au/bsc-leanest-lo-carb-bars?variation=15457
17.95
AUD
https://www.mrsupplement.com.au/bsc-leanest-lo-carb-bars?variation=15458
BSc Leanest Low Carb Bars (7x30g Cookies and Cream)
BSc Body Science
Supplements > Protein Powders > Bars & Snacks
https://cdn.mrsupplement.com.au/resources/imgs/products/bsc-leanest-lo-carb-bars.1651448285217.png
http://schema.org/NewCondition
http://schema.org/InStock
AUD
https://www.mrsupplement.com.au/bsc-leanest-lo-carb-bars?variation=15458
17.95
AUD

Leanest Low Carb Bars
Lean Low Carb Bars
Dual Flavoured Bar
High in Protein
Low in Carbs & Calories
Sweetened with Stevia
In Stock

(0)
Write a review
Product
Q&A's
Reviews
Add To Cart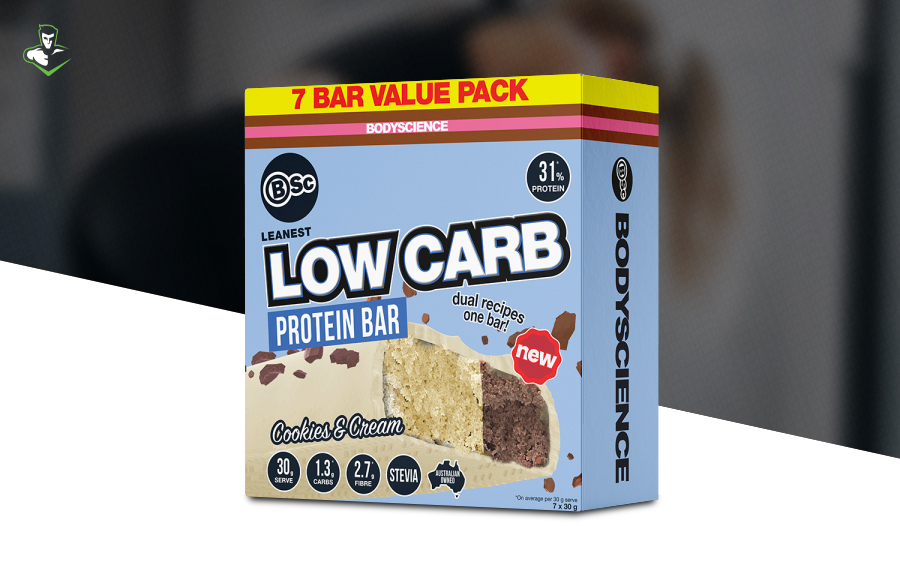 Introducing the world's first side-by-side dual flavour protein bar! These 30g bars are redefining snacking. At under 110 calories per bar, they offer a guilt-free indulgence packed with both flavor and protein. With the convenience of a 7-bar value pack, you'll have your week's snacks effortlessly covered. Prepare for love at first bite!
Key Features
Innovative Dual Flavour: Experience a unique fusion of flavors in every bar, setting it apart from any other protein bar on the market.
Perfect Snack: These 30g bars are designed to be the ideal snack, combining taste, protein content, and low calories for a satisfying treat.
7 Bar Value Pack: Enjoy the convenience of having a week's worth of delicious and nutritious snacks in one pack.
Potential Benefits
Balanced Nutrition: Each bar offers a perfect balance of taste and protein, making it a great option for a quick and satisfying snack.
Weight Management: With under 110 calories per bar, these protein-packed treats can be part of a balanced diet, supporting your health and fitness goals.
Flavorful Experience: The dual-flavour design ensures a delightful taste sensation with every bite, making it a snack you'll look forward to.
Q&A's
Ask a question about
BSc Leanest Low Carb Bars
How many calories are there in each Bsc Leanest Low Carb Bar?




Each Bsc Leanest Low Carb Bar contains under 110 calories, making it a great option for those seeking a low-calorie snack.

Can I include these bars in a low-carb diet?




Absolutely. These bars are specially designed to be low in carbs, making them suitable for individuals looking to manage their carbohydrate intake.

Are these bars suitable for weight management goals?




Yes, the Bsc Leanest Low Carb Bar can be a valuable addition to a weight management or calorie-controlled diet due to its low carb content and controlled calories.

How does the Bsc Leanest Low Carb Bar compare to other snack options in terms of carb content?




Compared to many other snacks, the Bsc Leanest Low Carb Bar offers a lower carbohydrate content, providing a more controlled option for those watching their carb intake.
Reviews


Based on reviews collected by
&
Write a review

Contact Us