https://www.mrsupplement.com.au/athletic-sport-kamikaze-energy?variation=16348
Athletic Sport Kamikaze Energy (500ml x 12 Apple Fizz)
Athletic Sport
Supplements > Pre Workout > Pre Workout RTD
https://cdn.mrsupplement.com.au/resources/imgs/products/athletic-sport-kamikaze-energy.1695180139830.png
http://schema.org/NewCondition
http://schema.org/InStock
AUD
https://www.mrsupplement.com.au/athletic-sport-kamikaze-energy?variation=16348
69.95
AUD
https://www.mrsupplement.com.au/athletic-sport-kamikaze-energy?variation=16349
Athletic Sport Kamikaze Energy (500ml x 12 Blue Raspberry)
Athletic Sport
Supplements > Pre Workout > Pre Workout RTD
https://cdn.mrsupplement.com.au/resources/imgs/products/athletic-sport-kamikaze-energy.1695180139830.png
http://schema.org/NewCondition
http://schema.org/OutOfStock
AUD
https://www.mrsupplement.com.au/athletic-sport-kamikaze-energy?variation=16349
69.95
AUD
https://www.mrsupplement.com.au/athletic-sport-kamikaze-energy?variation=16350
Athletic Sport Kamikaze Energy (500ml x 12 Creaming Soda)
Athletic Sport
Supplements > Pre Workout > Pre Workout RTD
https://cdn.mrsupplement.com.au/resources/imgs/products/athletic-sport-kamikaze-energy.1695180139830.png
http://schema.org/NewCondition
http://schema.org/OutOfStock
AUD
https://www.mrsupplement.com.au/athletic-sport-kamikaze-energy?variation=16350
69.95
AUD
https://www.mrsupplement.com.au/athletic-sport-kamikaze-energy?variation=16351
Athletic Sport Kamikaze Energy (500ml x 12 Hawaiian Splice)
Athletic Sport
Supplements > Pre Workout > Pre Workout RTD
https://cdn.mrsupplement.com.au/resources/imgs/products/athletic-sport-kamikaze-energy.1695180139830.png
http://schema.org/NewCondition
http://schema.org/OutOfStock
AUD
https://www.mrsupplement.com.au/athletic-sport-kamikaze-energy?variation=16351
69.95
AUD
https://www.mrsupplement.com.au/athletic-sport-kamikaze-energy?variation=16352
Athletic Sport Kamikaze Energy (500ml x 12 Rainbow Gummy)
Athletic Sport
Supplements > Pre Workout > Pre Workout RTD
https://cdn.mrsupplement.com.au/resources/imgs/products/athletic-sport-kamikaze-energy.1695180139830.png
http://schema.org/NewCondition
http://schema.org/OutOfStock
AUD
https://www.mrsupplement.com.au/athletic-sport-kamikaze-energy?variation=16352
69.95
AUD
https://www.mrsupplement.com.au/athletic-sport-kamikaze-energy?variation=16347
Athletic Sport Kamikaze Energy (500ml x 12 Slushy Madness)
Athletic Sport
Supplements > Pre Workout > Pre Workout RTD
https://cdn.mrsupplement.com.au/resources/imgs/products/athletic-sport-kamikaze-energy.1695180139830.png
http://schema.org/NewCondition
http://schema.org/OutOfStock
AUD
https://www.mrsupplement.com.au/athletic-sport-kamikaze-energy?variation=16347
69.95
AUD
https://www.mrsupplement.com.au/athletic-sport-kamikaze-energy?variation=16353
Athletic Sport Kamikaze Energy (500ml x 12 Variery Pack)
Athletic Sport
Supplements > Pre Workout > Pre Workout RTD
https://cdn.mrsupplement.com.au/resources/imgs/products/athletic-sport-kamikaze-energy.1695180139830.png
http://schema.org/NewCondition
http://schema.org/OutOfStock
AUD
https://www.mrsupplement.com.au/athletic-sport-kamikaze-energy?variation=16353
69.95
AUD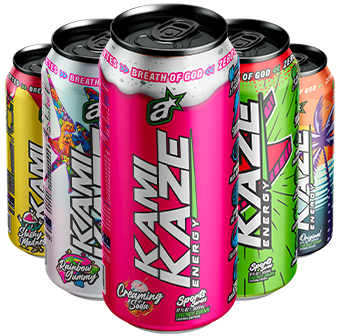 Kamikaze Energy
Kamikaze Energy Cans
Provides 2-3 Hours of Intense Energy
Packed with B Vitamins
Contains Naturally Occurring Amino Acids
Zero Crash - Go Harder for Longer
In Stock

(0)
Write a review
Product
Q&A's
Reviews
Add To Cart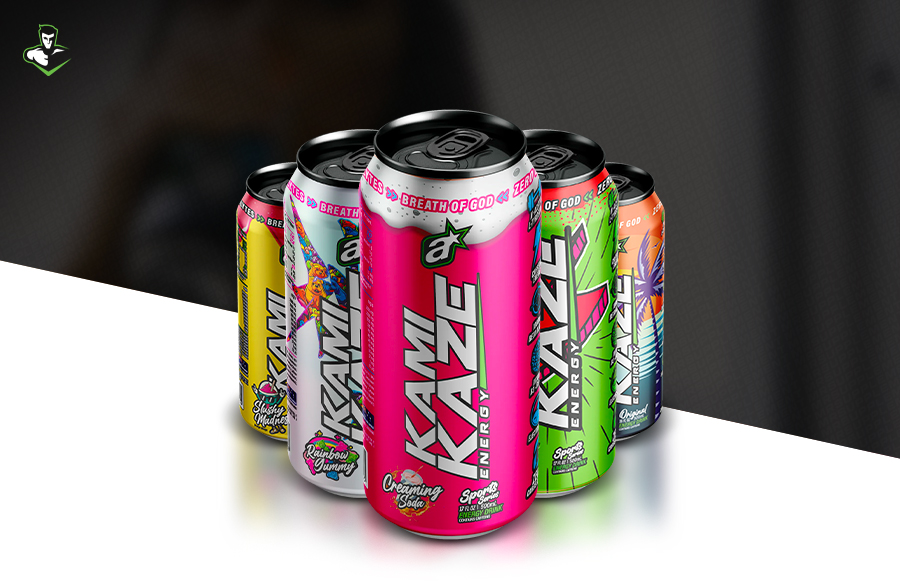 Experience a surge of power with Kamikaze Energy, designed to fuel your most demanding endeavors. Whether it's an intense workout, a focused gaming or streaming session, or a night out with your team, Kamikaze Energy Drink has got you covered.
Key Features
2-3 Hours of Intense Energy: Kamikaze delivers a potent burst of energy to keep you going strong for 2-3 hours, ensuring you're at your peak performance.
Packed with B Vitamins: Our formula includes a powerhouse blend of B Vitamins, supporting the metabolism of fats, carbs, and protein to boost your energy levels.
Naturally Occurring Amino Acids & Electrolytes: Kamikaze provides a natural source of amino acids and essential electrolytes, aiding in sustained performance and hydration.
Zero Crash: Say goodbye to post-energy drink crashes. Kamikaze's advanced formula ensures a smooth tapering off without any unpleasant crashes.
Kamikaze Energy Carton: A Dozen Power-Packed Cans
There's strength in numbers, especially when it comes to Kamikaze. Our carton includes 12 cans of Kamikaze Energy in your preferred flavor, ensuring you're always ready to seize the day.
Why Choose Kamikaze Energy
Tired of the typical over-caffeinated, overly sweetened "energy drinks"? Kamikaze Energy is here to redefine the genre. We've introduced a "grab-n-Go" pre-workout can that's packed with natural ingredients and real health benefits.
Power-Packed Ingredients
200mg L-Citrulline: Enhances nitric oxide production for improved blood flow and endurance.
160mg Caffeine Energy: Provides a clean, sustained energy boost to keep you focused and alert.
1000mg Beta Alanine: Supports muscular endurance, allowing you to push through your limits.
Zero Carbs, Zero Sugar: Enjoy the benefits of energy without unwanted additives.
Laser-Like Focus with Kamikaze:
Our scientifically formulated blend ensures you're locked in with laser-like focus, making every second count. Kamikaze Energy is not just a drink; it's a performance-enhancing experience.
Q&A's
Ask a question about
Athletic Sport Kamikaze Energy
How long does the energy boost from Kamikaze Energy last?




The energy boost from Kamikaze Energy lasts for 2-3 hours, providing you with sustained focus and performance for your most demanding activities.

Can I use Kamikaze Energy as a pre-workout supplement?




Absolutely! Kamikaze Energy is an excellent pre-workout option. It's designed to give you the energy and focus you need to power through your workouts with intensity.

Is Kamikaze Energy suitable for those sensitive to caffeine?




Kamikaze Energy contains 160mg of caffeine per serving. While it provides a substantial energy boost, individuals sensitive to caffeine may want to assess their tolerance.

What sets Kamikaze Energy apart from other energy drinks on the market?




Kamikaze Energy is a game-changer in the energy drink space. It offers a "grab-n-Go" pre-workout can that combines natural ingredients with REAL health benefits. It's a clean energy option without unnecessary additives.

Can I consume Kamikaze Energy on rest days or non-training days?




Yes, you can! Kamikaze Energy is not limited to workout days. It can be enjoyed on rest days for an added boost of energy and focus, or whenever you need to stay sharp and alert.

How does Kamikaze Energy support focus and concentration?




The formula of Kamikaze Energy is scientifically designed to provide laser-like focus, ensuring you're locked in and making the most of every second during your activities.
Reviews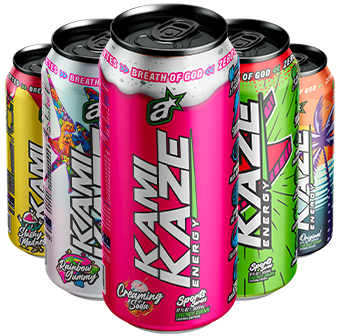 Based on reviews collected by
&
Write a review

Contact Us