https://www.mrsupplement.com.au/arms-race-harness?variation=15475
Arms Race Harness (284g / 20 Serves Big Sky)
Arms Race Nutrition
Supplements > Pre Workout > Pre Workout
https://cdn.mrsupplement.com.au/resources/imgs/products/arms-race-harness.1652394252881.png
http://schema.org/NewCondition
http://schema.org/OutOfStock
AUD
https://www.mrsupplement.com.au/arms-race-harness?variation=15475
69.95
AUD
https://www.mrsupplement.com.au/arms-race-harness?variation=15479
Arms Race Harness (284g / 20 Serves Lemon Rush)
Arms Race Nutrition
Supplements > Pre Workout > Pre Workout
https://cdn.mrsupplement.com.au/resources/imgs/products/arms-race-harness.1652394252881.png
http://schema.org/NewCondition
http://schema.org/OutOfStock
AUD
https://www.mrsupplement.com.au/arms-race-harness?variation=15479
69.95
AUD
https://www.mrsupplement.com.au/arms-race-harness?variation=15481
Arms Race Harness (284g / 20 Serves Limeade)
Arms Race Nutrition
Supplements > Pre Workout > Pre Workout
https://cdn.mrsupplement.com.au/resources/imgs/products/arms-race-harness.1652394252881.png
http://schema.org/NewCondition
http://schema.org/OutOfStock
AUD
https://www.mrsupplement.com.au/arms-race-harness?variation=15481
69.95
AUD
https://www.mrsupplement.com.au/arms-race-harness?variation=15477
Arms Race Harness (284g / 20 Serves Pineapple Mango)
Arms Race Nutrition
Supplements > Pre Workout > Pre Workout
https://cdn.mrsupplement.com.au/resources/imgs/products/arms-race-harness.1652394252881.png
http://schema.org/NewCondition
http://schema.org/OutOfStock
AUD
https://www.mrsupplement.com.au/arms-race-harness?variation=15477
69.95
AUD
https://www.mrsupplement.com.au/arms-race-harness?variation=15480
Arms Race Harness (284g / 20 Serves Venice Beach)
Arms Race Nutrition
Supplements > Pre Workout > Pre Workout
https://cdn.mrsupplement.com.au/resources/imgs/products/arms-race-harness.1652394252881.png
http://schema.org/NewCondition
http://schema.org/OutOfStock
AUD
https://www.mrsupplement.com.au/arms-race-harness?variation=15480
69.95
AUD

Harness
Harness Pre-Workout
Supercharge Your Workout
Increase Focus & Energy
Formulated for Everyone
Pumps, Energy & Endurance

(0)
Write a review
Product
Q&A's
Reviews
Add To Cart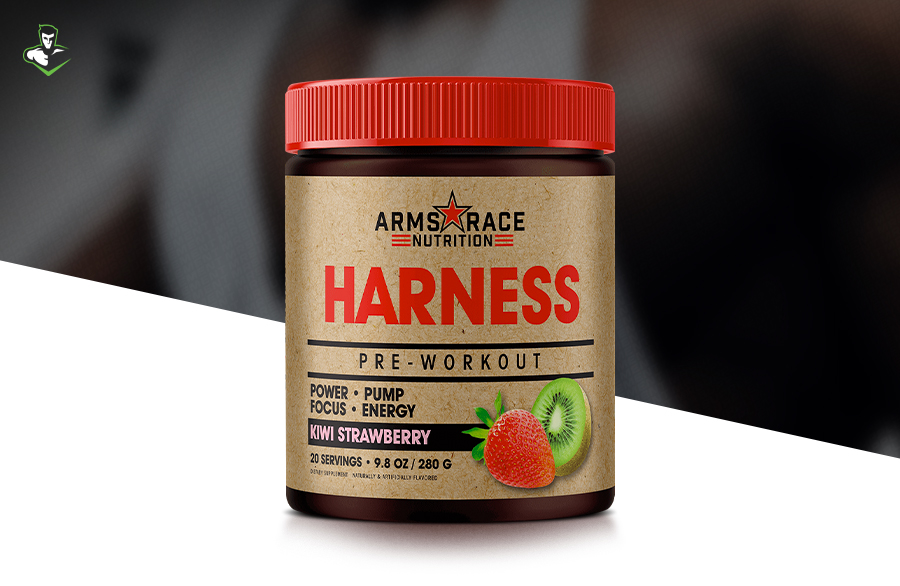 You're watching the clock, waiting for it to strike 12 noon. What is the significance of 12 noon? Well for some this is break time, lunchtime, the time to take it easy for a little bit. Not for you though! For you, this is the time to put in work, get sweaty, lay those bricks that will build the wall of gains! Everyone has their tools to success. A pep talk, the lucky underwear, you name it. For you though its none of those things. You need an elixir that will surely give you the kick in the pants to do not 1 more rep, but 5 more reps. Not 1 more lap but 10 more laps. What is this is elixir I'm referring to? Well, its ARN HARNESS of course!
What is HARNESS? HARNESS is a precise mixture of key ingredients that enhance athletic performance and bring your workouts to the next level. For athletic performance, caffeine anhydrous, Zum- XR™, l-citrulline, beta alanine, ElevATP™, and L-Tyrosine are included at, or above, serving sizes suggested by the research. Together, these ingredients have been repeatedly demonstrated to increase maximum voluntary contractile force and other measures of power output, increase maximal oxygen uptake capacity, and significantly enhance time measures in standard athletic trials. For mental capacity, clarity, and focus, citicoline and Huperizine A are also included at, or above, serving sizes suggested by the research. Studies using these ingredients have shown them to increase working memory, reduce cognitive inhibition, and reduce neurological processes typically associated with cognitive decline.
With this blend of ingredients working synergistically together, our performance and focus blend is all you need to take the reins and HARNESS everything you need to take your workouts to the next level. Are you ready?
Q&A's
Ask a question about
Arms Race Harness
Reviews


Based on reviews collected by
&
Write a review

Contact Us