https://www.mrsupplement.com.au/arms-race-daily-pump?variation=15484
Arms Race Daily Pump (296g / 20 Serves Big Sky)
Arms Race Nutrition
Supplements > Pre Workout > Pre Workout Stim-Free
https://cdn.mrsupplement.com.au/resources/imgs/products/arms-race-daily-pump.1652397138657.png
http://schema.org/NewCondition
http://schema.org/OutOfStock
AUD
https://www.mrsupplement.com.au/arms-race-daily-pump?variation=15484
69.95
AUD
https://www.mrsupplement.com.au/arms-race-daily-pump?variation=15486
Arms Race Daily Pump (296g / 20 Serves Pineapple Mango)
Arms Race Nutrition
Supplements > Pre Workout > Pre Workout Stim-Free
https://cdn.mrsupplement.com.au/resources/imgs/products/arms-race-daily-pump.1652397138657.png
http://schema.org/NewCondition
http://schema.org/OutOfStock
AUD
https://www.mrsupplement.com.au/arms-race-daily-pump?variation=15486
69.95
AUD
https://www.mrsupplement.com.au/arms-race-daily-pump?variation=15488
Arms Race Daily Pump (296g / 20 Serves Venice Beach)
Arms Race Nutrition
Supplements > Pre Workout > Pre Workout Stim-Free
https://cdn.mrsupplement.com.au/resources/imgs/products/arms-race-daily-pump.1652397138657.png
http://schema.org/NewCondition
http://schema.org/OutOfStock
AUD
https://www.mrsupplement.com.au/arms-race-daily-pump?variation=15488
69.95
AUD

Daily Pump
Daily Pump Formula
Increase Athletic Performance
Great for Everyone
Clinically Dosed Pump Ingredients
Real Performance Benefits

(0)
Write a review
Product
Q&A's
Reviews
Add To Cart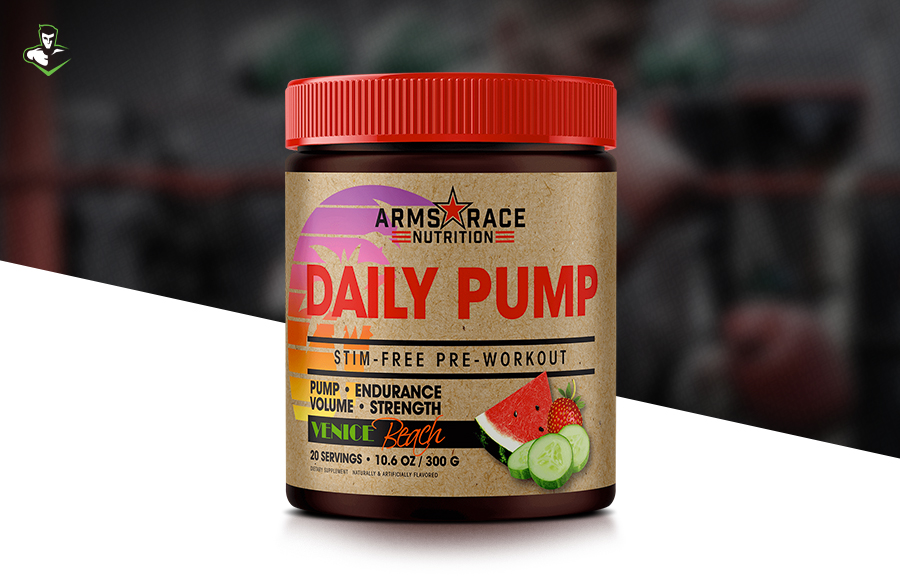 It should be simple: the right combination of specifically targeted ingredients for pump, endurance, and strength all blended together to produce a scientifically sound, and complete, non-stimulant pre-workout. It should be, but it isn't. It is a good thing for all of you then that Arms Race Nutrition will do anything for you. With Arn Daily Pump, we put "pump" products into a whole new category. Daily Pump contains cutting edge and trademarked ingredients to maximize ALL performance aspects of your workout, minus the stimulants or jitters.
Typically, non-stimulant pre-workouts serve a single purpose, increase localized blood flow. That is, deliver a "pump." Not all "pump" products are the same though and most often leave you wondering, did I really get the result I was training for. With DAILY PUMP there is no question, and with a name like Daily Pump, we trust our product will perform time and time again on a daily basis.
Arn Daily Pump's main emphasis is what we call a "performance pump" – that is, increasing localized blood flow with a purpose. And the purpose is delivering real, measurable increases to key markers in exercise physiology, such as total time to exhaustion and peak power. We achieve the performance pump in Daily Pump by including ingredients that not only increase vasodilation thus inducing the "pump" effect – but do so while delivering real performance benefits. L-Citrulline is well-known to increase blood flow, but it also increases peak power output. ViNitrox™ a trademarked polyphenol blend, has been shown to over blood vessels and drive nitric oxide into the bloodstream. What does this mean? It means that each ingredient in Daily Pump facilitates the dual purpose behind the performance pump: delivering you the gratifying feeling of a pump, but also servicing your goal of progression.
Beyond its demonstrable performance benefits, Daily Pump also tastes amazing. With so many amazing flavours to choose from, the experience you have from the very first sip until the end of your workout is unmatched.
Q&A's
Ask a question about
Arms Race Daily Pump
Reviews


Based on reviews collected by
&
Write a review

Contact Us